By Two to One, Florida Voters Age 50-Plus Agree the U.S. Can Safely Import Prescription Drugs from Canada and Other Countries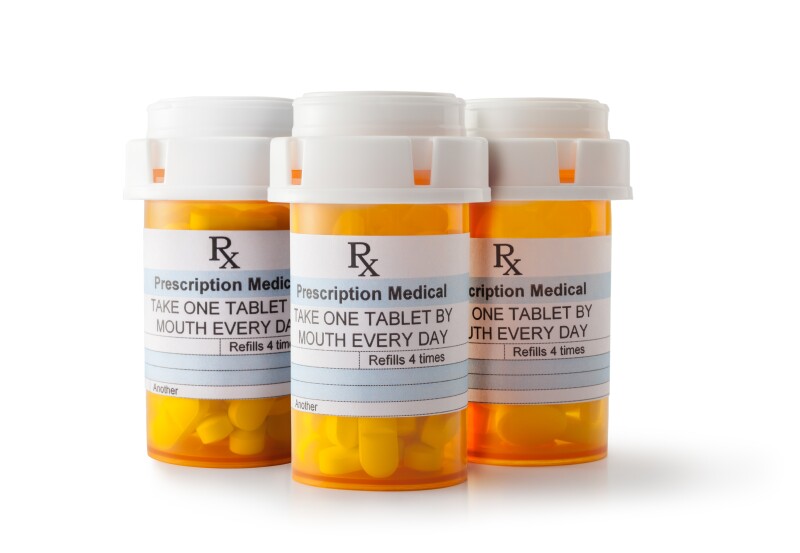 TALLAHASSEE – By lopsided margins and across party lines, Florida voters age 50-plus strongly support a Florida legislative proposal to import FDA-approved prescription drugs from Canada and other countries to help lower costs. Some 73 percent of 50-plus voters, including two-thirds of Republicans, support the plan, 2019 FLORIDA Prescription Drug Survey Fact Sheet_FINAL

The survey also showed older Florida voters overwhelmingly believe that drug-manufacturing companies are putting their profits ahead of people. Some 80 percent of 50-plus voters agreed with a statement that pharmaceutical companies are too concerned about making profits and not concerned enough about helping people. Only 14 percent of respondents disagreed.

By a two-to-one margin, older Florida voters agreed that the U.S. can safely import prescription drugs from other countries.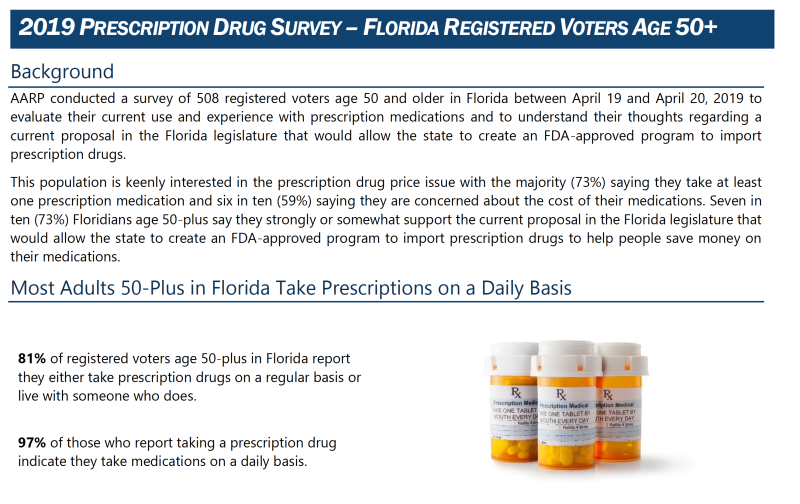 The poll also showed that four in five older voters think they definitely or probably pay more than residents of other countries for the same prescription drugs. The poll surveyed 508 registered Florida voters age 50-plus on April 19 and 20.

"What's striking about this polling is that Florida public opinion does not seem to have changed much since March of this year, despite an expensive statewide advertising campaign by groups linked to pharmaceutical manufacturers," said Jeff Johnson, AARP's Florida state director. "In March, a poll by Florida Atlantic University showed about 75 percent support for this initiative. That's pretty close to the finding of our AARP poll."

Johnson said he believed that Florida voters are paying more attention to their life experience than to the arguments of groups attacking the plan and its backers.

"The drug companies say there's no way to safely import prescription drugs, but we're not stupid," Johnson said. "They're just not telling us the truth."

"It's going to be hard to persuade ordinary Floridians that droves of people in Canada are beset by fake and contaminated drugs," he added. "A lot of Canadians live in Florida part-time during the colder months. Those Canadians tell us that their medicines cost a lot less back home. Some of them find the attacks on this proposal to be just laughable."

# # #
About AARP
AARP is the nation's largest nonprofit, nonpartisan organization dedicated to empowering people 50 and older to choose how they live as they age. With a nationwide presence and nearly 38 million members, AARP strengthens communities and advocates for what matters most to families: health security, financial stability and personal fulfillment. AARP also produces the nation's largest circulation publications: AARP The Magazine and AARP Bulletin. To learn more, visit www.aarp.org or follow @AARP and @AARPadvocates on social media.