Sept. 8, 2015
Media Contact: Jessyca Sosa
jsosa@aarp.org, 954-646-4584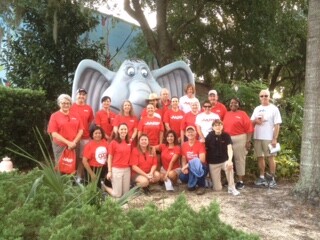 MIAMI – Scores of AARP Florida volunteers and staff will commemorate the victims of the 9/11 terrorist attacks by working on Sept. 11 and 12 to improve the lives of others, as part of a national AARP initiative involving thousands.

For 11 years, AARP staff and volunteers around the country have responded to the tragic events of September 11 by volunteering in our communities. Thousands volunteer each year--at elementary schools, senior centers, and food banks. This year, Sept. 11 will again be a day for reflecting on the 2001 terrorist attacks, but it will also be a time for hundreds of thousands of Americans to serve their communities.

On Friday, Sept. 11, AARP Florida volunteers and staff based in the Tampa Bay area will work at the Suncoast Haven of Rest Rescue Mission located at 1763 9th Ave N, St Petersburg, FL 33713, which each year provides millions of pounds of food to low-income people including children and seniors facing hunger in Pinellas County. The Mission was established 25 years ago in 1988 in Pinellas Park, Florida. Between the hours of 9 a.m. and 2 p.m., volunteers will serve the needy public as a food pantry, a food bank, a day center, a rehabilitation center, and a church.

Also on Friday, AARP Jacksonville volunteers and staff, joined by staff members from AARP Services Inc., a business arm of AARP, will join the Women of Color Cultural Foundation in Jacksonville to serve refreshments to firefighters, law-enforcement officers and other first responders at Metropolitan Park located at 4110 Gator Bowl Drive in Jacksonville, Florida 32202. About 12-15 volunteers and staff will work from 8:30 am to 12 p.m., and will also help prepare support items for members of the U.S. armed forces.

On Saturday, Sept. 12, from 8:30 a.m. to noon, AARP South Florida volunteers and staff, along with volunteers from the Miami Dolphins Special Teams, Miami Dade College, Florida International University and Barry University will join forces with Miami Dade Parks and Recreation to help beautify a local community park. Volunteers will work on gardening, painting, sanding and cleaning Arcola Lake Park located at 1301 NW 83rd Street, Miami, FL 33147

About AARP
AARP is a nonprofit, nonpartisan organization, with a membership of nearly 38 million, that helps people turn their goals and dreams into real possibilities, strengthens communities and fights for the issues that matter most to families such as healthcare, employment and income security, retirement planning, affordable utilities and protection from financial abuse. We advocate for individuals in the marketplace by selecting products and services of high quality and value to carry the AARP name as well as help our members obtain discounts on a wide range of products, travel, and services. A trusted source for lifestyle tips, news and educational information, AARP produces AARP The Magazine, the world's largest circulation magazine; AARP Bulletin; www.aarp.org; AARP TV & Radio; AARP Books; and AARP en Español, a Spanish-language website addressing the interests and needs of Hispanics. AARP does not endorse candidates for public office or make contributions to political campaigns or candidates. The AARP Foundation is an affiliated charity that provides security, protection, and empowerment to older persons in need with support from thousands of volunteers, donors, and sponsors. AARP has staffed offices in all 50 states, the District of Columbia, Puerto Rico, and the U.S. Virgin Islands. Learn more at www.aarp.org.