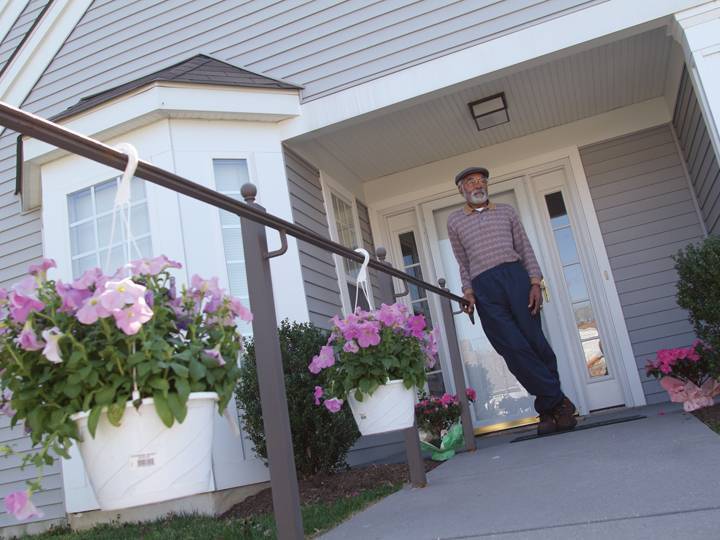 We've all heard the saying before: "Home is where the heart is." But is your home the right fit for you now -- and in your future? What if your mobility changes, or if you have problems navigating stairs? What if it gets harder to reach those high shelves? What if you need to use a wheelchair for a while?
As in any other relationship, it's important that you and your home make a good "fit." That's where AARP's Home Fit program comes in.
AARP's Home Fit workshop is designed to educate people 50+ and their family members on how to make their homes more "livable" by incorporating a universal design concept. AARP Florida plans a series of workshops across Florida in 2013 to help older people learn more about making their home fit them as well as possible.
Having a livable home allows individuals to age in place—that is, avoiding the need to leave your home for an assisted-care facility or secondary living arrangement. Previous AARP surveys have concluded that nearly 90 percent of those age 45 and up want to remain in their current home and community for as long as possible. A home designed to accommodate the needs of residents of all ages and abilities will allow individuals to do just that.
According to Carolyn Sithong, Occupational Therapist and Lead Home Fit Volunteer for AARP Florida, "Healthcare is moving more and more into the home and community. In an effort to support this transition, homes and communities need to be appropriately designed to support older adult lifestyles. Home Fit is a self-help tool that enables you to know what the potential barriers in your home could be and provides the solutions to make it more livable based on your desired occupations. Remaining independent in occupations like bathing, meal preparation and community mobility must be supported by an accessible and safe home environment."
There are several features within universal design, which focuses on creating a home that is adaptable, flexible, safe and easy-to-use.
Some examples include: a step-free entrance into the main floor of the home, wider doorways and hallways, lever door and faucet handles, secure handrails on both sides of stairways and a walk-in/ roll-in shower with non-slip flooring. A livable home also has a bedroom, full bath and kitchen on the main level and cabinets, light controls and electrical outlets that can be accessed while standing or sitting. Residents have the option of upgrading their existing home with the features of their choice, or implementing these designs into a home they are building. Other universal design features can be found here.
AARP launched Home Fit in Florida to support the growing population of older adults who wish to age in place. "AARP Florida has participated in local and state aging-in-place housing summits and conferences to help educate senior housing and service professionals on this important topic. Home Fit takes this information directly to the family and homeowner for implementation," said Sithong.
A Floridian who understands Home Fit's initiatives is JR Harding, a quadriplegic of nearly 30 years who describes incorporating universal design features as "sound planning practice." When he began his search for a home in the late 1990s, Harding found that there were not many efforts in place to accommodate his unique needs. He decided to buy and renovate an existing home in order to maximize its functionality and livability. According to Harding, implementing a universal design has improved his life.
"It has empowered me to be a part of the community. It has allowed me to stay in my home. It has allowed me to maintain my independence, which is the most important part of all," said Harding.
For more information about Home Fit, please contact AARP Florida at 1-866-595-7678 or go here. Also, you can assess your current home's "livability" by using this checklist.
0000016b-01a0-dd13-abeb-61ef5d170000
http://www.youtube.com/watch?v=eCdlDARir6U
[/youtube]