New Livability Index helps you assess, plan for needs and wants.
St. PETERSBURG, Fla.—The AARP Public Policy Institute today is launching the AARP Livability Index, a first of its kind resource that allows people to determine how well their communities are meeting their current and future needs. People, policy makers and the private sector can use the Livability Index to measure how their location – down to the neighborhood level – rates across a comprehensive range of metrics that reflect user friendliness, and customize their search based on their own priorities.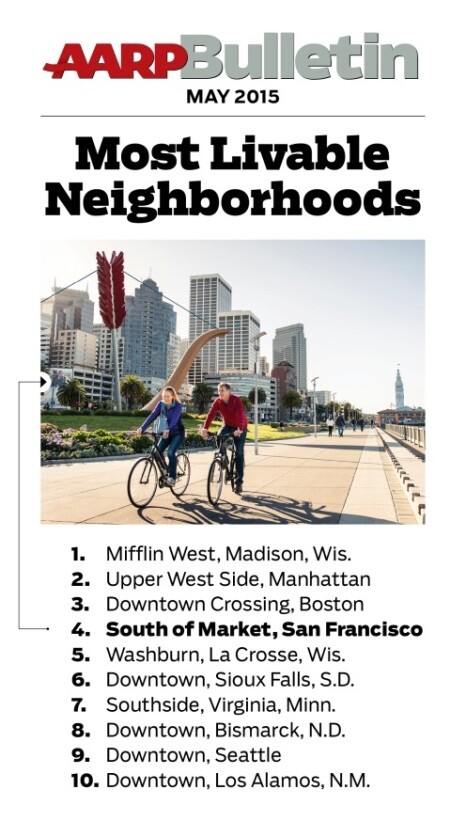 In an exclusive feature, the May issue of AARP Bulletin uses the Livability Index to identify the most livable places in the country to live for people 50-plus. The AARP Bulletin feature, which can be read at www.aarp.org/mostlivable2015, includes the ten "Most Livable Neighborhoods" in the country. Two Florida cities, Tallahassee and Jacksonville, were recognized for high scores on civic and social engagement.
"For people looking to make a change in their life, finding a new place to live can be a challenge," said Jeff Johnson, AARP's Florida state director. "This livability index will help many a Northerner tired of the cold decide where they can best enjoy Florida's sunshine and warm weather."
"The livability index is even more helpful for people who love where they live now and want to make their neighborhood, town or region even better.  By showing where Florida communities are doing well and could do even better, in a comprehensive way and at a very local level, the index equips Floridians with tools that can help make the place they live as good as they can be."
For example, the AARP Bulletin lists Jacksonville as one of the best large cities in the country in the civic and social engagement category, with an Index score of 70. Among medium cities, Tallahassee scores very well in this category, with a score of 80. Statewide, Florida scores 55 by comparison. Studies have shown that social engagement is critical to health and security as Americans grow older.
The index also equips Floridians, Florida businesses and elected leaders with information on where to focus efforts to improve. Jacksonville scored 42 in a category for opportunity, with lower-than-average high-school graduation rates and wider income disparity than the nation. Housing was another category showing room for improvement, with Tallahassee at 55, Jacksonville at 51, Tampa at 38 and St. Petersburg at 35.
AARP defines a livable community as one that has affordable and appropriate housing, supportive community features and services, and adequate mobility options, which together facilitate personal independence and the engagement of residents in civic and social life. It's a place where people can get to where they want to go, living comfortably and in good health, and being able to remain active and engaged. Importantly, the elements that make a community livable are useful for people of all ages, not just Americans 50-plus.
The AARP Livability Index, available at www.aarp.org/livabilityindex, was designed to provide the best basis for comparing localities across the nation by dozens of experts at the AARP Public Policy Institute and elsewhere. Aided by a national survey of 4,500 Americans 50-plus about the aspects of their communities most important to them, these experts selected 60 factors spread across seven categories: housing, neighborhood, transportation, environment, health, engagement and opportunity. For example, the "Transportation" category includes metrics on the frequency of local transit service, traffic congestion and crashes, and household transportation costs.
Users can also incorporate their own preferences by changing the weights of how different components are scored. Taken together, the AARP Livability Index, which uses more than 50 national sources of data, provides the clearest picture yet of how well a community meets the current and future needs of people of all ages.
The AARP Livability Index will be particularly important in the coming years to address the changing needs and wants of this country's aging population. According to AARP research, nearly eight-in-ten Americans 50-plus want to stay in their current homes and communities as they age; U.S. Census figures show that the overwhelming majority of them choose to do so. Local officials and others can use the Index in adapting their cities so that residents of all ages can stay healthy and active. Johnson noted that AARP experts will discuss the Livability Index at the first of a series of State Solution Forums May 12 in Miami. The presentation will be part of the Miami-Dade County Age-Friendly Summit at the Newman Alumni Center at the University of Miami campus in Coral Gables. It will be the first opportunity for AARP experts to share the Livability Index directly with local residents, business leaders and elected officials.
For more information on the Summit, please visit www.agefriendlymiami.org.