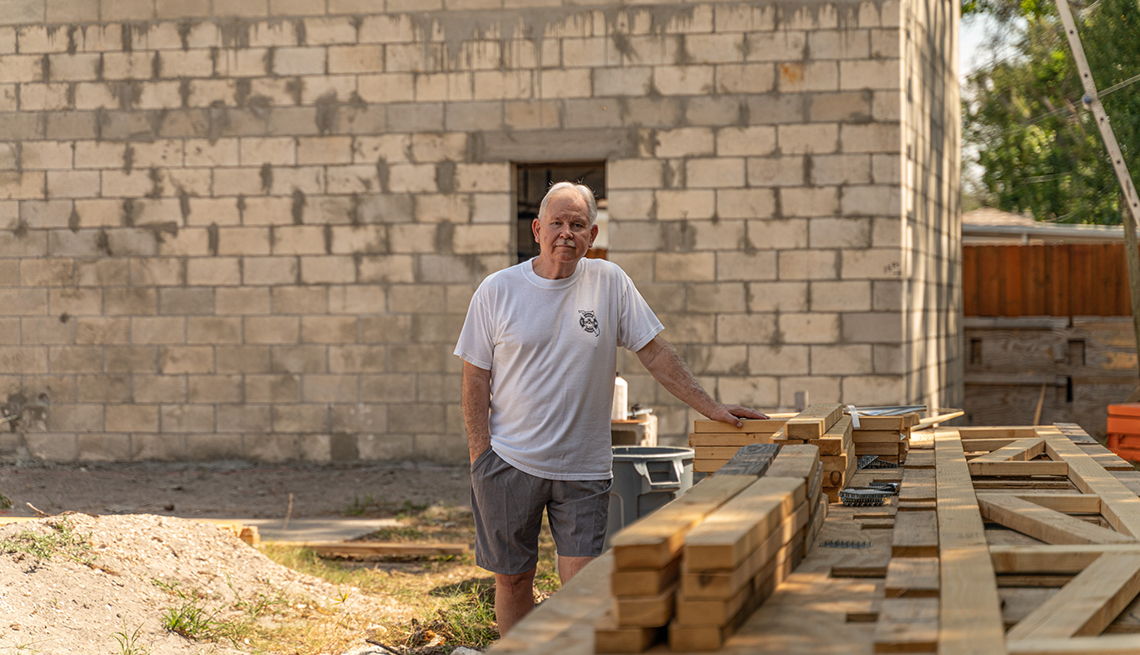 Should Duane Roberts of St. Petersburg ever require a full-time caregiver, he need look no farther than his own backyard for a place for them to live.

The 69-year-old retired entrepreneur is having a 680-square-foot accessory dwelling unit, or ADU, built next to his primary residence. Roberts plans to rent the one-bedroom unit for extra income, but he sees a time when it could allow him to age in place.

"I don't want to be a burden on my family and friends. And I don't think I want anybody living in my house," says Roberts, who recently suffered several strokes and heart attacks. "The tiny house could be used for a caregiver someday."

ADUs, sometimes called in-law suites, are small homes or apartments on the same lot as a single-family house. Proponents say they are a critical part of the solution to Florida's affordable housing crisis. Although the housing bubble has started to deflate, the median sales price for single- family homes in Florida was $402,500 in 2022, up 52 percent from 2019, according to the trade association Florida Realtors. Rents have also spiked across the state.

"ADUs allow us to add units without changing the character of our residential areas," says Ashon Nesbitt, CEO of the Florida Housing Coalition, a nonprofit that advocates for affordable housing.

No place like ADU

In Florida, ADUs are regulated at the local level, primarily through zoning laws. Although they are catching on in some places, they face resistance in others, says Lynn Hurtak, a member of the Tampa City Council who lives in a community that allows ADUs. Some residents are concerned that ADUs could lead to increased traffic, property taxes and short-term rentals, she says.

Several neighborhood association leaders say they're not opposed to ADUs, but they worry policymakers will green-light them without considering all the implications, from a spike in short-term rentals to increased density, which can cause problems during hurricane evacuations. "We're already under-going a frenzy of development in Tampa without addressing basic infrastructure and transportation needs," says Pat Cimino, president of the Historic Hyde Park Neighborhood Association in Tampa.

Hurtak hopes people will see that ADUs "keep the neighborhood solid while making room for new folks to move in."

Jeff Johnson, AARP Florida's state director, says ADUs can help address the housing crisis and expand living options for older adults who don't need nursing home care.

"We know people want to age in place," he says. ADUs can allow family members to live near each other, while keeping their own space and independence, he adds. AARP Florida is a sponsor of the Florida Housing Coalition.

AARP's 2021 Home and Community Preferences Survey shows that nearly 80 percent of older Americans want to remain in their community as long as possible. More than two-thirds would consider living in an ADU if they needed help with everyday activities such as household chores or trips to the doctor.

The Morgans of St. Petersburg built their ADU for peace of mind. Rebecca Morgan, 69, teaches elder law at Stetson University. Before retirement, her husband, Jay, 72, managed St. Petersburg's Office on Aging and still consults on aging issues. When people are forced to move or relocate to a different state to be near family, "it can be overwhelming," he says.

The couple made their ADU as age-friendly as possible. If their health declines, a caregiver could live in the main house, while they could occupy the ADU. "It's comforting to know that it would be an easy transition," Jay Morgan says.

Ann Hardie is a writer living in Atlanta.

ADUs Help Families Address a Variety of Housing Needs
For more on ADUs