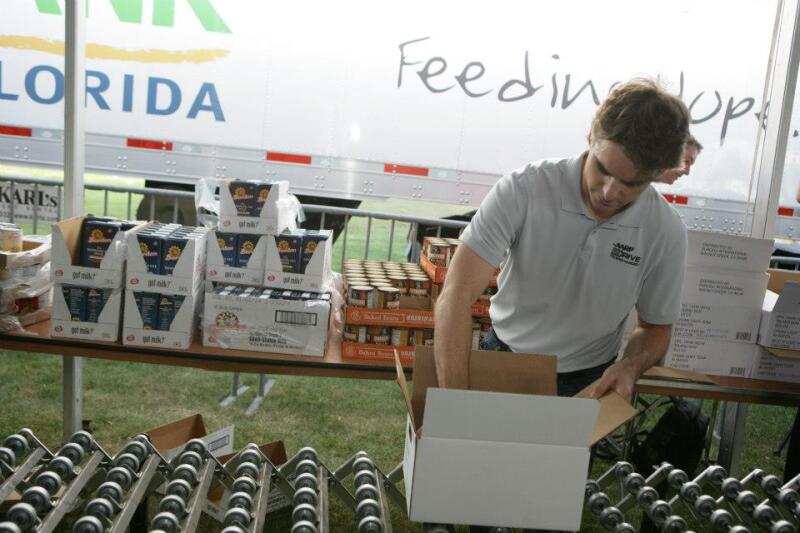 Daytona Beach, Fla. – AARP Foundation, AARP's charitable affiliate, today announced a $25,000 grant to the Volusia County Council on Aging Meals on Wheels program. The AARP Foundation grant will help match a generous $100,000 challenge grant from a local donor to support Meals on Wheels, which provides needed food to homebound seniors.
"While the national economy is showing slow improvement, the recovery hasn't yet lifted up hundreds of thousands of older Floridians who still struggle daily to get enough to eat," said Jeff Johnson, AARP Florida state director. "With this grant, AARP Foundation is stepping forward to help."
Earlier this summer, Gale Lemerand of Volusia County generously offered to match all contributions through July 31 to the Volusia County Council on Aging Meals on Wheels program up to $100,000. Led by Council Executive Director Dr. Doug Beach, Council volunteers and staff have organized community sales, bike rides and other activities to encourage local donations through the Council on Aging Meals Match Challenge. So far, the Council is about halfway to its $100,000 goal. To learn more, go to https://www.facebook.com/COAVOLFL .
The grant provides an opportunity for AARP Foundation to continue fighting hunger in Daytona, where Drive to End Hunger, a nationwide initiative to address the serious and growing issue of hunger among older Americans, was launched in February 2011 at the Daytona 500.
Nearly 9 million people 50 and older struggle with hunger every day. Drive to End Hunger is AARP and AARP Foundation's multipronged effort to raise awareness through an innovative alliance with four-time Sprint Cup champion Jeff Gordon and team owner Rick Hendrick and to develop sustainable solutions to the issue of older adult hunger in our country.

Since AARP and AARP Foundation launched Drive to End Hunger, the initiative has donated nearly 23 million meals and driven organizational and individual donor commitments with an expected value of more than $20 million. To learn more, please go to www.drivetoendhunger.org .