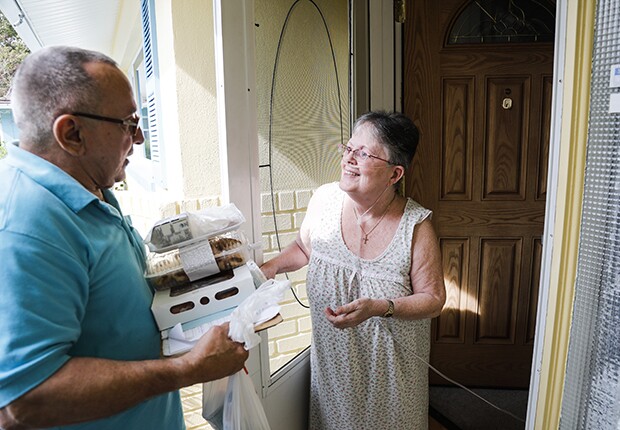 By Michelle Cerulli McAdams

Meals on Wheels volunteer Bruce DeGrace, 68, brings more than lunch to his clients throughout Pinellas County. He delivers friendship and conversation.

The Largo resident, who served in the military for 20 years, started volunteering two years ago to honor his late wife, Carol Lynn Zepp, who had wanted to pursue volunteer work in retirement.

About her death in 2015, he said, "I've had a hard time adjusting." Then he learned about the Neighborly Care Network, which manages Meals on Wheels in the county, and got involved.

DeGrace may be the only person some of the service's users see all day. For these residents and others, social isolation is more than a matter of well-being; it's a health hazard that can lead to an increased risk of heart disease, depression and even death.

One study equated its damaging health effects to those of smoking up to 15 cigarettes a day.

"There's evidence that social isolation and loneliness have significant health impacts on people of all ages but particularly older people," said Jeff Johnson, AARP Florida state director.

For these reasons, along with a rapidly aging boomer population, AARP and other groups are working to reduce isolation among older Floridians. AARP Foundation is developing innovative ways to help older adults increase and strengthen their social connections.

The Foundation's Connect2Affect platform ( connect2affect.org) provides information about isolation and its negative health effects, helps users evaluate their isolation risk (or that of others), and links them to programs, resources and volunteer opportunities in their area.

AARP Foundation is also studying the effectiveness of on-demand rides, hands-free voice-activated technology and a volunteer phone line in reducing social isolation.

Floridians at Risk

According to a recent AARP study, 28 percent of people 75 and older in the state live alone. Johnson said Floridians are particularly at risk of isolation because many moved here from elsewhere and may not have family or other companions nearby.

Nonprofits such as Pinellas County's Neighborly Care Network offer social support through nutrition and community. In addition to working with Meals on Wheels, the organization hosts 350 diners at seven county sites for free meals each day.

The network also offers outings to attractions such as Clearwater Marine Aquarium and the Florida Holocaust Museum.

"Our hope is to enhance the quality of life for older adults who want to stay active and make new friendships," said Wonetha Hall of Neighborly Care Network.

Social isolation among veterans is a big concern for Brian Anderson, a former Green Beret, who founded Veterans Alternative in Pasco County in 2014.

In the past two years, the group has held more than 70 weeklong wellness programs for combat veterans and their significant others, incorporating psychotherapy, community yoga and breath work, support groups and social events.

Through community partnerships and grants, more than 250 participants have completed the free wellness programs, which help them with the often difficult transition to civilian life.

Michelle Cerulli McAdams is a writer living in Gainesville.