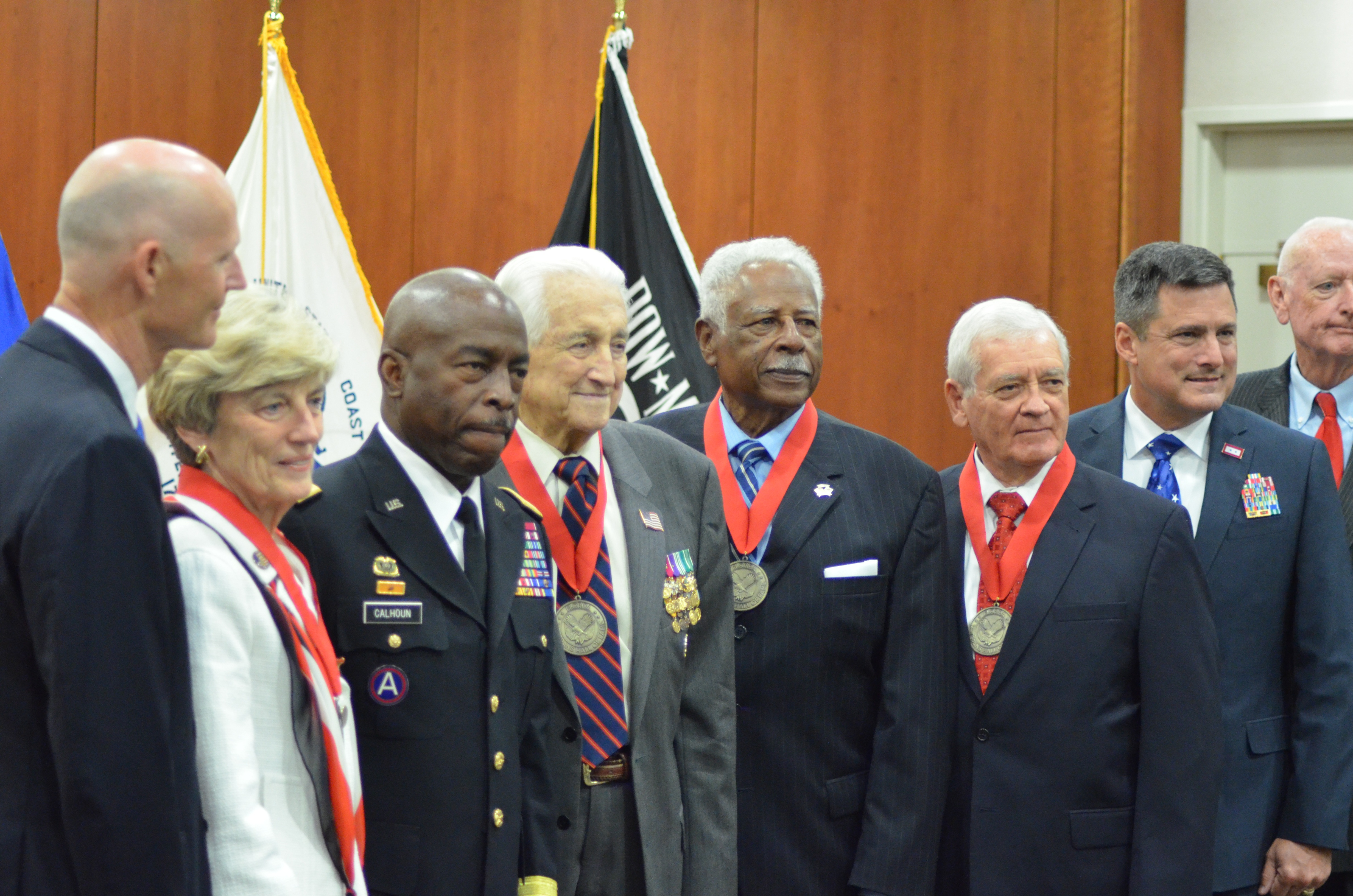 TALLAHASSEE, Fla. -- A standing-room only crowd at the Florida Capitol Monday honored four Florida veterans of the armed services – not only for their service in uniform but also for their service to the state and to their communities after they had left military service.

Fittingly, the honorees included former members of the Army, Air Force, Navy and Marine Corps. Together, the honorees included two leaders of state agencies, a highly recognized voice for civil rights, a longtime advocate for older Americans and a recognized authority on anti-terrorism.
"AARP's founder, Dr. Ethel Percy Andrus, would have been very proud of these inductees into the Florida Veterans Hall of Fame," said Jeff Johnson, AARP's Florida state director. "Her motto was, 'To serve, not to be served.' All of those honored this week have rendered not only distinguished service in uniform but service to their state and communities as well."
Those honored Monday were:
The late Rear Adm. LeRoy Collins Jr., former executive director of the Florida Department of Veterans Affairs, a Navy submarine officer, business leader and civic leader. Adm. Collins, the son of former Gov. LeRoy Collins, died in a bicycling accident in 2010. Collins was not only a business and civic leader but among the state's strongest voices on behalf of veterans. Accepting the award in his honor was Jane Sisson Collins, his widow.

Marine Lt. Gen. Lawrence Snowden, Ret., one of the original advocates for the creation of the Florida Department of Elder Affairs, a leading voice on issues affecting older Floridians for more than 20 years, and the highest-ranking survivor of the Battle of Iwo Jima in World War II. Snowden lives in Tallahassee.

Air Force Chief Master Sgt. Eugene C. Johnson, Ret., a veteran of 31 years and the highest-ranking Air Force noncommissioned officer at his retirement. Johnson serves on the board of numerous nonprofit organizations and has been a strong advocate for civil rights and equal opportunity before and since his retirement.

Air Force Col. Harry Frank Farmer, Jr., Ret., former secretary of the Florida Department of Health, former Florida surgeon general, physician, former president of the Florida Medical Association, former U.S. Army captain, Vietnam veteran, and a former member of the Florida National Guard.

Maj. Gen. James L. Dozier, a decorated Vietnam combat veteran, business leader and acknowledged expert in anti-terrorism. A 1956 West Point graduate, Dozier served in Vietnam and was awarded the Silver Star. While serving in a senior NATO position in Italy, he was kidnapped by the Marxist Italian Red Brigades and held for 42 days before being liberated by an elite Italian anti-terrorism force. Dozier later became a civic and business leader in Southwest Florida and also became active in anti-terrorism interests.
The Florida Veterans' Hall of Fame recognizes and honors those military veterans who, through their works and lives during or after military service, have made a significant contribution to the state of Florida through civic, business, public service or other pursuits. It is not a traditional military hall of fame, as it focuses on post-military contributions to the state of Florida.