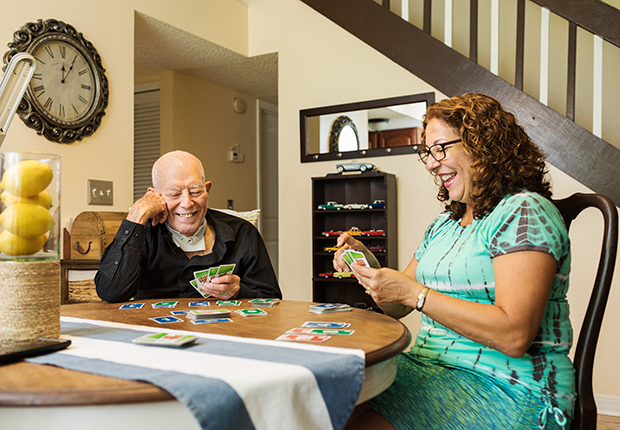 By Tom Scherberger

Maria La Moureaux, a retired teacher in Jacksonville, spends most days caring for her dad, Arnaldo Umpierre, an 86-year-old Army veteran. Her sister, Mary Carmen, takes over at night and on weekends.

"He's had heart attacks, strokes, glaucoma and diabetes," she said. "He's still walking, thank God, and he can play cards. He can bathe himself but can't drive anymore or cook or clean. Everything else we do for him."

La Moureaux, 56, has a heart condition and two kids at home. "I'm so tired,'' she said. "I mean, I do it with love, and he gave his life to me, but I'm so tired."

She gets help from a VA home-health worker a few hours a week, but it's not enough.

"I would like to know how I can work at all these things and help my dad without getting so stressed out or tired," she said.

La Moureaux and others like her can get the guidance they need at the Second Annual Florida Caregiver Conference, Nov. 7-8, at the Bryan Glazer Family Jewish Community Center in Tampa.

Hosted by AARP Florida, the event includes practical advice and education programs with a focus on veterans. The Caregiver Accelerator, which works with start-up companies specializing in caregiving, is a cosponsor.

Retired Army Maj. Gen. Antonio "Tony" Taguba, an AARP community ambassador whose experiences caring for his parents prompted him to lobby for more resources for family caregivers, will be the keynote speaker. He calls caregiving a national public health issue. Amy Goyer, AARP's family and caregiving expert, will be the emcee.

The conference will be divided into two parts. The first day will focus on entrepreneurs; the second, on family caregivers.

Day one, which is free, includes a pitch competition featuring six graduates of the Caregiver Accelerator, who will demonstrate technology that aids caregivers.

On day two, for which there is a $50 admission fee, family members caring for veterans will get advice for daily living and information on available resources. Free respite service will be available on site. Registration is required at caregiveraccelerator.com.

Help is available

"The need for caregiver services, especially in this state, is so tremendous," said Monica Stynchula, an AARP Florida Executive Council member and conference organizer and program director of the Caregiver Accelerator.

Florida has 2.7 million self-identified caregiers, she said, and more than 60,000 people are on a waiting list for state assistance. Although there is lots of help available for veterans and their families, not everyone knows how to access it.

"When you are in the military, they have a network to help you across the board," said Colleen Krepstekies, AARP Florida associate communications director, who coordinates veterans initiatives in the state. "That sort of sisterhood and brotherhood is lost when you are no longer with your military colleagues... and that increases your isolation."

Florida has the third-largest veterans population in the country; thus, establishing networks and providing connections to available resources are a focus of the conference.

Benjamin Smet, 39, an Navy veteran, cares for his 76-year-old dad, a Vietnam combat veteran, at his St. Petersburg home.

"Because of the war experience, he really isolated himself," Smet said. "Physically he still takes care of himself...I'm just dealing with the mental health part of it."

Recently diagnosed with PTSD, the elder Smet receives regular mental health treatment through the VA. That eases some of the burden, the son said, but it is still "exhausting" to balance work, family and caregiving.

That's why he plans to attend the conference. "I'm very interested in going and learning more," he said. "I'm eager to find out what other strategies or techniques might be out there."

Tom Scherberger is a writer living in Treasure Island, Fla.