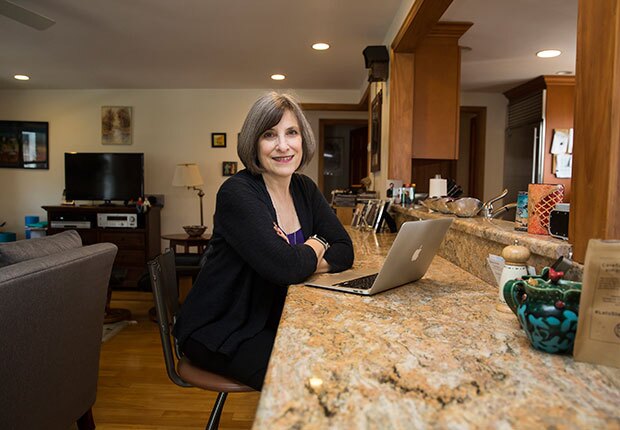 Por Michelle Cerulli McAdams

La primera vez que Deborah Brigell escuchó sobre el proyecto Medical Alumni Volunteer Expert Network (MAVEN, red de expertos médicos voluntarios; página web en inglés) el año pasado, ya había comenzado a reducir su trabajo en su consultorio médico e intentaba encontrar una manera de contribuir a la comunidad.

"Buscaba un trabajo significativo como voluntaria donde pudiera usar mis destrezas como endocrinóloga y especialista, y esta parecía la oportunidad perfecta", dijo Brigell, de 61 años, quien vive en Boston.

"Me intrigaron el proyecto MAVEN y su misión. Pienso que lo que están haciendo es realmente único", dijo.

Desde que se unió al proyecto, Brigell ha usado tecnología de telemedicina para asesorar a médicos de planta en dos clínicas en el sur de Florida, principalmente en casos relacionados con diabetes y enfermedades de la tiroides.

El proyecto MAVEN asigna a médicos voluntarios, la mayoría de ellos jubilados o semijubilados, a comunidades desatendidas en todo el país. Por medio de videoconferencias, los médicos asesoran a proveedores de atención primaria en centros de salud comunitarios, y proporcionan educación, mentoría y orientación para tratar enfermedades complejas.

Los voluntarios del proyecto MAVEN, graduados de escuelas de medicina con acreditación en Estados Unidos, se someten a verificaciones de antecedentes y credenciales y obtienen seguro de negligencia médica. Hasta ahora, los médicos voluntarios del proyecto —quienes se comprometen a ofrecer por lo menos cuatro horas de su tiempo al mes— trabajan con clínicas en Florida, Massachusetts, California, Nueva York y Washington.

"Asignamos a nuestros voluntarios para que con sus destrezas atiendan las necesidades de las clínicas", dijo Laurie Green, fundadora y presidenta del proyecto.

Los voluntarios han colaborado con la clínica móvil pediátrica de University of Miami Miller School of Medicine, la CommunityCare Clinic de Universal Heritage Institute en Miami Gardens y el centro móvil de salud de Florida International University. Todas estas clínicas proporcionan atención de salud gratuita a residentes de bajos recursos, sin seguro y subasegurados del condado de Miami-Dade.

Aproximadamente 1 de cada 12 personas en Estados Unidos recibe atención médica en un centro de salud comunitario. Muchas de estas clínicas carecen de recursos adecuados y acceso a especialistas. Los pacientes a menudo no tienen seguro o no tienen suficiente cobertura, tienen bajos ingresos y viven en una zona donde hay escasez de médicos y enfermeros.

A Green, de 68 años, quien hace poco fue nombrada becaria del Premio Propósito de AARP, se le ocurrió la idea del proyecto MAVEN en el 2012.

"Tan pronto supimos que la Ley del Cuidado de la Salud a Bajo Precio se convertiría en realidad, supimos que muchas personas que antes no tenían seguro buscarían atención médica, y acudirían a su centro de salud comunitario con enfermedades sin tratar", dijo Green, quien maneja un consultorio de obstetricia y ginecología en San Francisco.

El proyecto lanzó sus primeros programas piloto en Massachusetts y California en el 2015. Luego se enfocó en Florida.

Brigell dice que es gratificante brindar ayuda en situaciones en las que las personas tal vez no tendrían acceso a este tipo de apoyo.

"Me gusta que contribuyo a abordar las desigualdades en el cuidado de la salud", dijo. "Además, me obliga a mantenerme al día en mi especialidad y a mantener mis destrezas de mentoría".

El equipo del proyecto MAVEN espera seguir expandiéndose a estados adicionales para llegar a más pacientes.

Green mencionó que el 36% de los médicos del país tienen 55 años o más, "y la razón de peso por la cual lanzamos el proyecto MAVEN es que tantos de nuestros integrantes se estaban jubilando del trabajo pesado en que la medicina se había convertido, pero todavía querían contribuir y usar los años de sabiduría que obtuvieron para prestar servicio a los demás. Para ellos, la medicina era una vida de propósito y los médicos querían prolongar ese privilegio pero en sus propios términos".

Para obtener más información sobre el proyecto MAVEN en todo el país, visita www.mavenproject.org (en inglés).

Lee más sobre este y otros temas en nuestro subcanal de Seguros de salud.