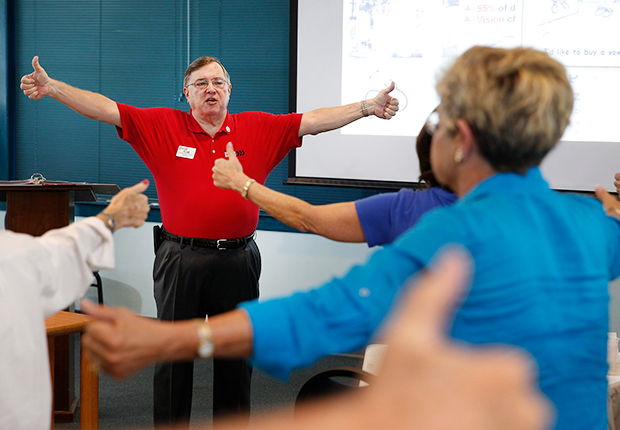 By Michelle Cerulli McAdams

Tom Hirsch, an AARP volunteer in Palm Harbor, recalled how his late mother's failing eyesight contributed to her diminishing ability to drive.

Hirsch, 69, said he wishes he had known about the AARP Smart Driver and We Need to Talk programs at the time. They could have helped prepare him for tough conversations with his mother about giving up her car keys. Now he is an instructor for both programs in Florida.

The Smart Driver program is a six-hour refresher course that covers defensive driving and new technologies in today's cars, as well as how age-related changes can affect driving. The course includes a guidebook, videos and classroom discussion.

Across the state, the course is held at churches, senior housing facilities and community centers at a cost of $15 for AARP members and $20 for nonmembers. An online course costs $19.95 for members and $24.95 for nonmembers.

Last year, 35,541 Florida drivers took the classroom course and 11,859 took the online version.

Most participants are older drivers, but the class is open to anyone, said Gary LeGrow, 78, an AARP Florida deputy state coordinator. He and others teach the course at three locations each month in Gainesville.

By 2030, roughly 27 percent of Florida drivers will be 65 or older, according to the state Department of Highway Safety and Motor Vehicles.

"If I teach 15 people and someone says, 'I really learned a lot of stuff today,' that's what I get out of it," LeGrow said. "The fact that someone is likely to be more safe as a result of taking this course is exactly why we're doing this."

Insurance Discount
Florida law mandates that those who take either the classroom or online Smart Driver course receive a three-year discount on their car insurance premiums.

Another important part of the AARP Driver Safety program involves advice for talking with someone who may need to limit or stop driving.

We Need to Talk, a 60- to 90-minute seminar developed with the Hartford insurance company and the MIT AgeLab, helps participants identify which aspects of driving are important to a relative or friend, determine if there is a problem with the person's driving and prepare for a series of conversations on what to do. The seminar is offered in classrooms and online.

"This has got to be done with love and empathy, and boy, I wish I had known about all of this when my mom was alive," said Hirsch, who led his first We Need to Talk session this fall. "It is such a vital program. Almost everyone will be faced with this at some time or another."

Hirsch said he is working to expand awareness of the seminar in Pinellas County and to publicize the need for more facilitators.

Smart Driver instructor Patricia Savage started volunteering for AARP in 2015. She and her husband teach 12 classes per year that emphasize mindful driving.

"Mindful driving means simply not thinking about what you're making for dinner tonight or taking the kids to soccer or that report at work," said Savage, 69, of Gainesville.

She said drivers must focus on what other drivers are going to do—which is why paying attention to the road, weather conditions and the car itself is so important.

"The more people we reach, the safer we are," Savage said.

To find a class or become a volunteer instructor, call 888-227-7669 or go to aarp.org/drive. AARP Florida is also looking for additional sites to host courses.

Michelle Cerulli McAdams is a writer living in Gainesville.