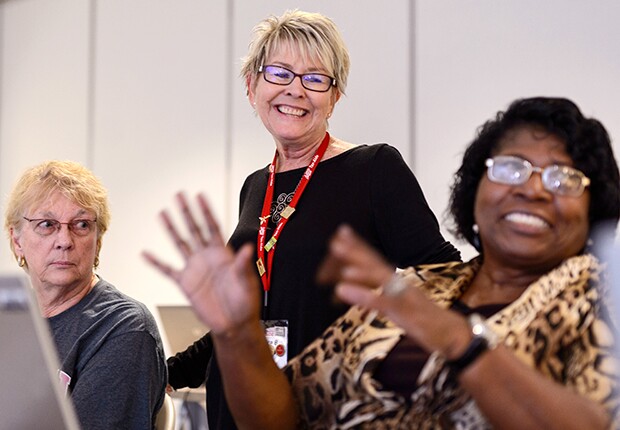 By Michelle Cerulli McAdams

Others may dread tax season, but Rebecca Bachman, of Homosassa, says she looks forward to it every year.

As a volunteer tax preparer and a state coordinator for the AARP Foundation Tax-Aide program in Florida, Bachman, 68, has been helping residents file their taxes since joining the program in 1998. She is one of approximately 3,000 Tax-Aide volunteers in the state and about 35,000 volunteers nationwide.

"There are lots of hugs exchanged. People are so grateful," said Bachman, a retired certified financial planner for women. "They tell me 'Thank you. I don't know what I'd do without you and the other volunteers.' It's the best feeling ever."

Through mid-April, the Tax-Aide program provides free tax preparation and filing to individuals at nearly 300 locations in the state, including libraries, senior centers and churches.

The service is geared toward older and lower-income taxpayers but is available to anyone. In 2016, the volunteer tax preparers in Florida submitted about 143,000 returns.

Tax-Aide volunteers do not need a background in tax law or finance. They undergo training and must pass an IRS exam every year to keep up with changes in the law. Volunteers can prepare most returns but not complex cases that involve rental income or a business with depreciation.

Barbara Rodon, a former Tax-Aide state and district coordinator in Florida, retired from the IRS in 2003 and joked that she "would never look at another tax return again." Instead, she immediately joined Tax-Aide.

"It has been one of the best volunteer jobs I've ever had," said Rodon, 68, of Jacksonville.

A gratifying reward
Rodon said that serving people in need is the most rewarding part of volunteering: "We've had people scared to death of the IRS and scared of getting their taxes done. I love being able to help them and see the relief and smiles on their faces when we finish their tax returns."

This is Rodon's 14th year at a Jacksonville site. She said seeing returning taxpayers and volunteers is like a high school reunion. Some people bring baked goods to thank her and the other volunteers, and many catch up with one another and share news from the past year. Volunteers are a varied group, including retired military members, homemakers and many others.

"Who would have thought we would have the impact we've had on people?" Rodon said. "It's wonderful."

Fred Bates, 72, of Sanford, is another longtime Tax-Aide volunteer. After he retired from a career in industrial relations and human resources in 2002 and moved from New Jersey, his friend, a Tax-Aide preparer, asked if he was interested in volunteering. Bates decided to sign up.

"It was new to me to prepare other people's taxes, but I always did my own," he said. Bates later became a local and then state coordinator for the program and is now regional coordinator for Florida and Georgia.

"We serve a lot of people, especially seniors who struggle every year with getting their taxes done," he said. "We get a lot of satisfaction in helping people."

To find a Foundation Tax-Aide site in your community or to learn about volunteering, call 888-227-7669 toll-free or visit aarp.org/findtaxhelp.

Michelle Cerulli McAdams is a writer living in Gainesville.