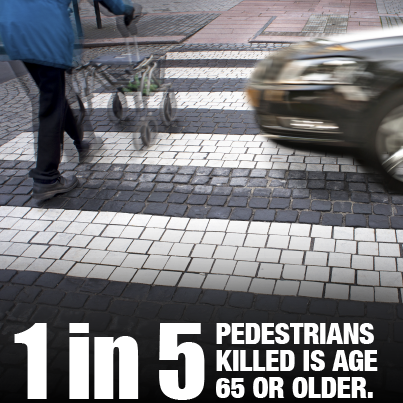 The report ranks 51 metro areas across the U.S. for pedestrian safety. Florida has all four of the most dangerous communities in the nation, the report says – mirroring similar results in a 2011 study.
St. Petersburg, Fla. – Four Florida metro areas -- Orlando Release Dangerous By Design , Tampa- St. Petersburg-Clearwater, Jacksonville Release Dangerous by Design and Miami-Dade-Ft. Lauderdale-Pompano Beach, are the four most dangerous communities for pedestrians among the 51 largest metro areas in the nation, according to a new report released May 20 by the National Complete Streets Coalition, a program of Smart Growth America, AARP and other organizations.
Orlando-Kissimmee ranked first in the report. Over the decade from 2003 – 2012, 583 Orlando-Kissimmee area residents were killed while walking. The report, Dangerous by Design 2014, ranks America's major metropolitan areas according to a Pedestrian Danger Index that assesses how safe pedestrians are while walking. The report found that the majority of those deaths likely could have been prevented with safer street design.
"Florida continues to have the highest pedestrian-danger index in America and the top four deadliest major metropolitan areas for pedestrians in the United States," said AARP Florida State Director Jeff Johnson.
Older adults have the greatest fatality rate of any group, Johnson noted. "Although Florida has made strides to address pedestrian fatalities in the last few years, there is clearly much more work to be done to make Florida streets and highways safer for all pedestrians," Johnson said. "AARP stands ready to work with Florida state, county, city and advocacy groups to make our streets safer for all."
A report issued by AARP and the coalition in 2011 showed Florida also had the four most deadly communities for pedestrians.
Here are news releases issued May 20 by AARP Florida:
Orlando-Kissimmee
Tampa Release Dangerous By Design
Jacksonville Release Dangerous by Design
Miami-Dade – Ft. Lauderdale-Pompano Beach