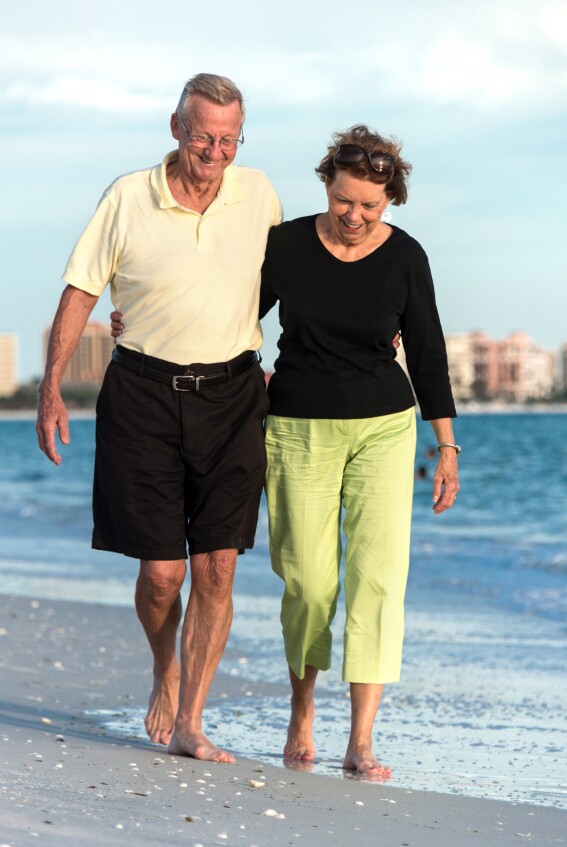 AARP Report: Florida's "Longevity Economy" Responsible for $429B in State GDP, 6 Million Jobs
AARP Florida State Director Calls on Candidates to Talk About State Role in Attracting Boomers
Orlando, Fla. – AARP and Oxford Economics released a Florida_datasheet_V1 today on Florida's "Longevity Economy" that shows that households headed by people 50 or older generate 54 percent of the state's Gross Domestic Product ($428.7 billion), 58 percent of the state's jobs (6,070,000) and 67 percent of Florida's state and local taxes ($37.6 billion). Though only 38 percent of Florida's population in 2013, 50+ Floridians generated 58 percent of total consumer spending ($364 billion).
"This report adds to a growing body of research that show that in economic terms, gray is gold," said AARP Florida State Director Jeff Johnson. Johnson is in Orlando today to attend and present at the Florida Chamber Foundation's Future of Florida Forum. "As consumers, taxpayers, entrepreneurs and employers, people 50 and older are job creators who deserve the attention of policy makers in the public and private sector."
In this fall's elections, voters should press candidates on what they would do to nurture this critical part of the state's economy, Johnson said. "There is an underlying feeling among many leaders that because Florida is Florida, older people will flock our way regardless of what we do," Johnson said. "That reflects a dangerous sense of complacency."
"As the so-called Baby Boomers empty their nests and search for new experiences, they will be drawn to communities that offer a thriving culture, a convenient lifestyle and an economy full of opportunities for encore careers and other forms of continued engagement," Johnson added.
"States like North Carolina and Tennessee have organized efforts to attract these people because of their economic impact. Florida doesn't," Johnson said. "AARP is urging candidates to articulate what role the state has in creating the conditions for growing the Longevity Economy in Florida. Voters want specifics."
The Longevity Economy as defined by Oxford Economics is the sum of all economic activity that is supported by the consumer spending of households headed by someone age 50 and older – both in Florida, as well as spending on exports from Florida to other states. This includes the direct, indirect (supply chain), and induced economic effects of this spending. (The induced impact involves the ripple effects from the spending of those employed either directly or indirectly.)
Johnson will be available to speak with members of the Orlando area news media interested in exploring today's report, the broader issue of the economic impact of an aging population on Florida's future, or policy prescriptions to better capitalize on the opportunities of the issue, Johnson is leading a panel discussion, titled "Encore Careers, Boomer Entrepreneurs," at 4:30 pm Monday the Florida Chamber Foundation Future of Florida Forum at Disney's Yacht and Beach Club Resorts, 1700 Epcot Resorts Blvd., Lake Buena Vista, FL.
About AARP
AARP is a nonprofit, nonpartisan organization, with a membership of nearly 38 million, that helps people turn their goals and dreams into real possibilities, strengthens communities and fights for the issues that matter most to families such as healthcare, employment and income security, retirement planning, affordable utilities and protection from financial abuse. We advocate for individuals in the marketplace by selecting products and services of high quality and value to carry the AARP name as well as help our members obtain discounts on a wide range of products, travel, and services. A trusted source for lifestyle tips, news and educational information, AARP produces AARP The Magazine, the world's largest circulation magazine; AARP Bulletin; www.aarp.org; AARP TV & Radio; AARP Books; and AARP en Español, a Spanish-language website addressing the interests and needs of Hispanics. AARP does not endorse candidates for public office or make contributions to political campaigns or candidates. The AARP Foundation is an affiliated charity that provides security, protection, and empowerment to older persons in need with support from thousands of volunteers, donors, and sponsors. AARP has staffed offices in all 50 states, the District of Columbia, Puerto Rico, and the U.S. Virgin Islands. Learn more at www.aarp.org.