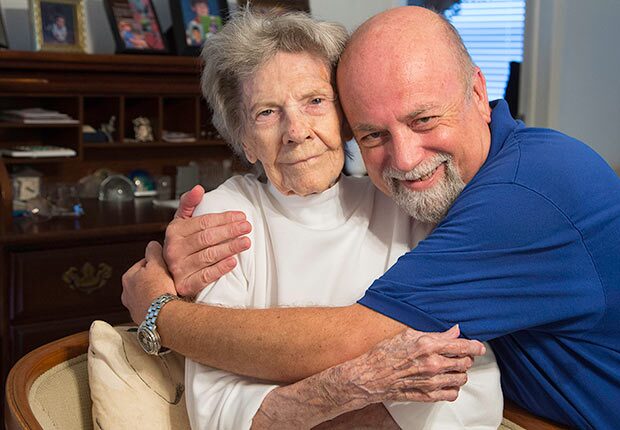 Por Susannah Nesmith

Cuando el padre de Betty Black tuvo un derrame cerebral en el 2012, ella se sintió afortunada porque podía cuidarlo en su hogar en Jacksonville. Se había jubilado temprano y podía llevarlo a las citas con el médico. Además, él estaba recibiendo tratamiento para el cáncer de próstata.

Sin embargo, a medida que pasaron los meses, se empezó a deteriorar la salud de Black, quien ahora tiene 63 años.
"Como lidiaba con un derrame cerebral, cáncer y mala memoria, él andaba despierto de día y de noche, por lo que yo también estaba despierta de día y de noche", dijo. "Necesitaba que alguien me relevara para poder descansar".

Al padre de Black lo colocaron en una lista de espera para servicios brindados por el estado. Mientras esperaban por los servicios de relevo para reemplazar a Black y que ella pudiera descansar más, sus hermanos colaboraron, pero no fue suficiente. Varios meses después de que su padre se mudara a vivir con ella, a Black la hospitalizaron.

"Mi hermana renunció a su empleo para cuidarlo", dijo.

Numerosos estudios han mostrado que los cuidadores son propensos a tener problemas de salud física y mental relacionados con el estrés de cuidar de seres queridos ancianos o discapacitados.

El estado ofrece servicios como los de relevo para ayudar a los cuidadores, cuyos esfuerzos ayudan a evitar que sus seres queridos tengan que mudarse a hogares geriátricos costosos. Sin embargo, en agosto, Florida tenía unas 59,000 personas en una lista de espera para servicios basados en el hogar y la comunidad, como los servicios de relevo y Meals on Wheels (en inglés).

Durante los dos últimos años, Florida aumentó los fondos para los programas. Pero la necesidad todavía sobrepasa mucho los recursos disponibles. Por ejemplo, la Alzheimer's Disease Initiative (ADI) recibió $3.2 millones adicionales, con lo que su presupuesto de este año aumentó a $22.1 millones para todos sus servicios.

El programa proporcionó cuidados de relevo para 1,546 personas este verano. Pero otras 4,305 estaban en la lista de espera. En abril del 2015, antes de que aumentaran los fondos, había 2,947 personas en la lista de espera de la ADI para servicios de relevo.

"AARP le agradece a la legislatura por cada dólar adicional dedicado a servicios basados en el hogar y la comunidad en los últimos años", dijo Jack McRay, gerente de defensa de derechos de AARP Florida.

"Pero la lista de espera para servicios sigue creciendo, y decenas de miles de familias todavía esperan para recibir cuidados. AARP les pide a los votantes que presionen a los candidatos a fin de que la legislatura se comprometa a minimizar la lista de espera para estos servicios importantes".

Este 8 de noviembre se someterán a votación todos los 120 escaños de la Cámara de Representantes estatal y los 40 del Senado estatal.

Lista de cuidados para la enfermedad de Alazheimer
El Department of Elder Affairs calcula que necesitaría $49 millones adicionales para prestarles servicio a todas las personas incluidas ahora en la lista de espera de la ADI. Y la ADI es uno de los programas más pequeños que financia el estado.

El programa Community Care for the Elderly (en inglés), que ofrece cuidados en el hogar, cuidados diurnos para adultos y ayuda para hacer las compras, ha tenido un aumento en su lista de espera de 29,000 en el 2014 a 36,000 este verano. Al haber recibido fondos adicionales de casi $4 millones durante los últimos dos años, el programa pudo brindar servicios a 624 personas más. Los cuidados en un hogar geriátrico son mucho más costosos.

El programa tiene un presupuesto de aproximadamente $53 millones, pero el departamento calcula que necesitaría por lo menos cuadruplicar esa cantidad para ayudar a todas las personas que se encuentran en la lista de espera.

Entretanto, muchos que necesitaban servicios fallecieron mientras su nombre estaba en la lista —6,538 en el último año—. La edad promedio de las personas en la lista de espera es 80 años, según Ashley Chambers, vocera del Department of Elder Affairs.

El padre de Betty Black tenía 86 cuando murió, cerca de un mes después de mudarse al hogar de la hermana de ella.

Cuando Black estaba planificando los servicios fúnebres de su padre, recibió una llamada para avisarle que a él le había llegado su turno en la lista y podía recibir los servicios que necesitaba.

¿Cuidas de alguien? Aprovecha el contenido, recursos y tips prácticos de nuestro Centro de Recursos para el que Cuida.