For 18 years, Ted Holum spent 45 weeks out of each year on cruise ships performing stand-up comedy.

He saw the Greek Islands, China, Australia, Rio de Janeiro, Mexico and many more.

Now, he just wants to be able to do one thing- stay put.

"I got to see the whole world which was wonderful, but now it's nice to sleep in my own bed," said Holum, age 65.

And now that he is better rested, he is seeking new forms of adventure in his daily life.

Holum isn't ready to retire. In fact, he's just started a new three-person comedy variety show. Once a standard offering in entertainment, the variety comedy show has become a growing show-business success for Holum and two other self-described "Old Guys," and another example of how Floridians 50-plus are disrupting stereotypes about aging.

Around the nation, 50-plus Americans are reinventing themselves as they grow older, exploring new interests, starting new businesses and challenging preconceptions about what it means to live a long life. AARP CEO JoAnn Jenkin's 2016 book, "Disrupt Aging: Living Your Best Life At Any Age," chronicled Jenkins' own exploration of later life and featured stories of others. AARP has been raising the visibility of older Americans who are "disrupting aging" nationwide.

Just last year Holum and two friends from 40 years ago, Gene Merola, 69, and Peter Hefty, 61, decided to form the Old Guys Comedy Show. The experienced comedy trio has been traveling around Florida to homes for adults 55+ to perform and share their joy of laughter.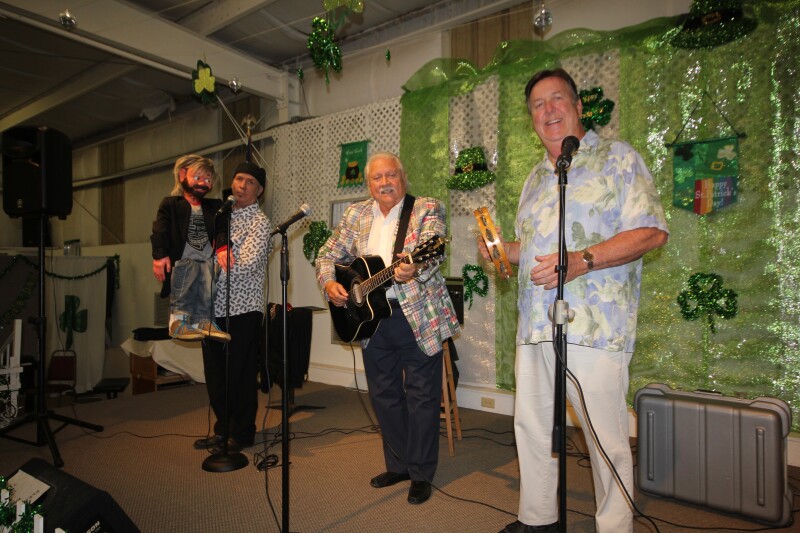 "We came about when Peter and Ted were having lunch and Peter saw a guy passing by wearing an OGR (Old Guys Rule) t-shirt," Merola said. "Peter said 'won't that be a fun idea to have an old guys rule comedy show.' Ted agreed, called me and he and I started planning a strategy to get the ball rolling with the actual t-shirt company Old Guys Rule."

Starting a comedy show is no joke. According to Jerry Corley, a successful comedian and founder of The Standup Comedy Clinic, only 2 percent of people venturing into the field are successful.

Holum's portion of the show is what he describes as straight stand-up. His colleague Hefty is the ventriloquist with four puppets and sound effects. Merola sings humorous sing-along songs mixing in a bit of stand-up comedy.

"It seems like in the 55 and up communities, nobody's really doing what we're doing," Holum said.

Their show references the songs and times from the 60s and 70s and is crafted for the Baby Boomer audience.

Holum wasn't new to the 55+ communities so the idea came naturally.

"I worked for the 55+ communities solo for four to five years for Entertainment Designers Network here in Florida. I always thought, 'No one is doing a comedy variety show'," Holum said. "I think that owning two comedy clubs in Chicago helped give me that idea."

Merola said they're focusing on 55-plus communities, but they're hoping to do more. Since their formation one year ago, the trio has performed in country clubs and casinos across the state, expanding the show to perform at theaters in the near future.

Earlier this year, the Old Guys Comedy Show packed 'em in at the Hillcrest Zephyrhills RV resort in early March. Before 7 p.m. the resort clubhouse filled with 250 of the residents.

The crowd laughed throughout the hour and a half show, while the "old guys" on stage seemed to be having just as much fun. Part of their routines includes crowd interaction, a favorite of Holum when doing his stand-up.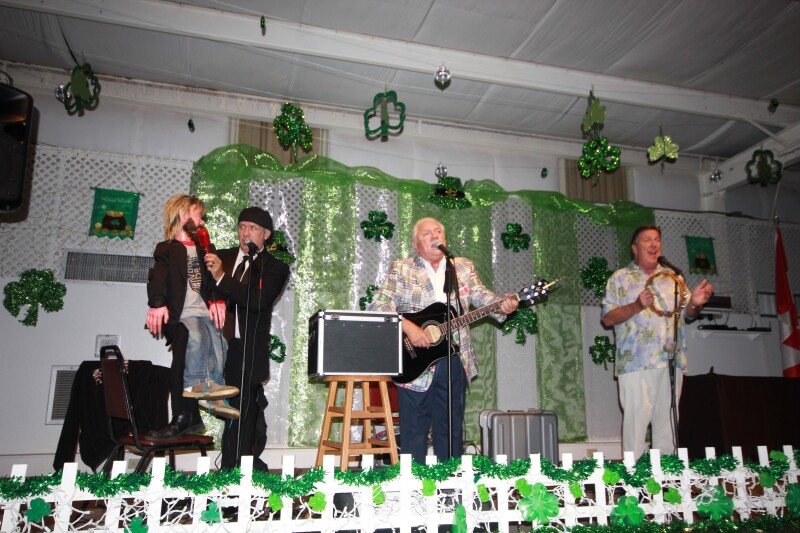 Prior to the group's formation, each performer was a successful comedian during their previous career, often opening up for major headliners. Merola performed with Jerry Seinfeld and Hall & Oates while Hefty worked with Howie Mandel and Jay Leno. Holum worked with "The Tonight Show."

Although their collaborative show with a focus on the 55+ audience is still up and coming, they have a history together having performed on-stage in the 1980. At that time, the comics were friends but also competitors. Now they see themselves as teammates.

"We all root for each other, we don't get to experience that at comedy clubs where it's more of a competitive thing," Merola said.

They have an agent who keeps them busy as they travel around Florida, with 29 shows booked from January to May. Only a year into their venture, the group already has a profitable show.

"As solo acts, we would get solid weekends. As the Old Guys Rule Comedy Tour, we have at least doubled that production. We have, as a matter of fact, a date coming up where we have two shows in one night," Merola said.

This show has had many benefits for the crew besides being able to continue their love of making people laugh.

"Financially, this concept has opened so many new doors for us," Merola said. "Since we perform primarily in 55 and over communities, our concept is so different because it offers buyers a variety show. The 55 and over communities are truly in our wheelhouse."

Holum said at the beginning there was an initial large investment of time and effort. They also funded the creation of the website, promotional poster and a sound and lighting system.

Due to their previous success, the trio didn't have to take out loans when initially putting this dream into action.

It's no secret that making it as a comedian is not an easy career to pursue. Merola says their secret to success is simple.

"In reality, as in all of comedy, it's timing," Merola said. "We're the right combination, presented at the time in the precise communities looking to be entertained. There are many clichés that apply, among them, "laughter is the best medicine" in these times, with all that is going on, having a show like ours helps soothe the tension - even if it's just for an hour and a half."

Merola always did solo shows, so he's still getting used to working as a team.

"I'm not sure if I enjoy it more than working as a single act," Merola said. "The other guys have worked with others. This is a totally new experience for me."

"We work as an ensemble but not really together. I look at it as a team; we complement each other without stepping on each other. There is one more difference- we all root for each other to do well and that is a real plus."