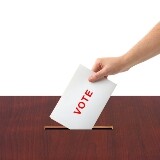 St. Petersburg, Fla. – AARP Florida is partnering with the Tampa Bay Times, Bay News 9 and St. Petersburg College to broadcast a live debate in the general election race to succeed the late Republican U.S. Rep. C.W. Bill Young.
In a special edition of the show Political Connections, the Feb. 3 debate between the Democratic and Republican candidates will be hosted on the SPC Seminole campus by the Institute for Strategic Policy Solutions. It is sponsored by AARP. The debate airs from 7 to 8 p.m.
"AARP has been equipping voters with information straight from the candidates on issues that matter for decades," said Jeff Johnson, AARP's Florida state director. "We are excited to partner with the Tampa Bay Times and Bay News 9 on this debate to help our community find out where the candidates stand on issues like the economy, financial security, and the future of retirement security programs such as Social Security and Medicare."
"We believe this debate will not only inform the voters of District 13 but will air issues of great importance to the people of the entire Tampa Bay region," said Times Editor Neil Brown. "A congressional seat has high stakes for all of us."
The special election is March 11.
The debate, called a "Conversation with the Candidates," will feature the winner of the Republican primary in January and Democrat Alex Sink. Republican candidates are Mark Bircher, David Jolly and Kathleen Peters. Florida's District 13 covers much of Pinellas County. About 37 percent of the more than 455,000 voters in the district are Republican, 35 percent Democrat and about 28 percent independent or other party.
The event will be moderated by Times Political Editor Adam C. Smith and Bay News 9 senior anchor Al Ruechel.
The Institute for Strategic Policy Solutions at SPC also has experience in staging candidate debates, said Dr. James Olliver, campus provost, adding "our facility is second to none in the area."
"Holding this event on campus gives us the benefit of providing our students, especially those studying public policy, with a front seat for a discussion of the major issues facing our nation today."
The Times has produced debates for local, state and national offices for two decades, including races for Florida governor, Tampa and St. Petersburg mayors, the U.S. Senate and the 1996 national Vice Presidential Debate.