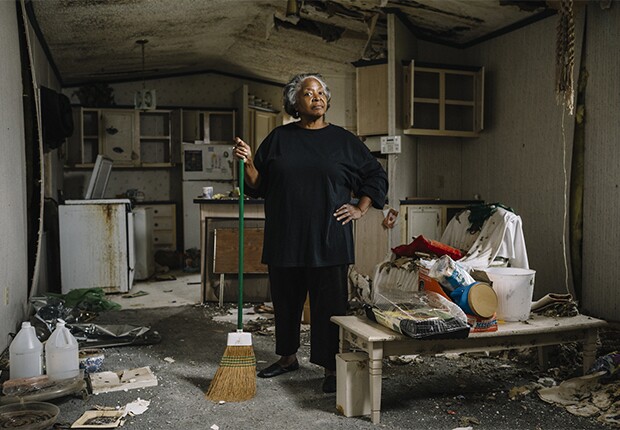 By Amy Sherman
More than six months after Hurricane Michael ripped through northern Florida and destroyed her trailer, Della Stephens still has no permanent place to call home.
The $7,000 in assistance from the Federal Emergency Management Agency (FEMA) wasn't enough to pay for repairs to her Marianna mobile home, said Stephens, who is living with a friend.
Last fall, the 68-year-old also discovered an important lesson about hurricanes: Have enough medication on hand. She ran out of her blood pressure medicine.
"Everything was shut down, even the traffic lights," she said.
Many Floridians are still recovering from the October 2018 storm that killed nearly 50 people statewide and did billions of dollars in damage. And AARP Florida is urging residents to prepare for this year's hurricane season, which starts June 1.
Older people can be particularly vulnerable because they may have mobility challenges or medical conditions.
"Most Floridians should know they need to prepare for hurricane season, but year after year we're reminded that just because people know they should do something doesn't mean they do it," said Jeff Johnson, director of AARP Florida.
Food and flood insurance
Getting hurricane-ready early includes making decisions about how and where to evacuate if necessary, as well as having critical supplies on hand for those staying at home.
Preparations need to include everything from verifying insurance coverage to having nonperishable food and water.
Older residents should reach out ahead of time to organizations that assist them, including registering for special-needs shelters, Johnson said.
State officials recommend Floridians put together a disaster supply kit to last from three to seven days.
It should have at least one gallon of water daily per person, nonperishable foods, a manual can opener, flashlights with extra batteries, prescription medications, a first-aid kit and important documents (stored in a waterproof container).
FEMA advises older people who undergo routine treatments at clinics or hospitals to find out their emergency plans in advance.
Also, create a support network of family or others who know your plan. And make sure to identify a safe place for any pets.
Another tip: Shop early before supplies run out.
Rebecca Crowder, 53, who cares for her mother with dementia, said she shopped earlier in the month, before Hurricane Michael hit, but others faced the last-minute frenzy.
"It was mass hysteria," recalled Crowder, of Panama City.
Andrew Weinstein, a property-insurance lawyer in Broward County, said that Floridians should have a full understanding of what their insurance covers.
"Oftentimes, homeowners coverage will not protect you for damages caused by floods," said Weinstein, who recommends flood insurance even for those who don't live in flood zones.
AARP Florida is also advocating for nursing homes and assisted living facilities to comply with state law to have alternative power sources. The mandate came about after 14 people died at a Hollywood Hills nursing home that lost power during Hurricane Irma in 2017.
Amy Sherman is a writer living in Fort Lauderdale.