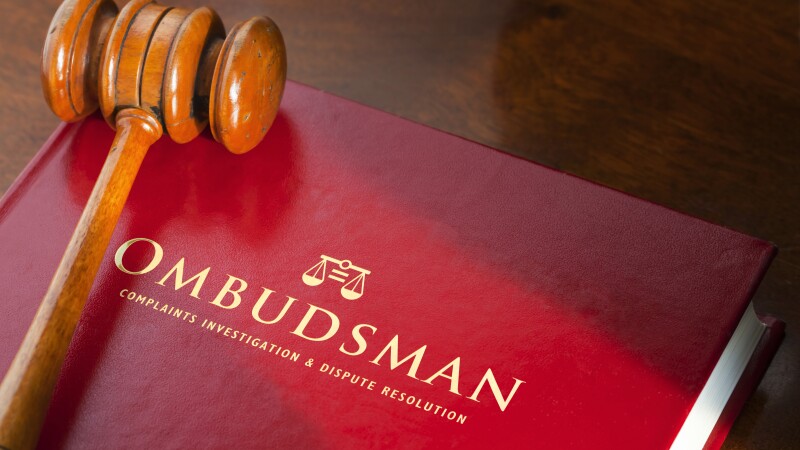 When older Floridians come to live in an assisted-living facility, nursing home or memory-care unit, they often don't realize that their new living arrangement comes equipped with a champion: a volunteer problem-solver, trained in state and federal law and regulations, whose role is to look out for residents.

They're the State Long-Term Care Ombudsmen, a dedicated corps of about 200 volunteers statewide, who regularly visit licensed long-term care facilities to check up on residents' care, resolve complaints, and identify problems that may require state regulators to step in.

"A lot of people have never heard of us," says Marshall Kapp of Tallahassee, one of 18 ombudsmen honored in April 2022 as District Ombudsman of the Year by the State Office of Long-Term Care Ombudsman Program. "We do regular visits, just explaining who we are and what we do."
The long-term care ombudsmen serve a critical role in the long-term care system, said Jeff Johnson, state director of AARP Florida. "These volunteers provide such a vital service," Johnson said. "They not only help residents and their families negotiate solutions to problems in long-term care, they also serve as an important set of eyes and ears making sure that our most vulnerable residents get the high-quality care they need."

"AARP Florida salutes the 2022 Ombudsmen of the Year and all the volunteers and staff of this critically important program," Johnson said.

"Our volunteers play such an important role in protecting the health, safety, welfare, and rights of residents in Florida's long-term care facilities," says Lori Berndt, acting state ombudsman for the Long-Term Care Ombudsman Program (LTCOP). "The Ombudsman of the Year Awards demonstrate the dedication and commitment that exists throughout the state to creatively problem-solve and be the voice for these residents. I thank every volunteer with the program for being such valuable assets to our residents and our LTCOP team."

Volunteer ombudsmen advocate for improving the quality of life for residents by listening to the concerns of residents and their loved ones and working with them and the long-term care staff to assist in resolving their unmet needs and concerns, the ombudsman program says.

Ombudsmen are needed now more than ever, as Florida's long-term care system still reels from the impact of the COVID-19 pandemic. Though long-term care residents and staff made up less than two percent of all Florida residents, they suffered about one in six of Florida's 74,000 COVID deaths. Even though long-term care residents are widely vaccinated, the pandemic is still affecting long-term care facilities.
According to Jane Horowitz, honored as Ombudsman of the Year from the Pasco and North Pinellas Council of the ombudsman program, many facilities are struggling to find and retain staff. "Before COVID, the overall situation was pretty good. Now, virtually all of the homes I go into are struggling to find and retain staff. The shortages of staff are having an impact on the quality of care that residents receive."

Kapp agrees that long-term care staffing is critical – and likely to become more so in coming years.

"If the workforce shortages haven't had an impact yet, they certainly will over time," he says. "The people who are going into these facilities are getting older and sicker and more in need. We should be increasing staffing levels rather than watching them be threatened because the workforce isn't available."

Horowitz brings decades of experience as an advocate in health care to her volunteer role. For 20 years, she was director of the Spina Bifida Association of New Jersey, serving families and those living with spina bifida in the Garden State.

After retiring to Florida in 2012, she looked for volunteer opportunities to continue working as an advocate. For the first few years, she volunteered as an advocate for people who have experienced domestic violence, helping them get court orders and find resources. Over the last several years, she has focused solely on the ombudsman program.

Like Horowitz, Kapp brings a formidable background to the ombudsman role.

A former professor specializing in long-term care law and health policy over a 40-year career, Kapp holds both a law degree and a master's degree in health policy. He retired in 2017 from Florida State University, where he led a center focusing on law and health policy. He had previously served as a professor at Wright State University in Dayton, Ohio, at the University of Dayton School of Law, and also at Southern Illinois University in Carbondale, Il. Earlier in his career, he served in the U.S. Department of Health and Human Services as a nursing-home regulator.

But Kapp and Horowitz agree that an extensive professional resume isn't really needed for the role.

Mostly, Horowitz says, a volunteer ombudsman "has to have the willingness to learn and you have to have compassion for the people you are trying to help."

To equip ombudsmen for their roles, volunteers are trained on the rights of long-term care residents guaranteed by law, as well as problem-solving skills, negotiation skills, and tips on working with staff and administrators of long-term care facilities.

An important element is to approach each situation with an open mind, Horowitz says. "Every home, every case is a little bit different," she says. "We need to be a little creative about how we approach every home that we go into. There is no cookie-cutter solution to the situations an ombudsman encounters – you have to work through the issues and find out what's going on."

Often, Kapp says, the volunteer ombudsmen play an important role by providing basic information and context about long-term care to residents and their families, who sometimes find themselves thrown into the world of long-term care with little background.

"Most people deny that they're going to need long-term care," Kapp says. "They put it off. Then something cataclysmic occurs – a medical crisis occurs or an accident – and the family has to find a facility and make a decision very quickly. You're late to the education game when you're making a decision in crisis mode."

But volunteering for the long-term care ombudsman program is not just a benefit for residents of nursing homes and assisted-living facilities, Horowitz points out. It's a benefit for the volunteer ombudsmen as well.

It's important for retirees to find something rewarding to do when they're no longer working, she says. "Most people contemplating retirement are very focused on the financial planning needed. But just as important is what will they do with their time once retired," Horowitz says. "Golf and cleaning and organizing closets gets old after a short while."

The state ombudsman program is actively recruiting new volunteers. To learn more about volunteering as a long-term care ombudsman, go to https://ombudsman.elderaffairs.org/ or call toll-free at 1-888-831-0404. Applicants to the program should download and fill out an application available on the website.

Kapp and Horowitz both recommend volunteering for the program. "You definitely come down on the rewarding side," Kapp says. "It's why I do it and why others do it as well. Most of us are retired. We're looking for something worthwhile and meaningful to do in retirement. We're needed and we feel we have something to offer."

Full List of Honorees for 2022 for Ombudsman of the Year:

Ronna Brown, Broward Council; Joanne Crain, Southwest Council; Lee Earls, South Central Council; Phillip Everett, Mid- and South Pinellas Council; Linda Grand, Treasure Coast Council; Louis Grossman, North Dade Council; Jane Horowitz, Pasco and North Pinellas Council; Bill Husley, West Central Council; Marshall Kapp, Panhandle Council; Vanda Knowles, Brevard Council; Sharon Latuer, North Central Council; Norma Ledesma, South Dade and Florida Keys; JoAnne Moore, First Coast Council; Rosa Rosario, First Coast South Council; Richard Simon, East Central Council; Teri Sinclair, Withlacoochee Council; Raymond "Sully" Sullivan, Northwest Council; and Anita Yanuck, Palm Beach.