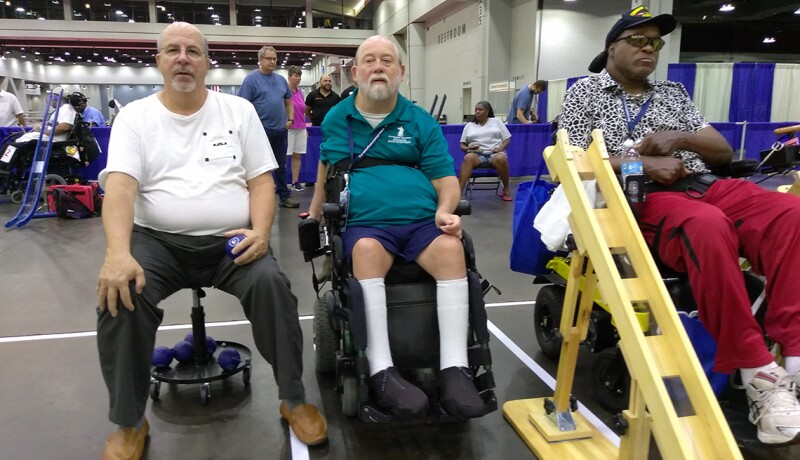 By Tom Scherberger
Sharona Young, a medically retired Navy chief petty officer, is a multi-medalist in two National Veterans Wheelchair Games. But the chance to win more medals is not the main draw for this summer's event in Orlando.
"It's just a good time—veterans from all over the country together in a friendly competition," said Young, 36, of Orlando, who retired on a full military disability after developing multiple sclerosis during her service.
"Some people may be intimidated when they hear it's a competition, but the main person you're competing with is yourself," she added.
Steven Kirk, 69, of Deltona, is from a different generation but also sees the games' impact as simple yet powerful.
He's a quadriplegic from an injury he suffered after serving in the Army Signal Corps in the 1960s. The Games are an extension of his work with paralyzed veterans, encouraging them to stay active through sports.
"It gets them out of the house. Some of the guys, it gives them a whole new life," said Kirk, president of the Paralyzed Veterans of America Central Florida Chapter. He will be participating in his third Wheelchair Games.
The 38th annual games, presented by the U.S. Department of Veterans Affairs and Paralyzed Veterans of America, will be held July 30 through Aug. 4 at several sites in Orlando, including the Orange County Convention Center. AARP is a sponsor as part of its commitment to veterans and their families.
"This is a continuation of that, to spread the word on how we can help veterans," said Colleen Krepstekies, associate state director of communications for AARP Florida. "We also want to find opportunities to honor them. The games are a nice way to interact with that community."
An extension of rehab
The six-day gathering features 19 sports, including basketball, softball, bowling and trap shooting. About 600 participants are expected, said Mike Strickler, a VA spokesman.
In some ways, the games are part of the physical rehab programs at VA centers or Paralyzed Veterans of America chapters, where veterans are introduced to wheelchair sports to improve fitness and independence.
"Recovery and rehabilitation is part of the core competency of the VA," Strickler said. The games are intended to encourage veterans "to be healthy, to be active, to use their military ethos to compete to be the best. We're trying to give veterans the opportunity and encouragement to continue to live as full a life as they can."
Participation is open to veterans receiving VA health care who have spinal cord injuries, amputations, multiple sclerosis or other conditions requiring a wheelchair for competition. Most participants served in Iraq or Afghanistan, Strickler said. Some, like Kirk, are Vietnam-era vets.
Young, who served in the Navy from 1999 to 2014, plans to compete in bowling, table tennis, nine-ball billiards and shot put. She doesn't consider herself an athlete.
"I'm working on becoming an athlete," she said with a laugh. "I try to stay active. It really helps me, the more I stay active and keep moving. It helps me with my overall health."
For athletes and their families, the camaraderie is as important as the competition. "The people you meet are absolutely wonderful," Young said. "You come to the Wheelchair Games and you fall in love with it."
The games, supported by about 4,000 volunteers, are free and spectators are encouraged to attend. For more information, go to wheelchairgames.org.
Tom Scherberger is a writer living in Tampa.