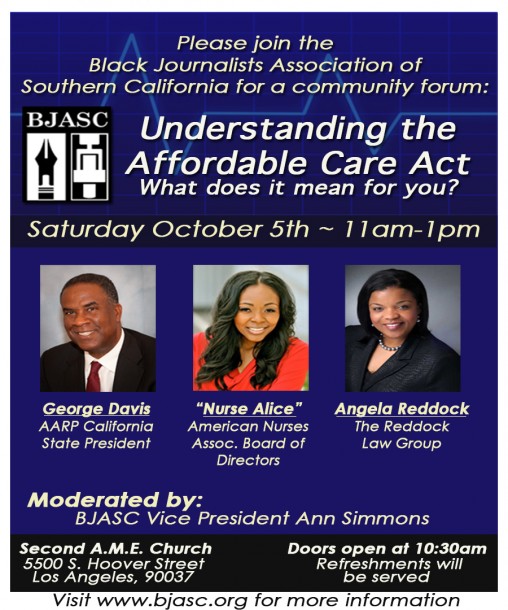 AARP California State President George Davis and AARP volunteer "Nurse Alice" Benjamin will join the Black Journalists Association of Southern California (BJASC) this Saturday, October 5 for " Understanding the Affordable Care Act: What Does It Mean for You?" This community conversation will provide an overview of the new health law followed by a question and answer session for the audience. Angela Reddock, a labor law and employment attorney, will join George and Alice on the panel, moderated by BJASC vice president and journalist Ann Simmons.

Whether you have insurance through your employer, plan to enroll through Covered California, or have Medicare, you'll want to attend to learn what you need to know about the new health law. AARP will also provide materials on what the Affordable Care Act means to you and your family. For a step-by-step guide, visit www.healthlawanswers.org today.

Understanding the Affordable Care Act: What Does It Mean for You?
Saturday, October 5, 2013
11:00 a.m. – 1:00 p.m.
Second A.M.E. Church (map)
5500 S. Hoover Street
Los Angeles, CA 90037
This event is free and open to the public. Doors will open at 10:30 a.m. and refreshments will be served. We'll see you there!

Want to be the first to know about upcoming AARP events like this in your community? Sign up for our state email and join us on Facebook and Twitter to stay informed.