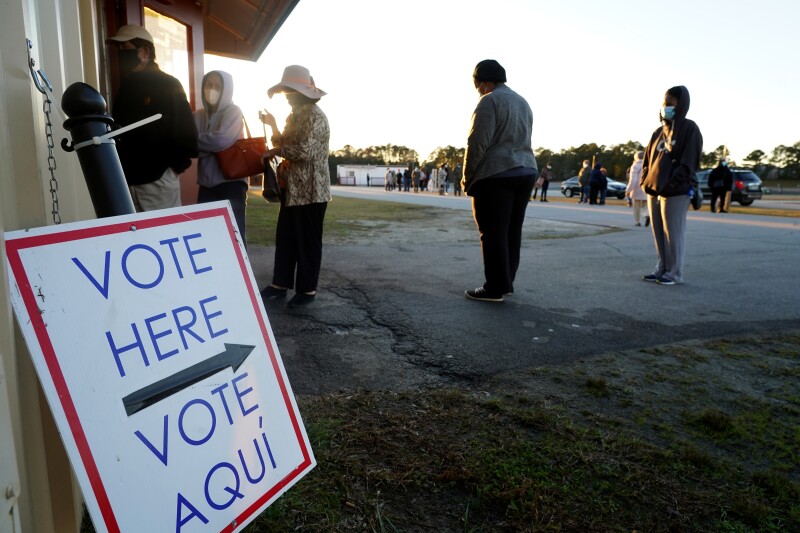 En español | Atlanta's general election for mayor, city council, board of education members and to retain municipal court judges is approaching this fall. City of Atlanta residents living in Fulton and DeKalb counties are eligible to cast a ballot. But a sweeping voting law passed in Georgia last spring introduced new protocols to the voting process, which may affect how you vote.

Absentee or mail-in ballot voting is an option for all Georgia voters. But absentee ballots are not sent out automatically; you may need to request one.
Early voting starts three weeks before Election Day and continues through Oct. 29. You can vote in advance in any early polling site in your county.
Election Day is Tuesday, Nov. 2. You're required to vote in your precinct and can find your correct poll location on the My Voter Page. Polls will be open from 7 a.m. to 8 p.m. If no single candidate for a seat secures 50-percent-plus-one of the vote, a runoff election will be on Tuesday, Nov. 30.

How do I register to vote?
To cast your ballot in the general election and the runoff election, if one is necessary, you must apply to register to vote by Oct. 4. Georgia requires you to submit a registration application, and it may take up to four weeks to get approved.

You can register to vote:

In person: Go to your county elections office. The Fulton County office is at 130 Peachtree St. SW, Suite 2186, Atlanta; hours are 8:30 a.m. to 5 p.m., Monday through Friday. The DeKalb County office is at 4380 Memorial Drive, Suite 300, Decatur; hours are 8 a.m. to 4:30 p.m., Monday through Friday.

You can also register to vote when you renew or apply for your driver's license at the Department of Driver Services. Or pick up and submit voter registration forms at public libraries, public assistance offices, military recruitment stations, other government offices or at schools or colleges with voter-aged students. These sites are required to have forms, according to the Georgia secretary of state's office.
If you're active military or an overseas citizen, you can request an absentee ballot through the Federal Voting Assistance Program website, by calling toll-free at 800-438-8683, or via DSN: 425-1584. Support hours are available 7:30 a.m. to 4 p.m. ET, Monday through Friday, excluding federal holidays.
Check your registration status by visiting the My Voter Page. If after submitting your application you don't receive a precinct card in the mail, contact your county elections office to check on the status of your application. A precinct card proves you're registered to vote and tells you where to vote, but it is not required to be with you when you vote. You can also request a new copy of your precinct card. The Fulton County office can be reached at 404-612-3816 or elections.voterregistration@fultoncountyga.gov. The DeKalb County office can be reached at 404-298-4020 or voterreg@dekalbcountyga.gov.


What if I've moved since registering to vote?
When Georgia voters move, they must notify the board of registrar's or elections office in their county of residence. You can send a written notification of a change of address to your county board of registrar's office, use the online voting registration system or My Voter Page to make changes to your current registration information or simply submit a new voter registration application.


How can I get a mail-in or absentee ballot? Are there important deadlines? Will drop boxes be available?
Any registered Georgia voter can request an absentee ballot and safely vote from home. Sign in on the My Voter Page to find an Absentee Ballot Request Information box with a link to the absentee ballot application, which you can then mail, fax, email or hand-deliver to your county registrar. If you live in DeKalb County, use the designated email address for absentee ballot requests: absenteeballot@dekalbcountyga.gov.

You can also visit the Georgia secretary of state's website to find information about absentee voting and download the application. Call your county elections office to request an absentee ballot application. The number in Fulton County is 404-612-7060. The number in DeKalb County is 404-298-4020.

The earliest you can request an absentee ballot for the Nov. 2 general election is Aug. 16. The last day­­ is Oct. 22. The last day to submit an absentee ballot application for the Nov. 30 runoff election is Nov. 19.

Absentee ballots must arrive at the county elections office by 7 p.m. on Election Day to be counted. Absentee ballot drop boxes are available only during early voting hours, inside limited locations. The drop box locations in the two Atlanta counties have not yet been determined, but they will appear on the Fulton County website and the DeKalb County website before early voting begins.

If you choose to mail your absentee ballot, do so at least seven days before the election. You can track the status of both your absentee ballot application and the actual ballot on the My Voter Page.


When is Election Day? When are polls open? And does it matter where I vote?
Election Day is Tuesday, Nov. 2, with polls open between 7 a.m. and 8 p.m. You must vote in your designated precinct. Check the My Voter Page for your polling location. The only window allowed to vote by a provisional ballot, a ballot cast outside your precinct or pending proper identification, is between 5 and 8 p.m. If you cast a provisional ballot at any other time, your vote will not count.


Can I vote in person before Election Day?
Yes. Early voting runs in Fulton County Oct. 12-29, Monday through Sunday, 9 a.m. to 6 p.m. Unlike Election Day, when you need to go to your precinct's polling place, during early voting you can go to any location in your county.

Early voting for Atlanta residents living in DeKalb County will also be available Oct. 12-29, although the Dekalb County Board of Registration and Elections has not yet decided if the early voting locations will be open on Sunday. A decision will be made at either the August or the September board meeting.

Information about early voting locations will appear on the My Voter Page, the Fulton County election office website and the DeKalb County election office website. You can also find them on the Georgia secretary of state's website.


What form of identification do I need to vote?
You must show an acceptable photo identification when voting in person, which can be:

A Georgia driver's license, even if it's expired
A valid U.S. passport
Any valid photo ID issued by the state or federal government, including a free ID card issued by the Georgia Department of Driver Services or your county registrar's office
A valid U.S military photo ID
A valid tribal photo ID
A valid employee photo ID from any department, branch, entity or agency of the U.S. government, Georgia or any county, municipality, authority, board or other Georgia state entity
If you don't have an acceptable form of photo identification, you can get a free voter ID card from the Department of Driver Services or any county registrar's office.

If you have trouble getting a free voter ID card or have any questions about the identification requirements, contact your county registrar's or election office, or the secretary of state's Elections Division at 404-656-2871 or toll-free at 844-753-7825. TTY callers can dial 404-656-1787.


What is being done to make polling places safe from coronavirus?
Fulton County plans to use the same COVID-19 precautions instituted during the 2020 election. That means poll workers are required to wear masks, voters who don't have masks will be offered one, hand sanitizer will be available, and voting machines and stylus pens to use when voting will be regularly cleaned. DeKalb County is still determining its protocols.

This guide, originally published on Aug. 3, was updated on Aug. 10 with new information on early voting.


Also of Interest: