Both of Georgia's 2020 U.S. Senate races are headed to highly anticipated runoff elections in January, with the winners deciding whether Republicans or Democrats control the upper chamber in the next Congress. Voters have options to cast a ballot safely during the COVID-19 pandemic: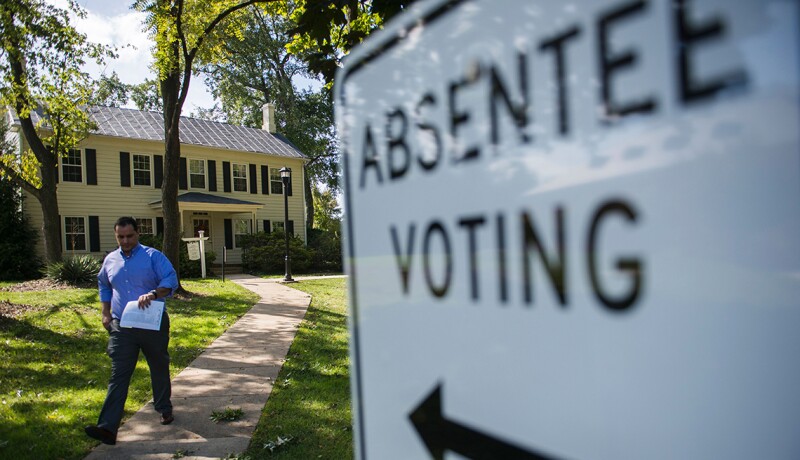 The runoff election will be held on Tuesday, Jan. 5, but early in-person voting begins Monday, Dec. 14.
All registered voters — including those who didn't vote in the Nov. 3 general election — are eligible to cast ballots in the runoffs. The voter registration deadline is Monday, Dec. 7.
All registered voters who wish to participate in the election from home can request and submit an absentee ballot. The earliest the state will begin distributing absentee ballots is Wednesday, Nov. 18.
Here's what else you need to know.

Which candidates made it to the runoff?

Republican Sen. David Perdue is trying to fend off a challenge from Democrat Jon Ossoff, managing director and CEO of an investigative film and production company. And Republican Sen. Kelly Loeffler, who was appointed by Gov. Brian Kemp (R) in late 2019 to replace retiring Sen. Johnny Isakson (R), is locked in a close race with the Rev. Raphael Warnock, a Democrat from Atlanta.

All four candidates answered questions from AARP about key issues for voters over age 50 — including how they'll help the economy recover from the pandemic and what they'll do to protect Medicare and Social Security:

Unemployment during the coronavirus crisis reached the highest levels since the Great Depression, and older Americans have been disproportionately affected. If elected, how will you help Americans over the age of 50 recover economically from the effects of the coronavirus?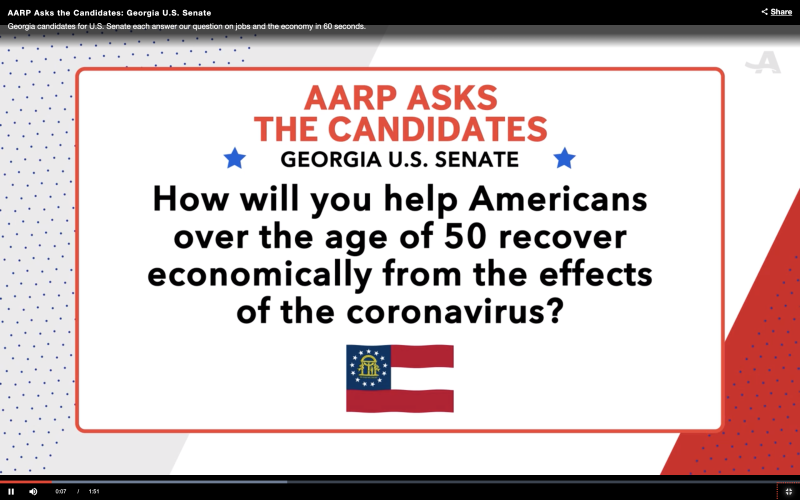 Jobs and the Economy
Americans pay the highest prescription drug prices in the world. If elected, how will you cut prescription drug prices for all Americans?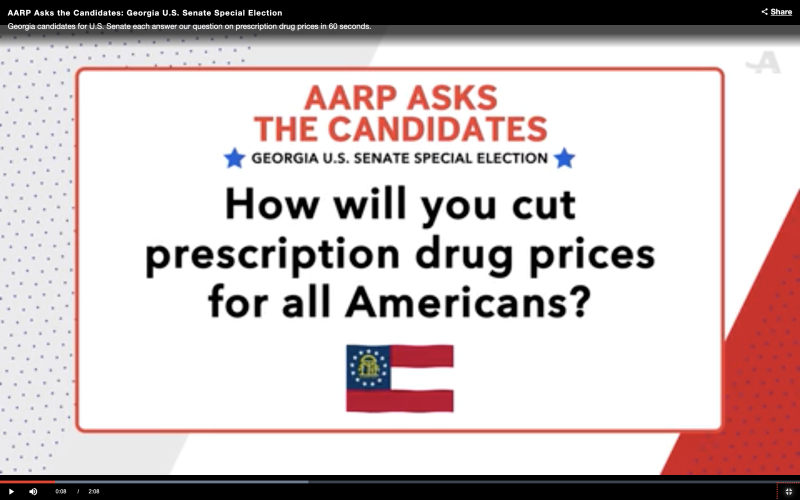 Question 4: Prescription Drug Prices
Watch the rest of the responses from Perdue and Ossoff and Loeffler and Warnock.

What is a runoff election?

In Georgia runoff elections happen when no candidate in a race wins a majority of votes. No candidate in the state's Nov. 3 Senate elections carried at least 50 percent of the vote, though Perdue and Warnock led in their respective races. So Georgians will return to the polls Tuesday, Jan. 5, to decide whether incumbents Perdue and Loeffler will serve another term — or whether either or both are ousted by Democratic challengers Ossoff and Warnock, respectively.

How do I register to vote?

Those who voted in the Nov. 3 general election and others who are already registered don't need to reregister for the runoffs. Voter registration will still be open to all eligible Georgians who didn't participate in the general election.

You can register online through the state's voter registration portal or through the mail by printing and sending a registration application to the secretary of state's office. The registration deadline is Monday, Dec. 7.

How can I get an absentee ballot? Are there important deadlines?

As in the general election, any registered Georgia voter is eligible to cast a no-excuse absentee ballot. You'll need to submit an absentee-ballot application, which can be downloaded from the secretary of state's website. Completed applications can be delivered to your local board of registrar's office in person or by mail, fax or email attachment until Friday, Jan. 1. You must return your completed absentee ballot by the time polls close at 7 p.m. on Tuesday, Jan. 5.

Some counties have installed secure drop boxes into which voters can deposit absentee ballots without adding postage. Check with your local registrar to see if your county offers this service.

How do I know that my absentee ballot is secure?

Georgia requires counties to notify voters if their ballots are rejected for any reason, such as a missing or mismatched signature. Voters can fix their ballot if there's a problem.

A record number of in-person and absentee ballots were cast in November's general election in Georgia, and Secretary of State Brad Raffensperger (R) has said there's no evidence of widespread ballot issues or voter fraud. He appointed an Absentee Ballot Fraud Task Force of election officials, prosecutors and law enforcement officers to investigate allegations of fraud.

When is the runoff? When are the polls open?

Tuesday, Jan. 5. Polls are open from 7 a.m. to 7 p.m.

Can I vote before Monday, Jan. 5?

Yes, you can cast an in-person ballot beginning Monday, Dec. 14. Counties set the times and days, and early voting closes on Thursday, Dec. 31. Find out when and where to cast your ballot at Georgia's online My Voter Page.

What form of identification do I need to vote?

You don't have to provide ID if you vote absentee by mail. But Georgia requires ID for in-person voting. Acceptable forms of ID include a Georgia driver's license (even if expired) and a valid state- or federal government–issued photo ID — including a free ID card issued by your county registrar or the Georgia Department of Driver Services (see the full list of acceptable IDs). If you have questions or difficulty in getting your free voter ID card, contact your county registrar's office or the secretary of state's office at 877-725-9797.

What is being done to make polling places safe from the coronavirus?

The secretary of state's office will supply masks, hand sanitizer and cleaning supplies to county election offices. Voters are required to keep a safe distance from others.

Will I be able to vote in the same place as I always have?

Not necessarily. Check Georgia's online My Voter Page or with your county elections office before heading to the polls.

AARP is urging older Americans to ask the candidates 5 key questions:

Just over half of all older Social Security beneficiaries rely on the program for at least 50 percent of their income. If elected, how will you ensure that current and future Social Security benefits are not cut as part of deficit reduction?
Half of the people with traditional Medicare spend at least a sixth of their income on health care. If elected, how will you protect Medicare from benefit cuts, as well as lower health care costs and ensure seniors continue receiving the affordable health care they have earned?
COVID-19 has caused death and suffering for too many older Americans who require long-term care. If elected, how will you make sure seniors can access safe and affordable long-term care at home, as well as in facilities like nursing homes and assisted living?
Also of Interest