AARP Commends Governor & General Assembly for Taking Action
Thousands of Illinois seniors who receive care in their own homes or in institutions received good news today as Governor Quinn signed into law Senate Bill 2773. The legislation establishes a task force with the sole purpose of identifying and addressing disparities across the spectrum of services that older adults rely on when they receive care at home or in institutions. AARP strongly supported the legislation which is largely a result of the Association's ongoing advocacy work against Illinois' well-documented history of racial and ethnic disparities in long term care settings. The legislation passed both chambers of the General Assembly unanimously earlier this spring and was sponsored by Sen. Jacqueline Collins and Rep. Ken Dunkin.
"AARP applauds Governor Quinn and the entire General Assembly for taking a positive step toward addressing the racial and ethnic disparities that exist in Illinois' long term care system, said Bob Gallo, State Director with AARP Illinois. "It is important that people are able to live independently as they age and that we look at quality of care issues with a focus towards addressing disparities where they exist."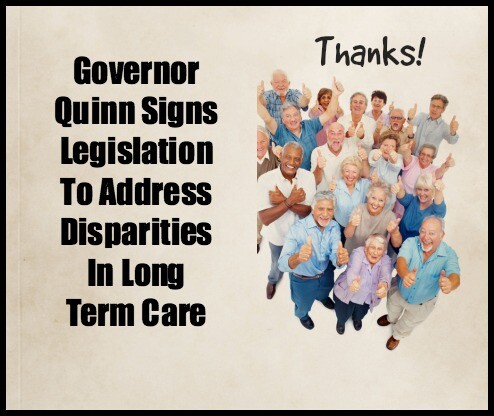 Among other things, the Long Term care Services and Supports Disparities Task Force will be responsible for documenting the number and type of long term care providers in the state as well as the number of clients served, comparing multi-year data to identify trends in the delivery of long term care for various racial and ethnic groups, and providing recommendations to address where disparities in use and quality of care exist.
Long term care encompasses a broad range of day-to-day help needed by people with longer-term illnesses, disabilities, frailty, or other extended health conditions. This can include: help with housekeeping, transportation, paying bills, meals, personal care, care provided by a nurse or other paid health care professional in the home, adult day services, and other ongoing social and medical care services outside the home.
"The vast majority of older people would like to live with independence in their own homes as long as they are able," added Gallo. "Taking the time to study the disparities issue is an important step towards ensuring higher quality care – and ensuring that people can live in their homes and communities for as long as possible."