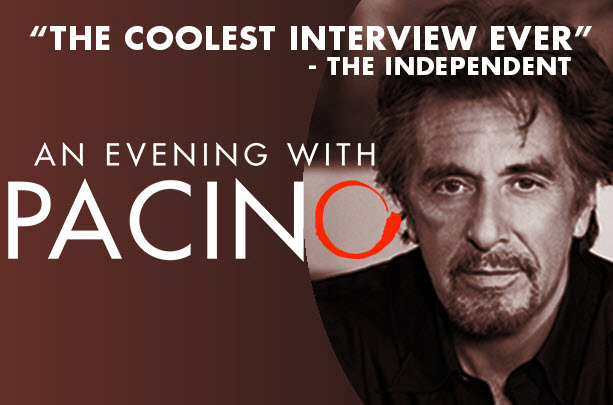 AARP Massachusetts is pleased to offer discounts on selected seats to "An Evening With Al Pacino," on Friday, June 27, at 8 p.m. at the Citi Performing Arts Center Wang Theatre, 270 Tremont St., in Boston.

The event "will celebrate one of the most acclaimed careers in acting history in an intimate theatre setting, with the actor himself, as he shares his passion for acting and directing," according to the Citi Performing Arts Center write-up about the event.

Presented in an interview format, the evening will be moderated by Ty Burr, a film critic for the Boston Globe Living/Arts section. The conversation will cover Pacino's career, from his days off-Broadway in the 1960s to his present day work, including his September release in the U.K of Salome and Wilde Salome, based on the play by Oscar Wilde. The evening will also include some never-before-heard stories and never-before-seen clips, as well as an audience Q&A with the actor.

Pacino has created some of the most indelible character portrayals in cinema history, starring in more than 40 films that include " The Godfather Trilogy;" "Dog Day Afternoon;" "Serpico;" "Scent of a Woman;" "Sea of Love;" "Dick Tracy;" "Heat;" "Scarface;" "Any Given Sunday;" "Donnie Brasco;" "Angels in America;" and most recently " You Don't Know Jack" and "Phil Spector" for HBO .

He is an eight-time Academy Award nominee and an Oscar Award winner for his performance in " Scent of a Woman." His performances for HBO have garnered Golden Globe and Emmy awards for " Angels in America" and " You Don't Know Jack." When he received the Cecil B. DeMille Award in 2001—an award given annually at the Golden Globe Awards to an actor selected by the Hollywood Foreign Press Association—he was described as "One of the greatest actors in all of film history."

AARP MA IS OFFERING TWO DISCOUNT LEVELS ON SELECTED SEATS:
A 30% discount on specially selected seats. The regular price is $143.25; the discounted price is $101.25. With an $18.55 required processing fee, the final ticket price is $119.80.
A 20% discount on specially selected seats. The regular price is $73.25; the discounted price is $59.25. With a $15.95 required processing fee, the final ticket price is $75.20.
PROCEDURE FOR ORDERING DISCOUNTED TICKETS:
To order your discounted tickets:

Click on "Tickets;" a pop-up window will open.
Type REALPOSS in "Offer Code" and click the check mark (see screenshot, below):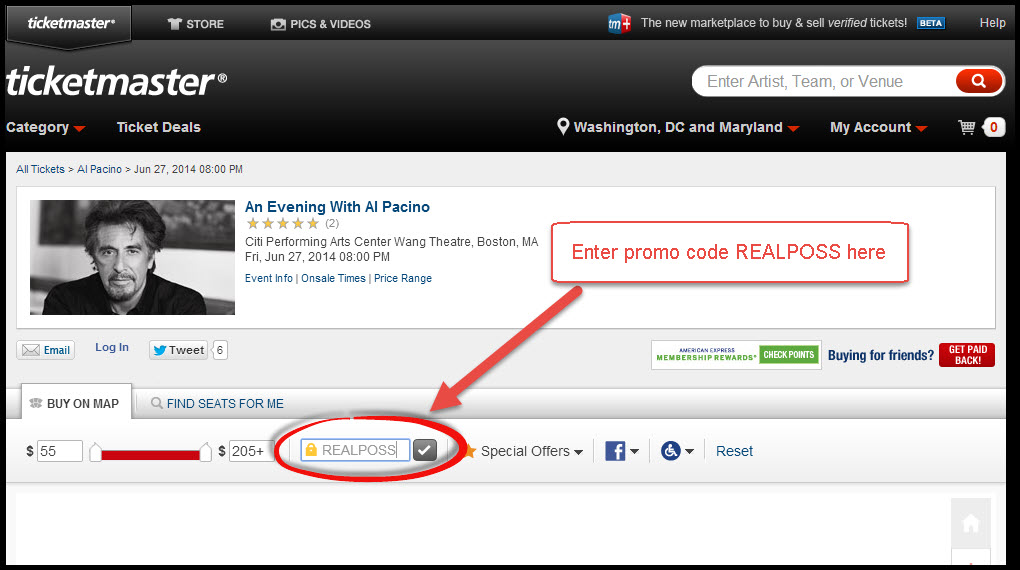 A pop-up screen will appear, showing that your promo code

REALPOSS

has been accepted: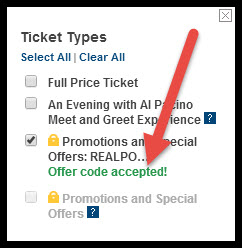 Seats with the AARP MA discount will show as bright blue dots.
Hover your cursor over a bright blue dot. The seat assignment and discounted price (either $119.80or $75.20) will appear in a separate pop-up screen. Note that this is your final ticket cost, and includes both the discount plus the processing fee: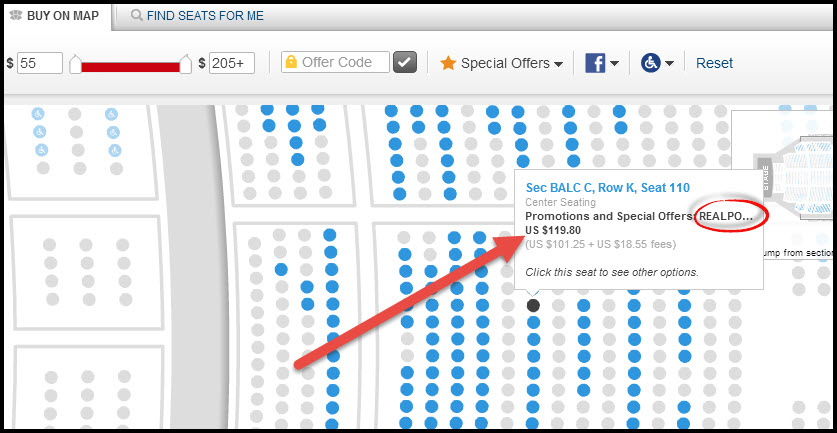 You may also see "Other Ticket Options" in the pop-up screen, with "Full Price Ticket." While these seats are available for purchase, they are not part of the AARP Massachusetts REALPOSS discount.
When ready to purchase, click "Select," and the dot (seat) will turn black. Repeat this process for the number of tickets you wish to purchase.
When finished, click on "Buy Tickets" at the bottom of the pop-up screen to complete your transaction.


Some information in this post came from the website of the Citi Performing Arts Center.