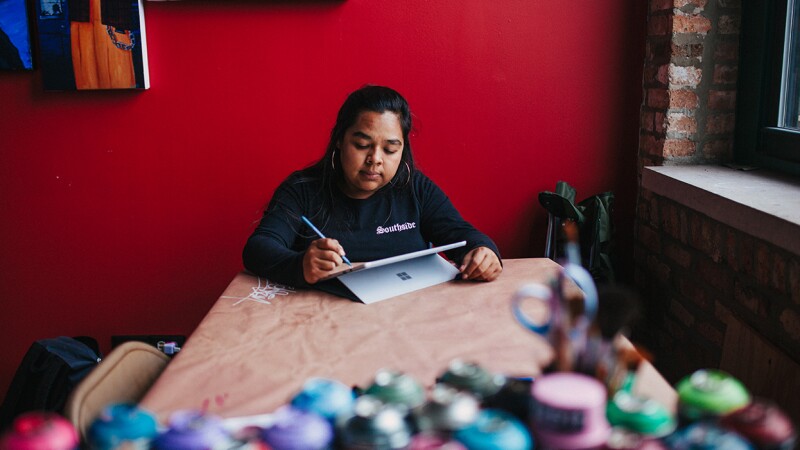 By Kelly Ganski

Chicago artist Elizabeth Reyes has remembered her grandmother and loved ones in Mexico for years by painting sugar skulls for the Day of the Dead (Dia de los Muertos), a tradition honoring family members who have died but whose spirits live on.

This year, Reyes, 32, will use her artistic talent to create a skull-themed mural in the city's Little Village neighborhood as part of AARP Illinois' celebration of National Hispanic Heritage Month (Sept. 15 to Oct. 15).

"I feel passionate about remembering our ancestors," said Reyes, who teaches art classes to Chicago teens, including those in Little Village. AARP will unveil the mural—located at Nuevo Leon Restaurant at 3657 W. 26th St.—on Friday, Oct. 18, at 5 p.m., as part of Day of the Dead events.

"It's a great opportunity for us to show up in a community in a genuine way," said Álvaro Obregón, associate state director of advocacy and outreach for AARP Illinois.

"We're not just taking an ad out; we're engaging the community in a creative and meaningful way," Obregón noted. Reyes has experience expressing AARP initiatives through art.

For Chicago's 2018 Day of the Dead, she decorated the sides of several cars of the Pink Line "L" train with skull motifs. Reyes said she is looking forward to seeing her work this year become a permanent fixture in the community and hopes to bring her students to the mural to learn about the Day of the Dead and its meaning.

'Careversations'

Also as part of Hispanic Heritage Month, AARP is hosting a series of events aimed at helping caregivers in the Latino community.

"Some people will see this as just a Day of the Dead mural, but the underlying theme is really about caregiving," explained Obregón, who has looked after his aunt and mother.

"In the Latino community we care for our elders," he said. "It's still taboo to put family in a nursing home. What you often find is those elders are living at home with their families. And people just adjust their lives to that reality."

Engaging with the Latino community, especially on the issue of caregiving, has been a priority for AARP Illinois this past year. The organization wants residents to know about available resources and its advocacy work.

AARP Illinois has been holding "CAREversations" for bilingual community members to inform them about what it believes are the five pillars of caregiving: starting the conversation about how to care for someone, forming a team, making a plan, finding support and caring for yourself.

"If we're not well, we can't care for others," Obregón observed.

The final CAREversation, "Cui-dando a los Nuestros" (meaning "Caring for Our Own"), is scheduled for 9:30 a.m., Saturday, Oct. 12, at Self-Help Federal Credit Union (Second Federal) at 3960 W. 26th St. in Chicago.

AARP in Chicago is also hosting its second annual caregiving conference, "Caminando Juntos" ("Walking Together"), on Saturday, Nov. 9, at 9 a.m., at the Arturo Velasquez Institute, at 2800 S. Western Ave.

The sessions are in Spanish, with English translation available. For more details on the conferences and other events, go to aarp.org/il or call 866-448-3613.

Kelly Ganski is a writer living in Bartlett.