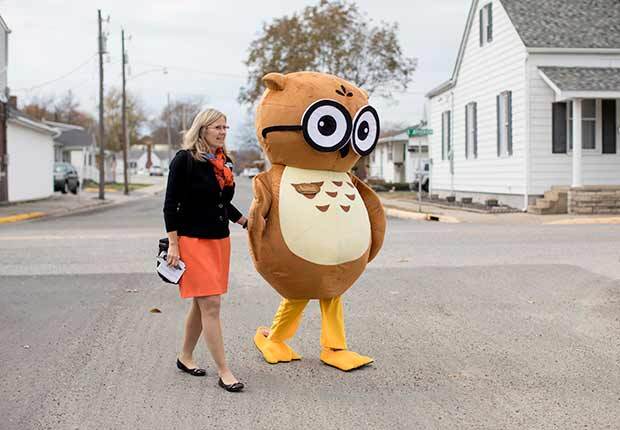 By Jackie Spinner

Illinois' continuing budget crisis put Joy Paeth in a bind. As chief executive of AgeSmart Community Resources in Belleville, which provides legal assistance, home-delivered meals and transportation services to older people in seven counties, she was finding it difficult to hire a key employee because of uncertainty over continued state funding.

After a year without a budget, the state last summer finally approved a spending plan through the end of 2016 that allowed public schools to open on time and agencies to pay some of their bills.

But services for people in need had already been slashed. Meal deliveries, transit services and adult day care programs were cut or shut down in many places. Essential staff were laid off and never rehired.

Last summer's budget bill "didn't really help older adults a whole lot because you can't go back and provide services that weren't provided due to lack of funds," said Julie Hubbard, executive director of the Springfield-based Area Agency on Aging for Lincolnland, which covers 12 Central Illinois counties.

For many agencies in Illinois that help the state's most vulnerable residents, including older people and the disabled, the financial crisis is far from over. When the General Assembly takes up the new fiscal year budget this month, the battle to fund basic social services will start once again.

"We don't know what is going to happen after that," Hubbard said.

Hold politicians accountable
In an effort to mobilize citizens across Illinois, AARP is launching a campaign called Enough Is Enough, to encourage them to hold elected officials accountable for the gridlock and urge lawmakers to come up with long-term solutions that restore the fiscal health of the state.

"They have to stop putting politics above the people," said Ryan Gruenenfelder, manager of advocacy and outreach for AARP Illinois.

The state has a long history of budgeting problems, which have led to higher taxes, higher fees, depleted services and a chronically underfunded pension system. A clash between the Republican governor and Democratic leadership in the legislature has exacerbated the troubles.

As is the case nationwide, roughly 75 percent of AARP Illinois' 1.7 million members vote. Many who are aware that services have been cut in their communities may not realize that this is part of a larger problem across the state. Or they may feel powerless to act. Maurice Hawkins, of East St. Louis, said he certainly feels that way.

The 65-year-old retired bus driver daily visits the Seasoned Circle Cafe, a federally funded program of the Lessie Bates Davis Neighborhood House, for breakfast, lunch and conversation with other older residents in his community. He used to get help from the state to pay for some of his utilities, but that program has been cut, he said.

"I know there's nothing I can do to change any of that," he said. "I can't do anything to change the governor. I couldn't change anything in Springfield. I don't have the time, money or energy."

Tenille Traylor, vice president of the Lessie Bates Davis Neighborhood House, said about 30 to 40 seniors come to the cafe for breakfast and lunch, exercise class, bingo and Bible study.

"A lot of them are concerned about their finances being cut," she said. "Most of them get food stamps. They are already receiving a minimum amount. They are concerned about being cut even more. They are concerned about housing."

AARP hopes that by attending community discussions, people will feel empowered to press their state legislators to act. "We don't want 2017 to be at all like 2016 or 2015," Gruenenfelder said. "People deserve better. It's just not sustainable.

"It's outrageous that the legislature cannot negotiate a full state budget, but they can negotiate to bail out powerful corporations like our state's utility companies," Gruenenfelder added.

Jackie Spinner is a writer living in Chicago.