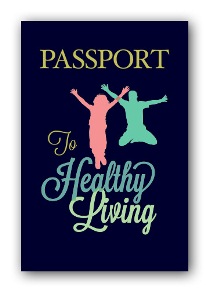 On May 26, something BIG will begin in Springfield.

Citizens - young, old and in between - will have an opportunity to participate in a summer long adventure that could take them from the Moon City Creative District to the Rutledge-Wilson Farm. Springfield's "Passport to Healthy Living" program will incorporate a plethora of interactive events, physical exercises, and healthy living activities that also prompt participants to learn more about the city. This is a FREE program for one and all that concludes on August 8.

Here's how it works. Individuals obtain and fill out the passports by answering questions (or responding to clues) on each page as they explore various areas of Springfield. All passports are picked up and returned to the following locations. To be eligible for the drawing for prizes, individuals must answer 13 out of 26 questions and turn in their passport by August 8.

Here's where passports can be picked up - and turned in starting May 26:

The Library Center, 4653 S. Campbell Avenue
Midtown Carnegie Branch Library, 397 E. Central Street
The Library Station, 2535 N. Kansas Expressway
Chesterfield Family Center, 2511 W. Republic Road
Dan Kinney Family Center, 2701 S. Blackman Road
Doling Family Center, 310 E. Talmage Street
Mediacom Ice Park, 635 E. Trafficway
Springfield-Green County Botanical Garden, 2400 S. Scenic Avenue
WIC, 440 E. Tampa Street


"This city-wide program can help families and friends discover what great free resources Springfield has to offer while staying fit and active," said Diane Hall, AARP associate state director for community outreach. The Passport to Health Living program was developed by and is sponsored by AARP in Springfield, Springfield-Green Count Park Board, Springfield-Green County Library District, Community Partnership of the Ozarks and the City of Springfield.

Hall added, "There are opportunities for individuals, or clubs and church groups to explore the city together, combined with opportunities for adventures in parks, libraries, businesses and farmers' markets," Hall added. "There's something for everyone - and best of all, it's keeping folks stay fit, active and healthy."

It's a Wrap...

The Passport "wrap celebration" party is scheduled for August 22 at the Mediacom Ice Park after the program concludes. Individuals may register to attend the party in three ways:

1. When passports are turned in by August 8

2. AFTER June 30 at https://aarp.cvent.com/mopassport

3. AFTER June 30 by calling toll free at 1.877.926.8300.