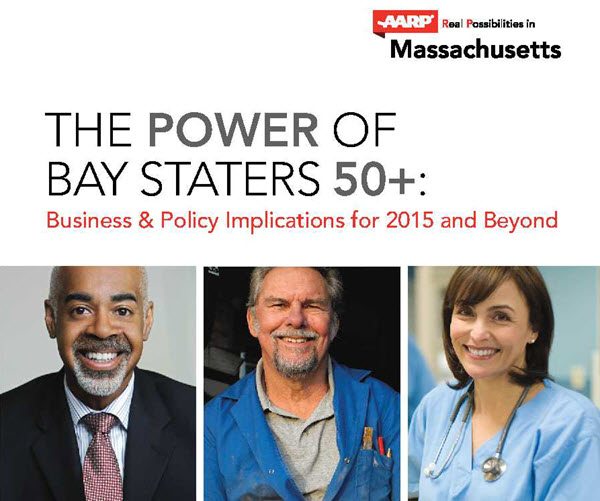 Americans 50+ represent a powerful new force changing the face of America, and with 106 million strong this group is responsible for $1.7 trillion in economic activity — a figure that is expected to reach well over $13.5 trillion in real terms by 2032.

Join AARP Massachusetts for a lively discussion on important new research about this segment of the population, called: "The Longevity Economy: Generating Economic Growth and New Opportunities for Business," and weigh in on the implications and opportunities this presents for the state of Massachusetts.

The keynote address will be given by Jody Holtzman, senior vice president, AARP Thought Leadership. Panelists include Len Fishman, director, Gerontology Institute at UMass Boston, and Amy Schectman, president and CEO, Jewish Community Housing for the Elderly.

Across the nation, the aging population has proven to be an important and vital source of economic growth, according to " The Longevity Economy: Generating Economic Growth and New Opportunities for Business," a study conducted in 2013 by Oxford Economics and commissioned by AARP. This study counters long-held beliefs about the negative financial impacts of aging on the US economy by showing that the 50+ population has money to burn.


---



WHAT: The Power of Bay Staters 50+: Business and Policy Implications for 2015 and Beyond.

WHEN: Tuesday, Dec. 16, 2014; 8 a.m. registration; 8:30-10 a.m. program; breakfast will be served.

WHERE: Omni Parker House, Rooftop Ballroom, 60 School St., Boston, MA 02108

RSVP: Register by Dec. 5 at aarp.cvent.com/parkerhouse or call 1-877-926-8300




---

The Massachusett Longevity Economy, according to the report, shows that despite being 35 percent of Massachusetts's population in 2013 (expected to grow to 37 percent by 2040), the total economic contribution of the Longevity Economy accounted for 49 percent of Massachusetts's GDP ($219 billion).

Additionally, people over 50 also make a significant contribution to Massachusetts's workforce, with 70 percent of people 50-64 employed, compared to 79 percent of people 25-49. Overall, people over 50 represent 34 percent of Massachusetts's workforce. Among employed people, 13 percent of those 50-64 are self-employed entrepreneurs, compared with 7 percent of those 25-49. Additionally, 50 percent of those 50-64 work in professional occupations, compared to 52 percent of those 25-49.