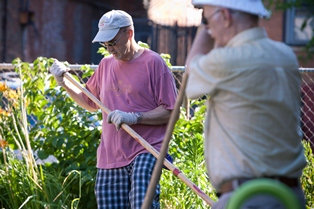 In 2011, Cincinnati AARP member LaDonna Pope inspired the creation of neighborhood "giving gardens." Today, several neighborhoods have giving gardens -- where AARP members and community gardeners work together to grow fresh produce for nearby homebound seniors.

If you're inspired and looking to roll up your sleeves this spring, we could use your help.

We're seeking volunteers to help prepare and plant this spring at two gardens. It requires just a couple of hours of your time and is a great way to share a laugh and lend a helpful hand in our neighborhoods.

Watch this short video for more about the giving gardens.

Join LaDonna Pope and William Hawkins this weekend in Walnut Hills. We'll top off beds with soil, assist with clean up, and do some planting in the giving gardens.

Where: Walnut Hills Community Garden
(corner of Beecher & Stanton Streets)
809 Beecher Street, Cincinnati 45206
When: Saturday, April 27; 9 a.m.-Noon
RSVP: Please register online or call toll-free 1-877-926-8300.

Volunteer Diana Porter will lead us as we assemble and install more 'giving garden' beds, begin planting and help clean up the garden and Commons in College Hill. All participants also receive a voucher for a cold drink and a sweet treat at the College Hill Coffee Co.--host of the annual Spring Fling Art Show & Sale on May 11.

Where: College Hill Community & Children's Garden
John T. Crawford Commons
1400 W. North Bend Rd., Cincinnati 45224
When: Saturday, May 11; 9 a.m.-Noon
RSVP: Please register online or call toll-free 1-877-926-8300.