Congratulations, Nancy Lindsay of Danville!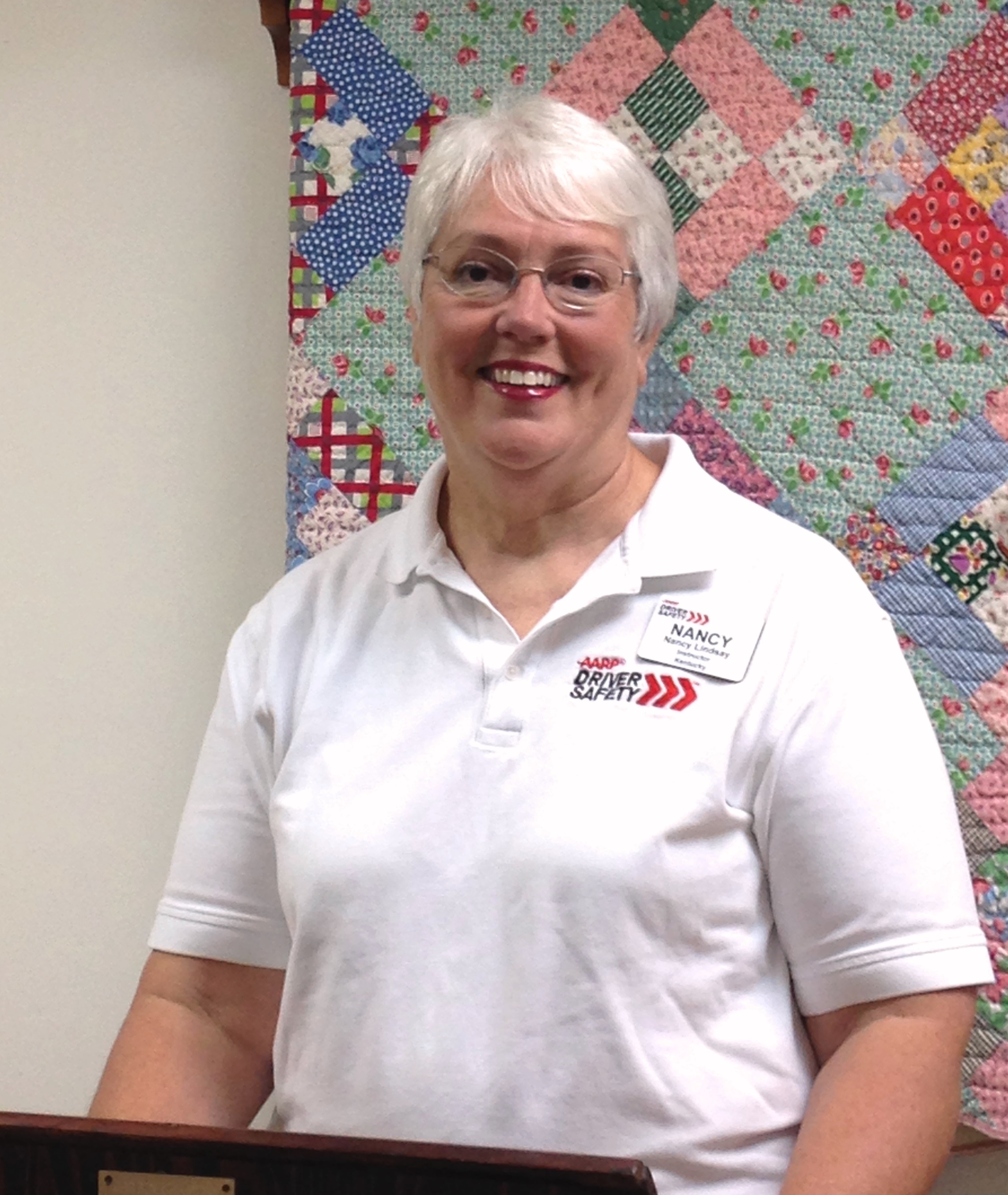 AARP Driver Safety depends in large part on thousands of volunteers nationwide who contribute their time, knowledge and expertise. Recognizing their passion, dedication and commitment to AARP Driver Safety is an integral part of the program.

The prestigious Michael Seaton Volunteer of the Year Award is the highest award within the program, and annually recognizes Driver Safety's most outstanding volunteer. The Volunteer of the Year Awards Program begins at the local level with the Volunteer of the Month Award. Those 12 recipients move on to compete for the State Volunteer of the Year Award. The 54 state winners move on to compete in their summit group for the Summit Group Volunteer of the Year Award. And finally, the summit group winners move on to compete for the Michael Seaton Volunteer of the Year Award.

It is our privilege to announce that the recipient of the 2017 Michael Seaton Volunteer of the Year Award is Nancy Lindsay from Danville, Kentucky.

Nancy became a volunteer after taking a discount course offered to military veterans. She is proactive in scheduling classes and reaching out to various sites to find new host locations. She helps educate insurance agents about the program and the state law which mandates a discount for participants. As a team teacher with her husband, Gary, Nancy makes her classes fun and interactive. The Lindsays are even requested outside of their district.

She has recruited and helped train new volunteers. She assists them in learning to navigate the Volunteer Portal, attends their first course and addresses questions and issues that arise, and shows them how to complete and submit paperwork. She hosted a presentation at the State meeting on ways instructors can improve their classes, which was well received by the team.

Nancy works with the Kentucky State Police to provide course participants with cards for the Yellow Dot Program. She advises attendees of the Kentucky Safe Patrol and Children Have an Identity programs (CHAD). The latter encourages parents to place stickers on their children's car seats for rapid identification in the case of an emergency. Nancy has also taught classes at the Kentucky School for the Deaf with the help of a translator.

Leon Morrow, State Coordinator for the Driver Safety program in Kentucky, says, "As a veteran, she is always ready to step up and serve." Shortly after becoming a volunteer, Nancy was diagnosed with cancer. This did not stop her from staying active and teaching the course. "We are happy to report that she is a survivor and is even more active now," Leon wrote in his nomination. "She is truly an inspiration."

After teaching for two years, Nancy was named District Coordinator. She so excelled in the position that she was given a second district; her area now covers 24 counties. She often travels over 75 miles to teach a course. Driver Safety requires that instructors teach three classes a year, and last year, Nancy taught 18. Because of her initiative and drive, Nancy has helped make Kentucky second in the nation for participants reached versus goal.

Congratulations, Nancy, on your hard work and successes! You truly embody AARP's motto: To serve, not to be served.

To find out more about the Driver Safety program, and to locate a course in your area, visit www.aarp.org/driversafety.