As the coronavirus pandemic forced stay-at-home orders and closures of local restaurants, it drove innovations like online ordering and virtual cooking shows. One report, from the National Restaurant Association in January 2021, showed the food and beverage sector was devastated, costing nearly 2.5 million jobs compared to pre-coronavirus levels. At the peak of initial closures, the association estimates up to 8 million employees were laid off or furloughed.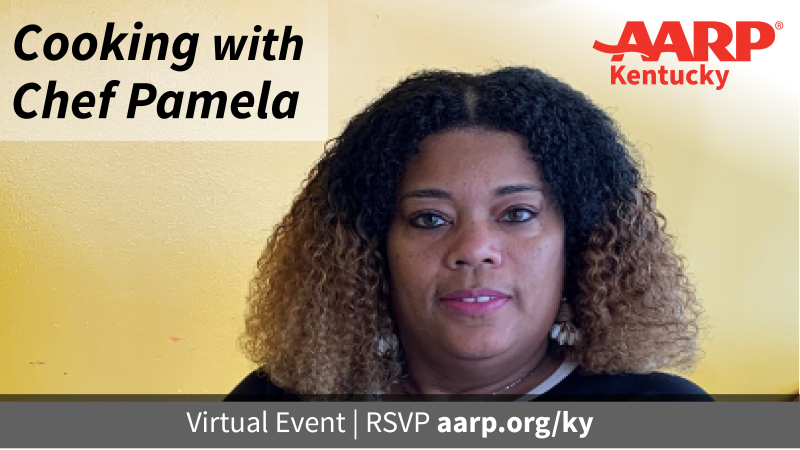 In Louisville, a collaboration among AARP volunteers, local chefs and the Thrive Center Inc. opened the door to a series of virtual opportunities reaching thousands of consumers with a healthy cooking at home series. The virtual broadcasts featured local minority chefs and their restaurants. The series provided virtual exposure for chefs and provided participants with downloadable recipes to follow along. The series went on to include other minority-owned restaurants and other local chefs (Nancy Russman, chef Diego at FOKO, Howard Saffel) from across Louisville.
One of the state office's first ventures into live broadcasting from the Thrive Center featured chef Pamela Haines preparing her famous soup recipe — live. Founder and head chef of Sweet Peaches in Louisville, she opened her doors eight years ago and has been going strong ever since. And then the pandemic hit.

Like so many small business owners, the pandemic took a toll on her business, but during some of the hardest months she kept her business afloat and found a way to give back to her community. Haines added, "It's not about the money. It's about meeting the needs of the people in the neighborhood. People need something wholesome to eat."

Early during the pandemic, she began offering free soup to anyone hungry in west Louisville every Wednesday. She wanted to help boost the immune systems of everyone in the area. She says her decision to give out free food came after she saw reports on how the African American community is contracting and dying from the coronavirus faster than any other community.

A native of Louisville, Haines is the seventh of 11 children and has been cooking since she was 5 years, old when she made her first dish of hot water cornbread for the family.

In addition to operating Sweet Peaches, Haines is catering for groups of up to 1,000 people. Her son has joined her in working by her side in the kitchen for six years and has developed his own prize-winning smoked ribs.

Learn more about AARP's Supplier Diversity Program.