Welcome to AARP Maine's Election 2020 hub! Here you will find all the information you and your family need to vote safely in the upcoming election whether you choose to vote in person or by absentee ballot. You'll also find our latest Maine voter survey results, questions our members are asking the candidates and more. If you have any questions, please feel free to send us an email at me@aarp.org.

En Espanol | During the coronavirus pandemic, AARP Maine has launched an appeal for everyone to "vote safely from home or at the polls." If you choose to vote from home by taking advantage of the state's absentee voting option, keep in mind that:


Any registered voter may cast an absentee ballot instead of voting in person at a polling place on Election Day — you don't need to cite a reason. "We want to ensure that polling places are not overloaded and interactions with large groups of people are limited," said AARP State Director Lori Parham.

New this year: Ranked-choice voting, which previously gave Mainers the option of supporting multiple candidates in order of preference in statewide elections, will be used in the presidential election for the first time.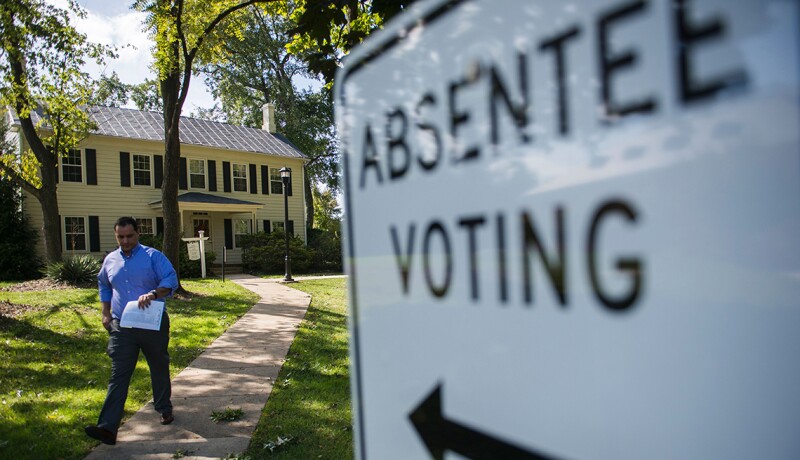 Here's what else you need to know:

How do I register to vote?

Download and print an application from the Maine secretary of state's website and mail it to your municipal clerk. Or contact your clerk to get a registration application mailed to you.

There is no cut-off date for registering to vote in person at your town office or city hall, including on Election Day. If you register by mail or through a voter registration drive, the cut-off date is Oct. 19 to vote in the November election.

How can I get an absentee ballot? Are there important deadlines?

Any registered voter may cast an absentee ballot instead of voting in person at a polling place on Election Day. Get an application online or by contacting your municipal clerk by phone or mail. You can request a ballot beginning Aug. 3 and need to apply by 5 p.m. on Thursday, Oct. 29 to vote in the November election. Completed absentee ballots must be returned to your clerk by 8 p.m. on Election Day to be counted.

Can I track my absentee ballot to find out where it is in the process?

YES! The Maine Secretary of State recently launched an online ballot tracker tool.

What options are available for Maine voters with print disabilities?

Maine voters with print disabilities can access an Accessible Absentee Ballot Request Form on the Secretary's website to request an accessible electronically-delivered absentee ballot. Maine's accessible ballot will allow voters to both receive and return the ballot electronically to the Secretary of State's Office to be counted.

Print disabilities may include vision impairment or blindness, physical dexterity limitations, learning disabilities, such as dyslexia, brain injury or cognitive impairment, early dementia, all which prevent the individual from independently marking a paper ballot.

Maine's accessible absentee ballot request form is located here.

Is there voting information for Nursing Home residents regarding their voting rights?

YES! A new guide offering a summary of the voting rights of Maine citizens who reside in long-term care facilities is now available. Due to COVID-19, the Maine Secretary of State developed guidance to safely ensure that all residents of long-term care facilities have the ability to exercise their right to vote. The new guide, Yes, You Can Vote!, offers comprehensive information for long-term care facility residents, their loved ones, and facility staff and administrators.

How do I know my absentee ballot is secure?

Town clerks securely store the absentee ballots. When they're ready to count them, the envelopes are opened by a team of election officials. Voters' names are checked off in an absentee tracking database for confirmation. Ballots are left folded, so actual votes can't be seen by election workers when they separate ballots from envelopes. The election officials then flatten the piles of ballots, and each ballot is cast in the same manner as those on Election Day. For more information, watch this video from the department of the secretary of state.

What if I receive more than one absentee ballot request form?

Multiple groups have been sending registered voters absentee ballot request forms in the mail. You only need to request your absentee ballot once. To avoid overwhelming the Town Clerks, please only send one form in.

When is Election Day? When are polls open?

Tuesday, Nov. 3. Polls open between 6 a.m. and 10 a.m., and since opening hours vary, check with clerks; all polling spots close at 8 p.m. Find your polling place at Maine's online lookup service.

Can I vote before Election Day?

Maine doesn't have early in-person voting, but you can vote absentee in person at your clerk's office as soon as absentee ballots are available, at least 30 days before Election Day, until Oct 29. You can also deliver your absentee ballot to your town clerk starting 30 days before Election Day.

What form of identification do I need to vote?

You don't need ID if you're registered to vote, But if you are registering when you vote you'll need identification, which could be a driver's license, passport or other government ID, or a utility bill or bank statement with your address.

What is being done to make polling places safe from coronavirus?

All election officials are required to wear face coverings. Other measures include tabletop protective shields and sanitizing pens in between users. Municipalities must comply with a 50-person limit in the polling place and must maintain 6-foot social distancing between people. They will also be wiping down the voting machines between use. In April, Gov. Janet Mills began requiring face coverings or masks for anyone over the age of 2 in indoor public spaces.

Will I be able to vote in the same place as I always have?

Maybe. Because of COVID-19, many municipalities are having trouble finding election workers, which may mean fewer polling places. Check your polling location online or with your city or town clerk office.

What are the key races in my state?

U.S. President
U.S. Senate: Incumbent Susan Collins (R) vs. Sara Gideon (D), Lisa Savage (I) and Max Linn (I)
U.S. House: Both seats
All 35 State Senate seats
Voting rules and procedures may change before Election Day. We'll update this story if they do, so bookmark this page and check back.
-------------------------------------------------------------------------------------------------------
It is AARP Maine's mission to share candidates' positions on issues that matter to Mainers 50-plus. To understand how Maine's U.S Senate candidates plan to address key issues such as protecting Social Security & Medicare and lowering prescription drug prices, AARP Maine asked each candidate to answer five key questions in 60-second videos. To view their responses, visit our feature here.

To understand how the candidates running in Maine's 2nd Congressional District plan to address key issues such as protecting Social Security & Medicare and lowering prescription drug prices, AARP Maine hosted a two-part tele-town hall series. You can listen to the recordings here.


AARP is urging older Americans to ask the candidates 5 key questions:

Just over half of all older Social Security beneficiaries rely on the program for at least 50 percent of their income. If elected, how will you ensure that current and future Social Security benefits are not cut as part of deficit reduction?
Half of the people with traditional Medicare spend at least a sixth of their income on health care. If elected, how will you protect Medicare from benefit cuts, as well as lower health care costs and ensure seniors continue receiving the affordable health care they have earned?
COVID-19 has caused death and suffering for too many older Americans who require long-term care. If elected, how will you make sure seniors can access safe and affordable long-term care at home, as well as in facilities like nursing homes and assisted living?
Also of Interest

AARP Maine Poll: Voters 65+ may tip the scales in the 2020 election
Hear how Maine's Senate candidates will fight for voters age 50-plus at aarp.org/MEsenate
Maine Department of the Secretary of State's Voting Flyer.
League of Women Voters of Maine's Vote Hotline can be reached at 207-558-3333 for phone and text, and vote@lwme.org by email.
Stay updated on the 2020 election at AARP.org/election2020.
For the latest coronavirus news and advice go to AARP.org/coronavirus.