En español | For 2023, please see below for information and resources on how to register, where to vote, how to request a ballot and more.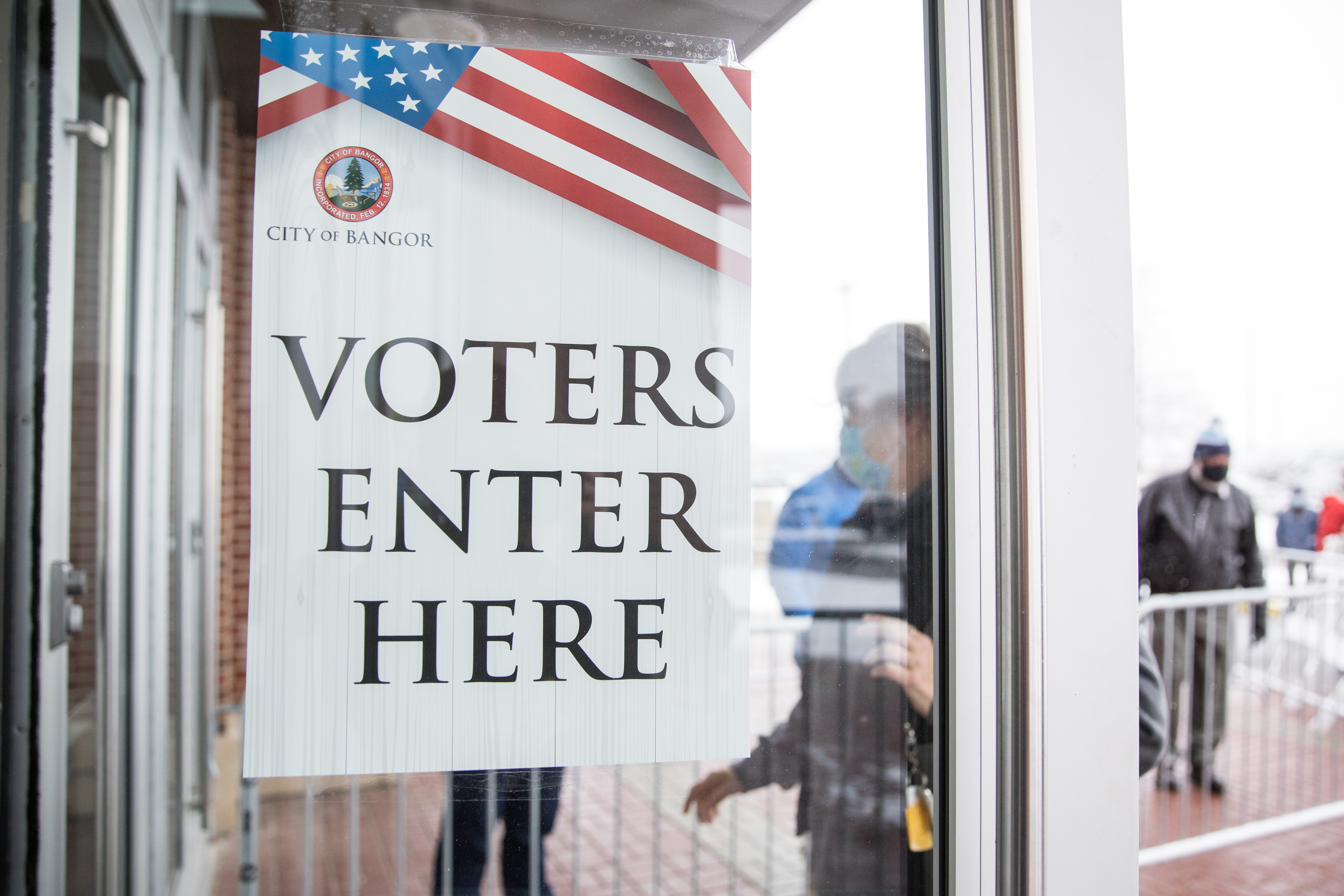 Essential info:
Absentee voting: All registered voters can request a no-excuse absentee ballot.
Voting at the polls: You won't need to show ID at the polls unless you're registering to vote on Election Day.
How do I register to vote?
By mail: Complete an online registration application and then print it out, or download, print and complete an application by hand. You can also contact your town clerk and ask for an application in the mail. Send completed applications to your local clerk's office or to the Maine Division of Elections office at 101 State House Station, Augusta, ME 04333.
In person: Pick up a registration application or return a completed one to your town clerk's office or city hall by 8 p.m. on Election Day. You can also pick up an application from any Bureau of Motor Vehicles branch office or in most state and federal social services offices. But if you try to register through another government agency within 30 days of an election, you'll be warned that your registration might not make it to the registrar in time and that you should instead register in person at your clerk's office or city hall.
How can I get an absentee ballot? Are there important deadlines?
Any registered voter can request an absentee ballot and vote safely from home. Ballots can be requested starting three months before an election. You can request an absentee ballot online, by mail or in person.

An immediate family member can request and receive an application or ballot on your behalf by completing a written absentee ballot application. You can also designate a non-family member to pick up and deliver your ballot, provided you do so in writing and either a notary public, municipal clerk, clerk of courts, or two other people serve as witnesses.

If you submitted an absentee ballot request and haven't received your ballot within three weeks of Election Day, contact your town clerk.


How do I return an absentee ballot?
By mail: Send your completed ballot to your local municipal clerk's office. State officials recommend mailing your ballot a week before Election Day to avoid possible postal delays.
Use the state's absentee ballot request portal to track the status of your absentee ballot.


Are there additional resources for voters with disabilities?
Yes. Voters living with a vision impairment or a disability that prevents them from filling out a paper ballot can request an accessible electronic absentee ballot through Maine's absentee ballot request portal.

People with disabilities who choose to vote in person on Election Day can use special equipment to assist the hearing, visually or physically impaired that is available at all polling sites. The secretary of state's website has more information about resources available to people with disabilities.


Can I vote in person before Election Day?
Yes, you can vote early and in person by casting an absentee ballot at your local municipal clerk's office.


What do I need to know about voting on Election Day?
The hours that polls are open may depend on your town's population. Contact your local elections office for exact times or use the state's voter information portal to find your polling place. You'll still be able to cast a ballot after polls close, as long as you were in line beforehand.


Do I need identification to vote?
Not if you're a registered voter. But if you're registering to vote on Election Day, you'll be asked to show a current driver's license, passport or other government-issued ID that confirms your name and address. You can also show a student ID card from a Maine public or private school or a utility bill that confirms your name and address, among other forms of acceptable identification.

If you don't have an approved ID with you when you're registering to vote on Election Day, you'll be allowed to cast a challenged ballot, which will be counted as a regular ballot. If a race is close enough that challenged ballots affect the outcome, they'll be sent to the state's Supreme Judicial Court, which will decide whether they're valid.


Also of Interest: