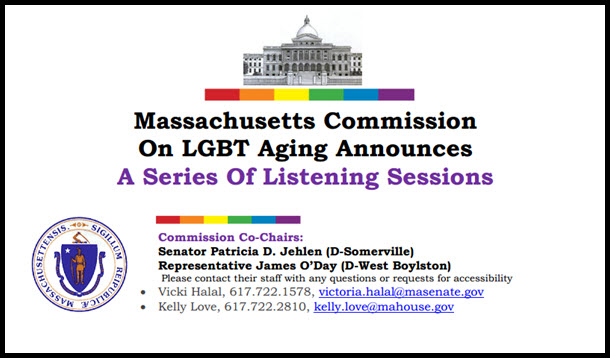 Join Sen. Patricia Jehlen, Rep. James O'Day, members of the Massachusetts Commission on LGBT Aging, and Temple University Professor Nancy Knauer, for a lively discussion on history, law, and identity politics, and how to advocate for LGBT residents who are 50+.

The meeting takes place on Wednesday, Sept. 10 at 10:30 a.m. in the Member's Lounge at the State House.

Knauer, the I. Herman Stern professor of law and director of Law & Public Policy Programs at Temple University, is an internationally recognized scholar, writing in the areas of identity, sexuality, and gender.

Find out what you can do to help advocate for the LGBT community in the Bay State!

Sen. Patricia D. Jehlen (D-Somerville) and Rep. James O'Day (D-West Boylston) are co-chairpeople of the Massachusetts Commission on LGBT Aging. For any questions and accessibility concerns, contact their staff, respectively, at: Vicki Halal, 617-722-1578, victoria.halal@masenate.gov; and Kelly Love, 617-722-2810, kelly.love@mahouse.gov.