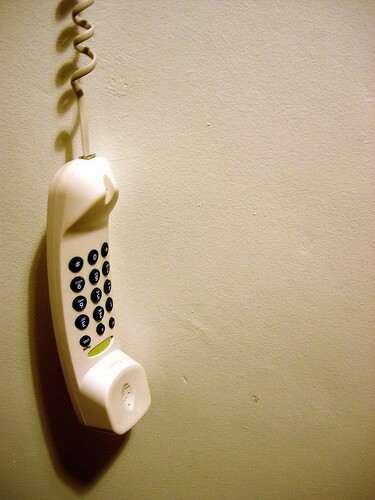 MEDIA CONTACT: Jen Millea, jmillea@aarp.org or 860-548-3164
AARP Connecticut will hold a press conference on Thursday, February 21, 2013 at 11:30 a.m. in Room 1A of the Legislative Office Building to oppose legislation (H.B. 6402) that would allow AT&T to drop competitive land line telephone service as defined by CT law in certain areas of the state, without a regulatory hearing or review. AARP opposes such efforts and is working to protect competitive telephone land line service for statewide customers who rely on it for safety and security. Advocates will also discuss opposition to legislation (H.B. 6401) that would prohibit future state regulation of Voice over Internet Protocol (VoIP) if allowed under federal rules. Both bills are being considered by the Energy and Technology Committee at a public hearing later that day.
WHO: AARP policy expert, Coralette Hannon; AARP State Director, Nora Duncan; State Representative Matthew Lesser; Connecticut Citizens Action Group, Communications Workers of America, CT Working Families, Legal Assistance Resource Center, Common Cause Connecticut.
WHAT: Press conference to oppose H.B. 6401 and H.B. 6402 - legislation that would adversely impact telephone and video/cable consumers in Connecticut
WHEN: Thursday, February 21, 2013 at 11:30 a.m.
WHERE: Room 1A, Legislative Office Building, Hartford, CT
WHY: Telephone communication is a basic necessity, allowing older people to maintain social contact, preserve health and safety, and gain assistance in an emergency. People age 65 and older are more likely than any other age group to have land line telephone service in their home. Learn more .
About AARP
AARP is a nonprofit, nonpartisan organization, with a membership of more than 37 million, that helps people turn their goals and dreams into real possibilities, strengthens communities and fights for the issues that matter most to families such as healthcare, employment security and retirement planning. We advocate for consumers in the marketplace by selecting products and services of high quality and value to carry the AARP name as well as help our members obtain discounts on a wide range of products, travel, and services. A trusted source for lifestyle tips, news and educational information, AARP produces AARP The Magazine, the world's largest circulation magazine; AARP Bulletin; www. aarp.org; AARP TV & Radio; AARP Books; and AARP VIVA, a bilingual news source. AARP does not endorse candidates for public office or make contributions to political campaigns or candidates. The AARP Foundation is an affiliated charity that provides security, protection, and empowerment to older persons in need with support from thousands of volunteers, donors, and sponsors. AARP has staffed offices in all 50 states, the District of Columbia, Puerto Rico, and the U.S. Virgin Islands. Learn more at www.aarp.org .

###
photo courtesy of: twenty_questions