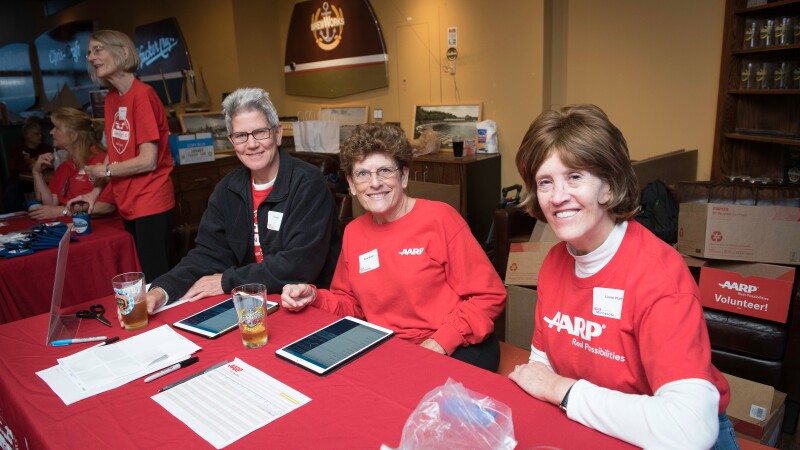 Every day AARP volunteers impact the lives of others. Whether fighting to lower the high cost of prescription drugs, educating people on the latest frauds and scams, or connecting people to meaningful and fun experiences where they live; volunteers are vital to the work that we do throughout the state.

Share your experience, skills, and passion while helping AARP achieve our goal to empower the 50+ to choose how they age. We are looking for volunteers across the state to make a difference in your community. We encourage everyone to take the steps needed to stay healthy during the coronavirus pandemic. Explore current opportunities to volunteer safely from home.


VOLUNTEER OPPORTUNITIES
COMMUNITY AMBASSADORS
Provide event support and raise awareness of AARP's issues and strategic priorities in local communities by representing AARP at fun member and community events. Learn more and apply.

DRIVER SAFETY
Become part of AARP's award-winning Driver Safety program. A variety of volunteer positions are available, including course instructor, volunteer leader, marketing & recruitment specialist, data manager, and tech advisor. Learn more and apply.

EXPERIENCE CORPS
AARP Experience Corps is an intergenerational volunteer-based tutoring program to help kids become great readers by the end of third grade. Experience Corps is located in over a dozen schools across the Twin Cities. Learn more and apply.

FRAUD FIGHTERS
Every year, thousands of Americans are impacted by fraud and scams – but you can beat con artists at their own game and help to protect others by volunteering with the AARP Fraud Watch Network. Learn more and apply.

GRASSROOTS ADVOCACY TEAM
Educate community members and decision-makers about important issues that affect us all as we age. Learn more and apply.


INFORMATION CENTER TEAM
Provide resources, referrals, and information to people both in person and over the phone at the AARP Information Center, located in the Mall of America. Learn more and apply.

SPEAKERS TEAM
Raise awareness of AARP and provide valuable information and resources to the 50+. Volunteers conduct presentations, provide technical support, and assist AARP with community outreach. Learn more and apply.

TAX-AIDE
AARP Foundation Tax-Aide offers free tax-filing help to those who need it most. Tax-aide sites are coordinated throughout Minnesota and there are a variety of volunteer roles available. Learn more and apply.