AARP MINNESOTA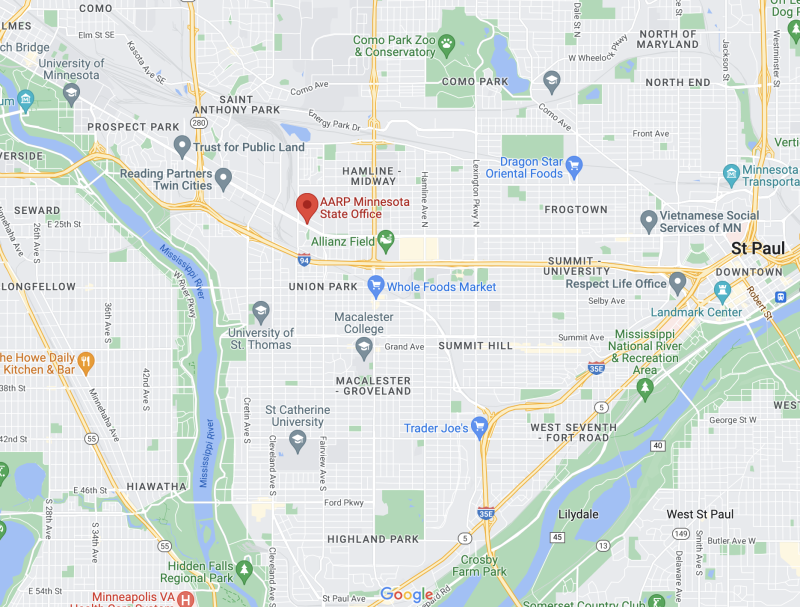 AARP Minnesota State Office
1919 University Avenue, Suite 500
St. Paul, MN 55104

Hours: Monday-Friday, 8a.m.-4 p.m. (CST)*
1-866-554-5381 | aarpmn@aarp.org

*AARP observes Mondays and Fridays as telecommuting workdays.

No walk-ins are allowed.

Visitors to the office must schedule an appointment by contacting Patti Foster at 651-726-5653.

Visitors must complete a health screening and provide COVID-19 vaccination verification within 72 hours of their scheduled visit.

Masks are optional for visitors unless vaccinated, in which case, masks are required.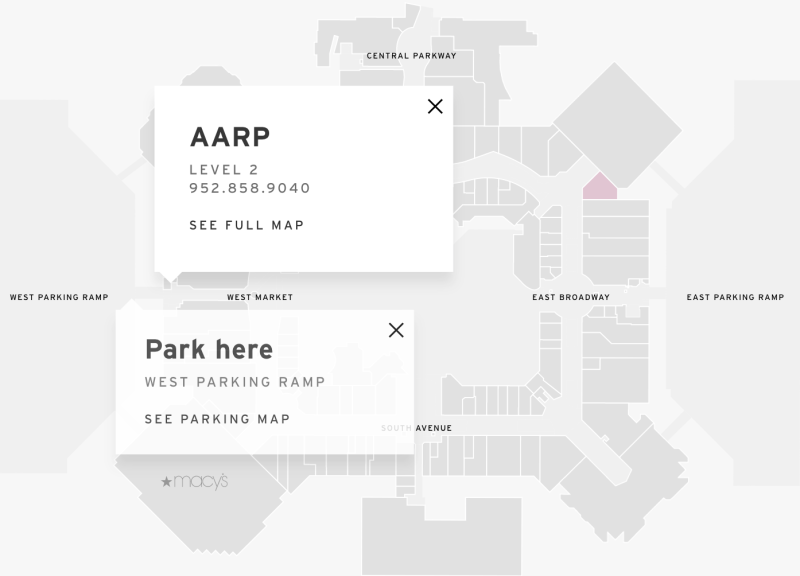 AARP Minnesota Info Center
Mall of America AARP Information Center (Level 2 West)
228 W. Market
Bloomington, MN 55425






STAFF
Patti Foster, Senior Operations Associate - pfoster@aarp.org
Mary Jo George, ASD - Advocacy - mgeorge@aarp.org
Jay Haapala, ASD - Community Engagement - jhaapala@aarp.org
Cathy McLeer, State Director - cmcleer@aarp.org
Erin Parrish, ASD - Advocacy & Outreach - eparrish@aarp.org
Meghan Redmond, ASD - Community Engagement - mredmond@aarp.org
Carla Zbacnik, ASD - Communications - czbacnik@aarp.org

Join our team! Learn more at careers.aarp.org.

VOLUNTEER
We are looking for volunteers across the state to make a difference in your community. Explore current volunteer opportunities or contact Meghan Redmond at mredmond@aarp.org.

The AARP Minnesota Executive Council is a team of volunteer leaders with a variety of skill sets, experiences, and backgrounds. The Executive Council helps shape the strategic direction and execute the mission of AARP Minnesota – ensuring that AARP remains a relevant resource and influential voice for people 50+ in our state and across our communities. Learn more about these incredible volunteers.
MEDIA
If you need additional information or would like an interview for a feature or a breaking story, contact Carla Zbacnik at 651-202-6009 or czbacnik@aarp.org.

AARP HELP CENTER
Find answers to common questions about membership, publications, programs & benefits, or get support from our service team at our Help Center.

BUSINESS INFORMATION
Find information including member benefit proposals, providing services to AARP, requesting an AARP Speaker, Advertising in AARP Media, reprint request, and general contact information.