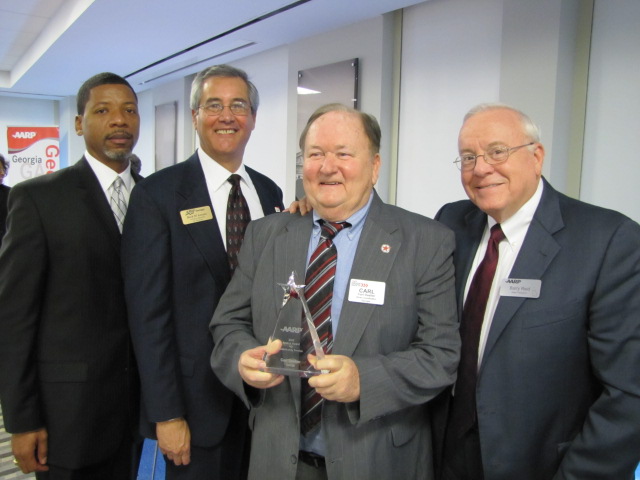 Moultrie resident Carl Dasher has been named winner of the 2012 Andrus Award for Community Service, the Association's most prestigious and visible volunteer award for community service.

This award, which is named for AARP founder Ethel Percy Andrus, symbolizes an individual's power and ability to make a difference in others' loves.

AARP Georgia selected Dasher for his remarkable service and for the impact he's had on the lives of others and on his community. Dasher's volunteer work has touched not only residents of Moultrie but also residents of Albany, Valdosta and 46 counties in South and Southwest Georgia.

"Carl's work is proof that one motivated citizen can bring many together to work for positive social change," says Barry Reid, AARP Georgia state president. "AARP has long valued the spirit of volunteerism and the important contributions volunteers make to their communities, neighbors, and the programs they serve. No one demonstrates that better than Carl."

Rick D'Arezzo, past AARP Georgia president, nominated Dasher for the award "not only for what he has accomplished but also because his demonstration of energy and commitment brings in others to volunteer. Carl does not hesitate when he sees a need that should be fulfilled. He is willing to work with anyone or any group to help or inform regarding AARP activities. He is driven by the need to help seniors meet their needs."

Dasher's community service touches many areas. He:

Coordinates AARP Driver Safety instruction in 46 counties, working with 35 volunteer instructors to teach older drivers how to be better, safer drivers.
Teaches Driver Safety courses in addition to his work as coordinator.
Created a series of "Community Listening Sessions" in 2011 in Southwest Georgia, a series of conversational-style town hall meetings that he continued to host in 2012 as a leader of You've Earned a Say listening sessions on the futures of Social Security and Medicare.
Annually leads AARP volunteers from South Georgia to the state capitol in Atlanta to lobby area legislators on issues that matter to older Georgians.
Leads the AARP chapter in Colquitt County.
He has also worked with fellow AARP members to gather food donations and teach community members about how to make home lighting more efficient, saving them money on electric utility bills.

In naming him the 2012 Andrus Award winner, the AARP Georgia award committee cited Dasher's track record of enhancing the lives of others, his positive impact on multiple local communities, and his inspiration of other volunteers.