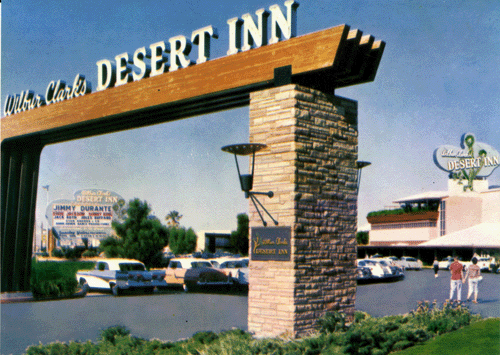 Remembering the D.I.

On April 24, 1950, Wilbur Clark's original Desert Inn resort opened in Las Vegas. The New Yorker's A.J. Liebling called it a "moderately gigantic temple of chance." The largest resort on the Strip at the time, the "D.I." boasted 229 rooms, and was built at a cost of $4.4 million. It included a drug store with soda fountain, two bars and several dress shops. Opening night entertainment included Edgar Bergen and Charlie McCarthy.

Billionaire Howard Hughes may have been its most famous resident - renting out the top two floors in 1966. He also became the resort's owner in 1967.

Almost every major star of the last fifty years played at the Desert Inn. Its famous "crystal showroom" hosted Patti Page, Liberace, Frank Sinatra, Noël Coward, Bobby Darin, Dean Martin, Tony Bennett, Paul Anka, Neil Sedaka, Dionne Warwick, Wayne Newton, Barry Manilow, Cher, Tina Turner, and more.

Over the years, the Desert Inn went through several ownership changes. The resort was purchased by Steve Wynn as a birthday gift to his wife, Elaine, on April 27, 2000. The Wynns closed the hotel several months later, making way for the current Wynn Las Vegas resort.

AARP Nevada's Facebook community shared some memories of the "classic" Desert Inn Hotel, waxing nostalgic for its old-school friendliness and entertainment.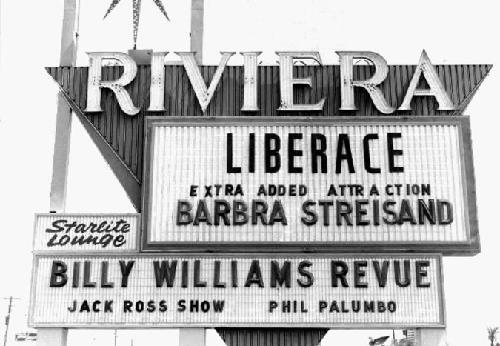 Barbra Streisand turns 71

Frequent Las Vegas headliner and multi-hyphenate performer Barbra Streisand celebrated her 71st birthday on April 24. She first appeared on the Las Vegas stage in 1963, as the opening act for Liberace at the Riviera. She was 21 years old.

Asked to weigh in on favorite songs, AARPNV Facebook fans cited "Don't Rain on My Parade," "The Way We Were," "Evergreen," "My Man" and others. Add your favorites in the comments!