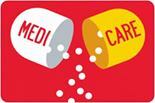 Does just thinking about selecting the right Medicare prescription drug plan send you into a panic? You're probably not alone as over 100,000 Granite Staters wander through this process every year during Open Enrollment.
Medicare Open Enrollment – October 15 through December 7 – is the one time each year when ALL people with Medicare can see what new benefits Medicare has to offer and can make changes to their coverage for Part C (Medicare Advantage health plans) and Part D (Medicare prescription drug coverage.)
"Open enrollment is a good time for people to review their current plans," said AARP New Hampshire State Director Kelly Clark. "Insurance plans can change their prescription coverage and out-of-pocket costs. We want to make sure AARP members and others get the best coverage at the best price."
"We also want to clear up any confusion about Medicare's Open Enrollment coinciding with the Health Insurance Marketplace Open Enrollment," added Clark. "The Marketplace is designed for people who don't have any health coverage. If you have health coverage through Medicare, the Marketplace won't have any effect on your Medicare coverage. "
For those wanting assistance in finding the right choice for their particular health needs and preferences during Medicare Open Enrollment, help is just a phone call away. New Hampshire ServiceLink's Medicare specialists are available to offer free, confidential and unbiased assistance. To make an appointment at the ServiceLink office nearest you, call toll-free at 1 866 634 9412or visit www.servicelink.org.
"ServiceLink is a fabulous resource for New Hampshire residents," concluded Clark. "It's a trusted source for information about health care and other services for older adults and their families, persons with disabilities and family caregivers. We are very fortunate to have ServiceLink in our communities."
Other resources:
Medicare Part D Donut Hole Calculator
Medicare Open Enrollment and You
8 Things You Can Do During Medicare Open Enrollment
12 Questions to Ask When Selecting a Medicare Plan
Medicare's Information on Quality to Help You Better Compare Medicare Plans