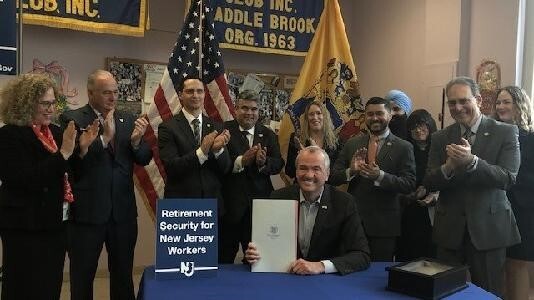 On March 28, 2019, Governor Phil Murphy signed the New Jersey Secure Choice Savings Program Act – a law that will create a workplace retirement savings option for private sector workers in the Garden State.

Secure Choice creates an easy pathway for workers to save out of their regular paycheck. The professionally managed program will be available to private sector workers in the Garden State who do not currently have access to a retirement savings plan through their job – and will come with no on-going costs to the state. Studies show that workers are 15 times more likely to save for retirement when they can do so at work.

Secure Choice is a public private partnership that creates a commonsense, easy to use and affordable retirement savings program that is voluntary for employees and portable, so employees can take their accounts with them if they change jobs. The program will also make small businesses more competitive by giving them an easier way to access a low-cost retirement savings option for their employees.

Secure Choice passed with bipartisan support in the New Jersey legislature – and thanks to the dogged determination of advocates across the state, legislative champions and Governor Phil Murphy, more NJ workers will have the opportunity to save for a more secure retirement.