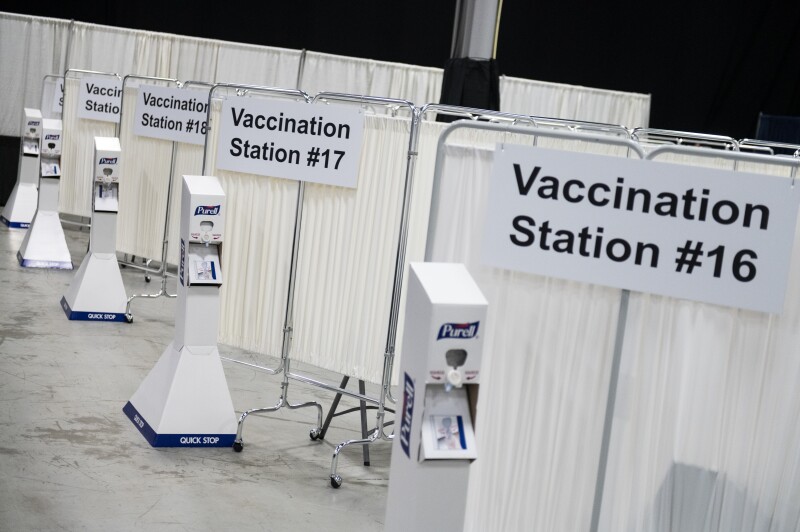 En español | Who can get vaccinated now?

Anyone 12 and older who lives, works or attends school in New Jersey
Where can I get vaccinated?

Local vaccination sites, including community centers, hospitals, local health departments, medical clinics, independent pharmacies and vaccination events, can be found on the state's online Vaccine Appointment Finder website. The site lists providers' names, locations, appointment availability status and registration links. Many providers will direct you to the state's centralized platform, the New Jersey Vaccine Scheduling System (NJVSS), to schedule an appointment. The NJVSS, which you must register with, allows you to search appointments at multiple sites. Some locations are taking walk-ins, no appointment necessary.
Certain retail pharmacies, including CVS (and some of its Target-based pharmacies), Rite Aid, ShopRite, Walmart, Sam's Club and Walgreens have created online COVID-19 vaccine pages where you can register and search for appointments across their locations. Some locations are taking walk-ins, no appointment necessary.
Community vaccination events, such as mobile clinics and pop-up sites, are being hosted around the state. Visit the COVID-19 Community Calendar for a list of events.
At home, if you qualify. The state has launched a website where you can request an in-home vaccination. The site collects your information, then provides it to local health departments, home-care agencies, pharmacies and other organizations authorized to administer a COVID-19 vaccine at home. If you qualify, you will be contacted by one of these providers to schedule an appointment. Call 855-568-0545 if you need assistance filling out the request.
Through your employer or living facility. Some New Jerseyans who were prioritized for vaccinations because of their job, such as teachers, or because of where they live, such as nursing home residents, may be able to get vaccinated through their workplaces or the facilities where they reside. Check with your employer or residence before scheduling a vaccination appointment.
Through your house of worship or community organization. The state has launched a community-based vaccination program to provide equitable access of the COVID-19 vaccine to underserved communities in Somerset, Trenton, Elizabeth, Vineland and Paterson. Vaccination appointments are handled directly through partnering houses of worship, community organizations and local community leaders, who will inform you if you qualify.
The state's COVID-19 call center at 855-568-0545 can help you register with the NJVSS, answer questions about the vaccine, provide contact information for sites, check your registration status, and update your registration information. The hotline is open from 8 a.m. to 8 p.m. every day with assistance available in more than 240 different languages.
The state's seniors-specific call center at 856-249-7007 can assist those 65 and older with registering for, scheduling and rescheduling appointments from 8 a.m. to 8 p.m. daily.
The federal government's vaccines website, Vaccines.gov, lets you search for vaccination sites by zip code, with links to appointments. Get the same information by texting your zip code to 438829 or by calling 800-232-0233 (TTY: 888-720-7489).
AARP recommends that you ask your doctor about the safety, effectiveness, benefits and risks of the coronavirus vaccine. Older adults, especially those with underlying medical conditions, are at increased risk for hospitalization and death from COVID-19.

What should I bring to my vaccination appointment?

Some vaccination sites ask for proof of identity or eligibility. Officials recommend that you bring a driver's license or other state-issued ID that shows your name, age and state residency, and your health insurance card, if you have one. You will not be charged, but the vaccine provider may bill your insurer a fee for administering the vaccine.

If you are prioritized because of an underlying medical condition or based on your work, you may need a note from your doctor, a pay stub or badge, or some other form of proof. The U.S. Centers for Disease Control and Prevention (CDC) says to wear a mask at your appointment.

How are residents of nursing homes and other long-term care facilities getting vaccinated?

Most residents and staff of long-term care facilities in New Jersey are being vaccinated through a federal program that contracted with CVS and Walgreens to administer COVID-19 vaccines via free on-site clinics. Apart from a very small number of outstanding clinics, the program is complete.

To ensure long-term care facilities still have access to COVID-19 vaccines — for new residents or staff, or for residents and staff who were initially hesitant to receive the shots — the federal government is continuing to allocate vaccines to pharmacies partnered with long-term care facilities.

Which vaccines require a second shot?

The COVID-19 vaccines from Pfizer and Moderna require two doses. If you get one of these, you'll need a follow-up dose to be effectively immunized. The recommended second-shot date is three weeks after a first dose of the Pfizer vaccine and four weeks for Moderna's, but the CDC says an interval of up to six weeks is acceptable.

If you made your first-dose appointment through the NJ Vaccine Scheduling System, the portal will automatically schedule your second-dose appointment and send you an email with the details. If you scheduled a first-dose appointment directly with a provider, they should ask you to schedule your second-dose appointment at your first-dose appointment or earlier. Contact your provider if this didn't happen.

Johnson & Johnson's vaccine requires just one shot. Federal officials warn that the vaccine has been connected with rare, severe blood clots in a small number of recipients, especially in women age 50 years and younger.

It's not yet known how long immunity from a coronavirus vaccine lasts and whether it needs to be administered on a regular basis like a flu shot.

Do I have to pay for the vaccination?

You should not have any out-of-pocket cost for getting the vaccine. AARP fought to make sure the federal government is covering the cost of the vaccine itself. Providers can recoup a fee for administering the shot, but not from consumers. They would be reimbursed by the patient's insurance company or the government (in the case of Medicare and Medicaid beneficiaries and the uninsured, for example).

Scammers are purporting to offer COVID vaccines and treatments and trying to charge for them. AARP's Fraud Watch Network is tracking the latest scams.

What should I do with my vaccine card?

You should get a small white card at your vaccination appointment with your name, birth date, name of the vaccine you received and the date it was administered. If you receive the Pfizer or Moderna vaccine, bring your card when you get your second shot.

You may need your vaccine card for certain kinds of travel or other activities, so keep it in a safe place. You can take a photo of it with your smartphone for your own records. Experts say that posting a photo of your card to social media could make you vulnerable to identity theft. If you lose your card or did not receive one, contact your vaccine provider or your local health department to get a copy.

When will kids be able to get vaccinated?

Pfizer's vaccine is authorized for those age 12 and older; the Moderna and Johnson & Johnson vaccines are authorized for those 18 and older. Both Pfizer and Moderna are researching how their vaccines work in children as young as 6 months. Anthony Fauci, director of the National Institute of Allergy and Infectious Diseases, has said he expects that all kids will likely be eligible by early next year.

Should I still wear a mask after getting vaccinated?  

It takes two weeks to build immunity after the single-dose shot and after the second dose of the two-dose shots. After that, the CDC says, fully vaccinated people can gather indoors and outdoors without wearing a mask or staying 6 feet apart, except where required by state and federal law and local business and workplace requirements.

The CDC recommends continuing to wear a mask on planes, buses and trains and other shared transport while traveling into, within or out of the United States, and while at transportation hubs like airports and stations.

Helpful Resources

Novartis and Catalent are sponsoring free "Vaxrides" to and from COVID-19 vaccination appointments for 11,000 New Jerseyans, who can redeem two free round trips. Enter the code "VAXRIDE" on the NJ Transit mobile app; visit a customer service office in Newark and New York Penn station, the Port Authority bus terminal, Secaucus Junction, the Trenton and the Walter Rand Transit Centers; or call NJ Transit customer service on 973-275-5555 to have the passes mailed to you. Access Link customers can access tickets by mentioning the Vaxride promotion when making reservations for transportation.
The New Jersey Travel Independence Program (NJTIP) has prepared an online list to help people reach COVID-19 vaccination sites using public transportation. It will be updated about every two weeks. If you have questions, call 973-275-5555.
The state's COVID-19 vaccine information page includes additional FAQs on how to get a vaccination, the state's Vaccine Scheduling System, vaccination providers and how the vaccines work.
This guide, originally published Jan. 16, was updated June 14 with the state's new COVID-19 Community Calendar and information on free and discounted rides to and from vaccination appointments.

Also of Interest