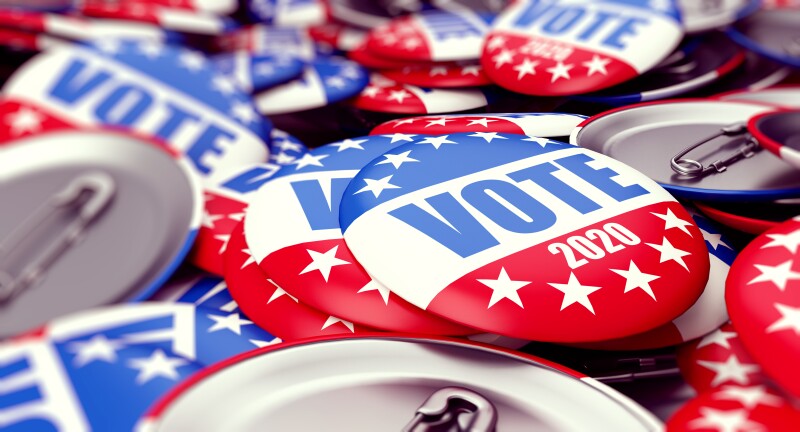 How to Vote in New Jersey's 2020 Election: What You Need to Know
All of the state's registered voters will receive a postage-paid mail-in ballot this year, allowing them to vote safely from home amid the coronavirus pandemic:

Gov. Phil Murphy in August ordered state officials to send mail-in ballots to all registered voters. He also extended the deadline by which election officials must receive completed ballots. President Donald Trump's re-election campaign has sued to block the order.
Some state lawmakers are pushing for early in-person voting this year, but New Jersey does not offer an official early voting window. In some areas, including Camden County, early voting centers will let you fill out and submit mail-in ballots in person prior to Election Day.
Here's what else you need to know:

How do I register to vote?

You can register by mail or in person. The state division of elections website offers a voter registration application for each county that you can print and submit to a local registration commissioner or elections superintendent, either by mail or in person.

Or you can pick up a registration application at your county's election office and complete it at the office or mail it in later. Applications are also available from your municipal clerk and from Motor Vehicle Commission offices. Or you can register to vote while applying for assistance from your county's welfare agency or Board of Social Services. A full list of agencies is available on the secretary of state's website.

You must register by Oct. 13 to vote in the November general election.

How can I get a mail-in ballot? Are there important deadlines?

New Jersey will be sending all registered voters no-excuse mail-in ballots, so you won't need a specific reason to cast a ballot safely from home. If you don't receive a mail-in ballot or would rather request one yourself, you'll need to download an application from the state division of elections website or pick one up at your country clerk's office.

You can also apply for a mail-in ballot in person at your county clerk's office before 8 p.m. on Nov. 3, Election Day. You can hand in your ballot on Election Day to your polling location, and any secure ballot drop box in your county on or before election day.

Ballots must be postmarked by Nov. 3 and must be received by election officials by 8 p.m. on Nov. 10.

How do I know my mail-in ballot is secure?

You can track your mail-in ballot by setting up an account with the state's voter information system or by calling your county election office. When your election board receives your ballot, it will be removed and separated from its outer envelope so your vote will remain confidential.

When is Election Day? When are polls open?

Tuesday, Nov. 3. Polls are open from 6 a.m. to 8 p.m. You can use the state's polling place locator to find where to cast your ballot. If you plan on casting your ballot in person on Election Day rather than completing a mail-in ballot, you'll need to use a provisional ballot.

Can I vote before Election Day?

In some cases, voters will be able to cast mail-in ballots in person at designated election centers. Contact your county election office to ask about potential early voting options. You can also deposit a mail-in ballot into secure drop boxes at local polling locations on or before Election Day.

What form of identification do I need to vote?

Most New Jersey voters don't need to show ID to vote. But you may be asked to show ID at your polling place if you didn't provide identification on your voter registration form or if the ID that you provided couldn't be verified.

What is being done to make polling places safe from coronavirus?

New Jersey officials are still working out polling protocol for November's general election. But Centers for Disease Control and Prevention guidelines related to social distancing and disinfecting will be implemented. Voters will be required to wear a face covering to cast their ballots in person if the state's mask mandate is extended to November.

Will I be able to vote in the same place as I always have?

Not necessarily. Counties must offer in-person voting options, but only 50% of their normal polling places need to be open for voters. Check with your county elections office or use the state's polling place locator to determine where to cast your ballot.

What are the key races in my state?

U.S. president
U.S. Senate: Incumbent Cory Booker (D) vs. Rik Mehta (R), Madelyn Hoffman (G), Daniel Burke (I), Veronica Fernandez (I) and Luis Vergara (I)
U.S. House: All 12 seats.
State Senate: 1 of 40 seats (special election)
State House: 1 of 80 seats (special election)
Voting rules and procedures may change before Election Day. We'll update this story if they do, so bookmark this page and check back.

AARP is urging older Americans to ask the candidates 5 key questions:

Just over half of all older Social Security beneficiaries rely on the program for at least 50 percent of their income. If elected, how will you ensure that current and future Social Security benefits are not cut as part of deficit reduction?
Half of the people with traditional Medicare spend at least a sixth of their income on health care. If elected, how will you protect Medicare from benefit cuts, as well as lower health care costs and ensure seniors continue receiving the affordable health care they have earned?
COVID-19 has caused death and suffering for too many older Americans who require long-term care. If elected, how will you make sure seniors can access safe and affordable long-term care at home, as well as in facilities like nursing homes and assisted living?

AARP New Jersey Applauds Governor Murphy's Decision to Hold Hybrid Voting Process for the November 3 General Election

According to the U.S. Census Bureau, 71 percent of Americans over the age of 65 voted in the 2016 election. People over 65 years of age, and those with serious health conditions, are at the highest risk for severe COVID-19 related illness.

Because the coronavirus pandemic has raised serious concerns about keeping this year's voting process healthy and safe, AARP New Jersey urged New Jersey Governor Phil Murphy to ensure all registered voters can cast their ballots safely from home or in person for the general election on November 3.

On behalf of our nearly 1.3 million Garden State members, AARP New Jersey applauds Governor Murphy's announcement that the state will employ a hybrid process for voting in the November 3 general election, including a greatly expanded mail-in ballot process. Read the full statement here.

Are You In?
As the pandemic continues, it's critical that voters 50+ demand that candidates listen to us, and that we have options to vote safely.

Say you're IN to:

Call on leaders to protect safe voting options
Demand that candidates speak up about protecting Social Security and Medicare, lowering drug prices, and more
Rally other 50+ voters to ensure we're heard loud and clear by every elected official and candidate this election

Take action here!
Also of Interest:

###