New Jersey Residents Advocate for Family Caregiver Tax Credit at AARP New Jersey's Day at the Capitol
Older New Jerseyans meet with legislators to discuss critical issues for people 50-plus, including financial relief for the state's family caregivers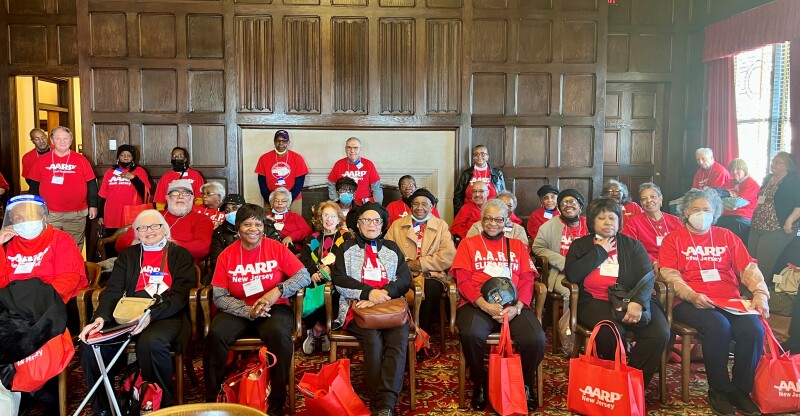 TRENTON, NJ (Dec. 5, 2022) – Older New Jersey residents gathered for AARP New Jersey's "Day at the Capitol" today to advocate for issues that matter most to people 50-plus, including financial relief for family caregivers, a safe and quality long-term care system, expanded property tax relief, affordable utilities and fair prescription drug prices.

One of the most pressing issues – financial relief for family caregivers – came to the forefront as AARP New Jersey members, volunteers and other residents across the state met with legislators to discuss the bipartisan bill, the Caregiver's Assistance Act (A1802/S2021). The legislation would provide eligible New Jersey family caregivers with a modest refundable income tax credit of up to $675.

"Family caregivers spend 26% of their income, on average, on caregiving activities," said Evelyn Liebman, AARP New Jersey Director of Advocacy. "New Jersey family caregivers provide unpaid care valued at over $13 billion annually, saving the state and taxpayers money by helping loved ones stay home and out of costly nursing home care. Family caregivers need and deserve support. We applaud State Senators James Beach and Richard Codey, and Assembly members Pam Lampitt, Gary Schaer, Gabriela Mosquera, Daniel Benson, Angela McKnight and Shavonda Sumter for championing this legislation."

Among New Jersey voters 50 and older, there is overwhelming support (84%) for the state to expand the tax credit for Wounded Warrior caregivers to all family caregivers who provide care for older loved ones, according to a report from AARP.

"We are here today urging our lawmakers to pass the Caregiver's Assistance Act because so many of our state's family caregivers are struggling to keep up with expenses," said Donato Nieman, who lives in South Brunswick, N.J. "We help keep our loved ones at home and out of nursing homes by using money out of our own pockets to provide care. With the pandemic and rising costs due to inflation, things have only been more difficult. We hope our lawmakers hear our voices, listen to our experiences and take action."

AARP members met with their legislators including, Assemblyman Herb Conaway, Assemblyman John McKeon, Assemblywoman Pam Lampitt and Daniel Harris, who is the Deputy Executive Director to Assembly Speaker Craig Coughlin.

AARP New Jersey activists discussed other key priorities like creating a Prescription Drug Affordability Board to stop unreasonable and unjustified prices for medication, creating safer and better quality long-term care by establishing a pay-for-performance system in nursing homes and expanding home and community-based services, and improving property tax relief by providing equitable, cost-effective and targeted relief to those most burdened by their property tax bills.

AARP New Jersey will never stop fighting for the health and financial security of all New Jerseyans and will continue to work with the Administration and NJ Legislature to make New Jersey a more affordable place to live.


###
About AARP New Jersey
AARP is the nation's largest nonprofit, nonpartisan organization dedicated to empowering people 50 and older to choose how they live as they age. AARP New Jersey educates and advocates on behalf of those 50 and older on issues that are important to them, their families and to all Garden State residents. The organization works to strengthen New Jersey communities with a focus on health security, financial stability and personal fulfillment. To learn more, visit www.aarp.org/nj or follow @AARPNJ on social media.