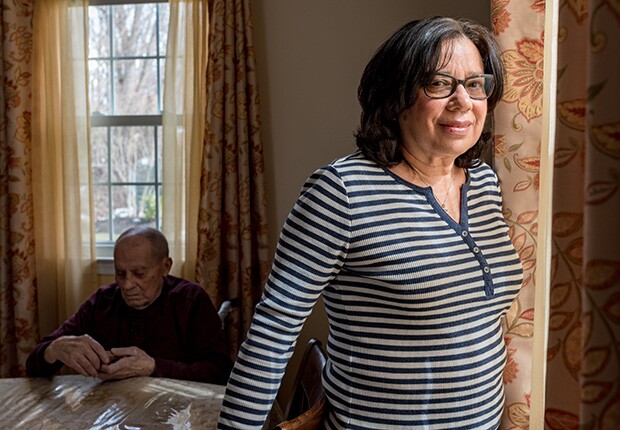 Por Aliya S. King

Carmen Falcón recuerda que su madre recibía largas cartas escritas a mano de sus hermanos y hermanas en Puerto Rico.

"Mis tías y tíos estaban cuidando a mis abuelos y nos mantenían informados sobre lo bueno y lo malo. Mi mamá iba de visita a Puerto Rico para darles un descanso. Por eso, toda la vida, supe que cuidar de mis padres sería parte de mi futuro. Es una parte importante de mi cultura".

Falcón, de 61 años, residente de Metuchen, se jubiló el año pasado. Fue casi al mismo tiempo que su padre, de 93 años, quien tiene demencia vascular y varios problemas de espalda, empezó a necesitar cuidados a tiempo completo.

"Soy afortunada", dijo, y mencionó que su padre vive con ella. "Esto pasó en un momento en el que pude hacer esto por mi padre".

Sin embargo, Falcón cuenta con la ayuda ocasional de familiares. Un auxiliar, pagado por el estado, ayuda a su padre a bañarse y le prepara la comida tres veces por semana.

Si bien ella se considera afortunada de poder cuidar de su padre a tiempo completo, puede ser un reto.

"Hay días en que necesito alejarme, lo cual puede ser difícil para algunos de nosotros", dijo, y mencionó que cuando un auxiliar está disponible ella a veces se encuentra con amigos para ir al cine o a un centro comercial. "A veces, el cuidador también necesita cuidados".

Falcón es una de aproximadamente 1.1 millones de cuidadores en Nueva Jersey que ayudan a padres y a otros familiares de mayor edad.

"Los cuidadores aportan $13,000 millones ($13 billion) en cuidados no remunerados a sus seres queridos", dijo Crystal McDonald, subdirectora estatal de AARP Nueva Jersey para la defensa de los derechos.

"Cuidan a personas que, en algunos casos, de lo contrario necesitarían recibir cuidados en un hogar de ancianos u hospital, lo cual le costaría mucho al estado. Debemos asegurarnos de que estos cuidadores tienen lo que necesitan".

Para ilustrar el valor de los cuidadores familiares, McDonald está recopilando sus relatos en todo el estado. La esperanza es que reunir esta información ayudará a identificar las mayores necesidades de los cuidadores, entre ellas tener tiempo libre.

"Algunos cuidadores nos han contado que no han tenido ni un solo día libre en 10 años", dijo McDonald. "Debido a que vivimos por más años, muchas personas son cuidadoras por un mayor período de tiempo".

A Lynette Whiteman, de 61 años, residente de Toms River, le gustaría que las agencias proporcionen más capacitación cuando un familiar muda a un ser querido de una instalación y se lo lleva a vivir en su hogar.

En el 2012, Whiteman llevó a su madre a vivir con su familia poco después de que falleciera su padre.

"Recibes mucha información cuando llevas a la casa a una mascota o a un niño. Pero no te dicen mucho sobre llevar al hogar a un padre o madre que envejece", dijo.

"¿ Es tu hogar realmente seguro? ¿Tienes disponible suficiente ayuda? ¿Estás familiarizado con las necesidades médicas de tu padre o madre? En realidad nunca lo pensé hasta que lo tuve que enfrentar".

AARP Nueva Jersey está organizando pequeños eventos "Coffee With Caregivers" (Café con cuidadores) —limitados a 20 personas— en todo el estado, para que las personas puedan compartir sus relatos con AARP y con los demás asistentes.

"Hablar con otros cuidadores sería fabuloso", dijo Whiteman. "Cuando la gente escucha que mi mamá ahora vive conmigo, piensan que soy una santa. Pero esto no es fácil. Y es mucho más difícil pedir ayuda cuando cuidas de un padre o madre, porque existe la idea de que podemos hacerlo todo porque ellos hicieron todo por nosotros".

Visita aarp.org/nj para inscribirte en un evento Coffee With Caregivers.

Para compartir tu relato de prestación de cuidados con AARP Nueva Jersey (en inglés), visita action.aarp.org/njcaregivingstory.

Aliya S. King es escritora y vive en Bloomfield, Nueva Jersey.

¿Cuidas de alguien? Aprovecha el contenido, recursos y tips prácticos de nuestro Centro de Recursos para el Cuidado.