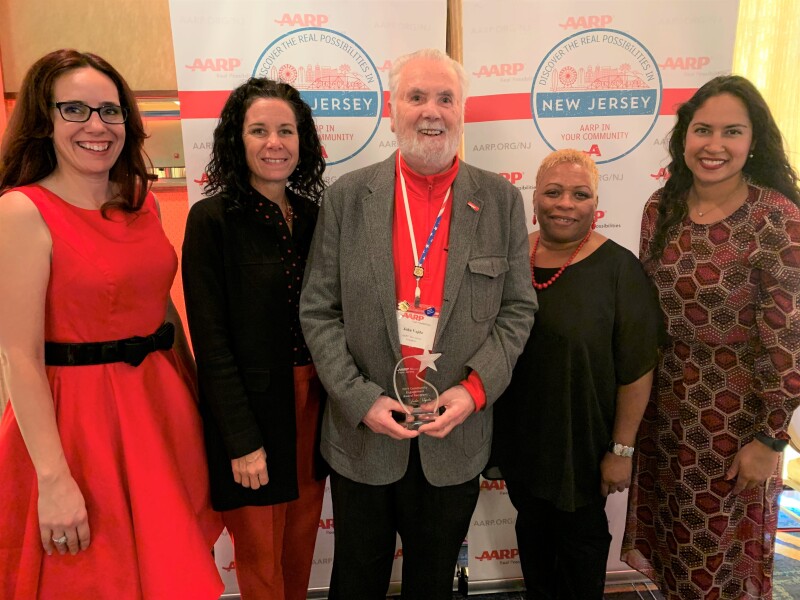 John Vajda exemplifies what it means to be a volunteer – and he isn't new to it, either. He has been an AARP New Jersey volunteer for nine years, and before that, he spent 20 years volunteering with the Boy Scouts of America, where he served as a Scout Master, district and council committeeman and national Jamboree staff member.

Since becoming an AARP New Jersey volunteer in 2011, Vajda has spent time volunteering in nearly every aspect of the organization. He was first trained as a community exhibitor volunteer, where he attends events and shares information about what AARP is doing in local communities. In 2013, he became a Driver Safety instructor, helping to refresh drivers' safety skills. Eventually, he also took over as the state's CarFit Program Coordinator for three years. He has now held more than 125 courses and received recognition from the national office.

From there, he became more and more involved with AARP New Jersey. He became the Fraud Watch Network team lead for the Bergen County community impact team, and is now also a volunteer for AARP New Jersey's advocacy team – and looking to get more involved. He is helping AARP New Jersey staff as they work to pass bills on lowering prescription drug prices, expanding the earned income tax credit, fighting age discrimination and more.

Last year, Vajda won AARP New Jersey's Community Engagement Award, which is given to an AARP volunteer who has positively impacted local New Jersey communities in a significant way. Vajda says the "tremendous amount of satisfaction" from volunteering keeps him going. He is most excited about working with the Fraud Watch Network, attending his representative's events, and teaching Driver Safety classes (which is about 20 classes per year!). Recently, he became a Volunteer Lead Trainer (VOLT) to help educate and train other volunteers.

Before volunteering with AARP New Jersey, Vajda had a successful career in the pharmaceutical and medical devices industries – working his way up to becoming Senior Vice President of Operations. He retired in 2009 and says he would go "stir crazy" if he wasn't active.

"I always tell people: if you are really interested in satisfying yourself, get involved," says Vajda. "When you work with people and you do something for them, the appreciation you get back is overwhelming. If you want to do good and feel good, this is an opportunity to get involved."

Vajda advises that if you're new to volunteering, you don't need to inundate yourself. He says, "Dip your toe in the water and see if you like it."

When he isn't volunteering, Vajda loves to read and is a huge history buff. He watches history programs, collects Civil War books, and he and his wife (who are celebrating their 55-year anniversary this June!) enjoy eating at restaurants that have a history behind them.

If you're interested in volunteering with AARP New Jersey, please fill out this short interest form.