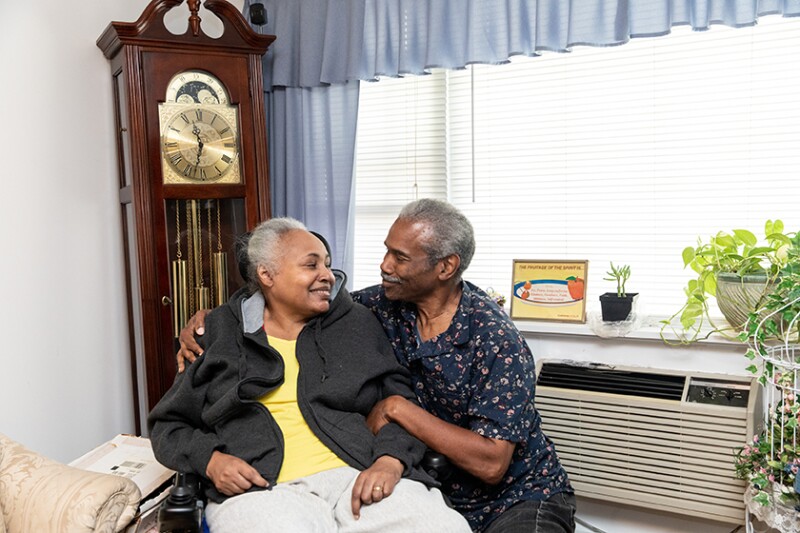 By Aliya King

Since 1986, when Anthony Cowels' wife, Florence, 71, was diagnosed with multiple sclerosis, he's been her caregiver. "I have to do absolutely everything for her."

Over the years, Cowels had the additional responsibility of looking after his parents, too. "It has been a long journey of caregiving," the 70-year-old Bergenfield resident said. "I try not to let it overwhelm me. I always look for ways to do better."

He said one of the best things he did for himself was join a caregiver support group, which gives him a chance to "interact with others who identify with my situation."

Connecting caregivers with one another and the wider world of resources is a mission of AARP New Jersey. From advocacy to on-the-ground help, the organization supports the roughly 1.2 million family caregivers in New Jersey, such as Cowels.

"There has been quite a bit of caregiving legislation enacted in the past year, including the New Jersey Caregiver Task Force, expanded family leave insurance and earned paid sick days," noted Christine Newman, outreach director for AARP New Jersey.

November is National Family Caregivers Month, "so, it's a good time to get the word out to our community" about the changes and new resources, Newman said.

To that end, AARP New Jersey is presenting a series of Family Caregiver expos this fall. The three separate events in different regions are intended to match caregivers with local resources.

"The expos are not just an opportunity to learn; they're a chance to relax," Newman explained. "We're planning fun activities like Zumba classes and on-site massages. And caregivers are invited to bring their loved ones as well."

Thanks to caregiving classes, Cowels said, he's learned new skills. "I'm always trying to become a better caregiver for my wife." Even with the additional help that Cowels gets from an aide, he often needs a break.

Cowels' advice to those who are new to caregiving is simple: "It's hard to know how to care for your loved ones unless you hear from others who are doing it, too."

Come for Self-Care

AARP's Family Caregiver expos will be held from 10 a.m. to 2 p.m. on the following dates:

Saturday, Nov. 9, at the Howard Stainton Senior Center, 1735 Simpson Ave., in Ocean City

Friday, Nov. 15, at the Boulevard, 3167 John F. Kennedy Blvd., in North Bergen

Saturday, Nov. 16, at the FairBridge Hotel, 195 Davidson Ave., in Somerset

The expos are free and open to the public. Each will begin with a presentation highlighting recent state legislation in support of family caregivers, as well as local services and resources that can provide relief, followed by a healthy activity like Zumba or tai chi.

There will be dedicated areas for informal networking with other caregivers and a story space for quieter interactions. Meet representatives from local caregiver services and community organizations at the vendor fair, and check out AARP resources like "Prepare to Care: A Planning Guide for Families."

A boxed lunch will be served. Registration is required. Go to aarp.org/NJCaregiving for more information or call 877-926-8300.

Aliya King is a writer living in Bloomfield.