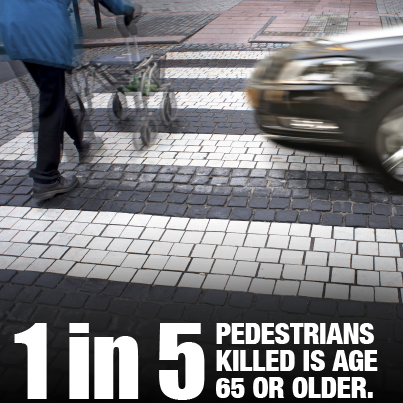 Every day, in communities across the country, people are killed while walking to school, to work or to the store. In fact, a person walking is truck by a car or truck every 8 minutes in the USA. Here in Connecticut, older adults age 65 and over and young children are particularly vulnerable. While older adults represent about 14 percent of the total population in our state, they were more than 28 percent of pedestrian fatalities between 2003-2010. According to a new report released by the National Complete Streets Coalition, a program of Smart Growth America, most of these deaths could have been prevented with safer street design. The report ranks Connecticut 27th out of 50 states in pedestrian safety, demonstrating the continued urgent need to invest in making our roadways safer for everyone.

The report, Dangerous by Design 2014, ranks each state and the nation's major metropolitan areas according to a Pedestrian Danger Index that assesses how safe pedestrians are while walking. The report also presents data on pedestrian fatalities and injuries by county and includes an online, interactive map showing the locations where people walking have been fatally struck by the driver of a vehicle.

According to the report, the majority of pedestrian deaths occur on roadways that are dangerous by design —engineered and operated for speeding traffic with little to no provision for the safety of people walking, biking or using public transit.

"Older persons account for one in every five pedestrian fatalities and have the greatest fatality rate of any population group," said AARP Executive Vice President Nancy LeaMond. "America's state, federal and community leaders should focus on making our streets safer – which will benefit everyone, including the growing number of older Americans."

In addition, the report found that pedestrian injury is the third leading cause of death by unintentional injury for children 15 and younger nationwide.

While many streets throughout Connecticut and across the country are perilous for people walking, hundreds of communities are working to make their streets safe and welcoming for people on foot. In recent years, scores of communities have begun to redesign roads as "complete streets," adding sidewalks and bicycle lanes, reducing crossing distances and improving crosswalks. Such design features have helped make walking safe and comfortable for everyone.

According to AARP Connecticut state director, Nora Duncan, "Continuing to invest resources in making our streets safe for all users is key to ending these preventable deaths."

"Although Connecticut is home to many high-speed arterial roadways with little in the way of pedestrian accommodations, there are signs of progress," said Joseph Cutrufo, Connecticut Advocate for the Tri-State Transportation Campaign. "This week, Connecticut Governor Dannel Malloy signed into law a vulnerable user bill, which increases penalties on reckless drivers who injure or kill pedestrians, cyclists and other roadway users. We're optimistic that the passage of this law, which advocates have supported for over four years, will have a positive impact on the safety of Connecticut's roads."

Pedestrian safety is often perceived as a strictly local issue but, for decades, federal dollars have been invested in thousands of miles of state and local roads in the heart of communities. In fact, 68 percent of all pedestrian fatalities over the past decade occurred on federal-aid roads — roads that follow federal guidelines and are eligible to receive federal funds.

The federal government sets the tone for a national approach to safety and Congress can address this critical issue by passing the Safe Streets Act as it renews the transportation law. States are then ultimately responsible for protecting their residents and visitors and reducing the number of people who are killed or seriously injured while walking.

State governments and agencies can take a number of actions to improve pedestrian safety, starting with adopting a strong Complete Streets policy like the one in Connecticut, and following a comprehensive action plan to ensure the streets are planned and designed for the safety and comfort of people walking.

To view the full report, please click here.

###

About The National Complete Streets Coalition
The National Complete Streets Coalition, a program of Smart Growth America, seeks to fundamentally transform the look, feel and function of the roads and streets in our community, by changing the way most roads are planned, designed and constructed. Complete Streets policies direct transportation planners and engineers to consistently plan and design streets with all users in mind.

About Smart Growth America
Smart Growth America is the only national organization dedicated to researching, advocating for and leading coalitions to bring better development to more communities nationwide. From providing more sidewalks to ensuring more homes are built near public transportation or that productive farms remain a part of our communities, smart growth helps make sure people across the nation can live in great neighborhoods.

About AARP
AARP is a nonprofit, nonpartisan organization, with a membership of nearly 38 million, that helps people turn their goals and dreams into real possibilities, strengthens communities and fights for the issues that matter most to families such as healthcare, employment and income security, retirement planning, affordable utilities and protection from financial abuse. We advocate for individuals in the marketplace by selecting products and services of high quality and value to carry the AARP name as well as help our members obtain discounts on a wide range of products, travel, and services. A trusted source for lifestyle tips, news and educational information, AARP produces AARP The Magazine, the world's largest circulation magazine; AARP Bulletin; www.aarp.org; AARP TV & Radio; AARP Books; and AARP en Español, a Spanish-language website addressing the interests and needs of Hispanics. AARP does not endorse candidates for public office or make contributions to political campaigns or candidates. The AARP Foundation is an affiliated charity that provides security, protection, and empowerment to older persons in need with support from thousands of volunteers, donors, and sponsors. AARP has staffed offices in all 50 states, the District of Columbia, Puerto Rico, and the U.S. Virgin Islands. Learn more at www.aarp.org.

About TriState Transportation Campaign
Tri-State Transportation Campaign is a non-profit organization working toward a more balanced, transit-friendly, and equitable transportation system in New York, New Jersey, and Connecticut.