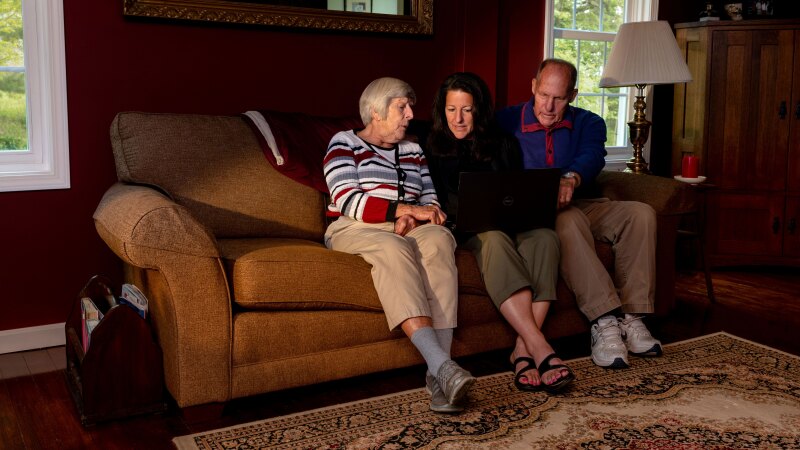 For Donna Matzek, who is raising three school-age children and working mostly from home, no high-speed internet in her rural Ohio neighborhood means four hours at a library every Saturday for homework and a frozen face on Zoom conference calls.

And that's if she can sign in. Forget about streaming a movie.

"We really are at a disadvantage," says Matzek, a 55-year-old business consultant from Troy Township. "It's like a guy fighting the fight with one hand behind his back. Everything is harder than it has to be."

Millions of people nationwide go without high-speed internet —also known as broadband—because the technology isn't available or is too expensive. Supporters of expanding the service, including AARP, hope $65 billion for broadband projects included in last year's federal bipartisan infrastructure bill can close this digital divide.

The money offers a historic opportunity, says Coralette Hannon, senior legislative representative in AARP's government affairs department.

For older Americans, broadband means access to online telehealth and education, easy interactions with loved ones, and more options for everyday life—from banking to entertainment.

"The pandemic showed us just how reliant many of us are on our internet connections," Hannon says. "It's not a luxury anymore."

New Funds for States

The bulk of the new broadband funds—$42.5 billion—will go to states, territories and Washington, D.C. Each state will receive a minimum of $100 million, with the balance allocated by need. Ohio could see more than $900 million, according to an estimate from New York Law School.

The number of Ohioans without access to fixed broadband ranges from 328,000, according to the Federal Communications Commission, to 1.4 million, as estimated by independent data aggregator BroadbandNow.

States have started planning their broadband investments, and consumers could see improvements by next year.

Many AARP state offices plan to make sure everyone is reached, aware of affordable options and educated on using the service.

AARP Ohio has submitted testimony to state legislators advocating for broadband expansion, and shared research and statistics about service gaps and their impact on both rural and urban Ohioans. Its members and other activists also sent more than 1,500 emails to lawmakers about the expansion legislation.

The office is keeping an eye on the state's rural areas, which average 88 percent broadband coverage, compared to nearly 100 percent in urban areas.

"The future success of Ohio requires a down payment today," says Holly Holtzen, state director of AARP Ohio. "Broadband creates opportunities to increase the quality of life of aging Ohioans and can propel this state forward as among the best to live in as you age."

The federal money adds to other investments. Earlier this year, for example, the state awarded $232 million in grants to internet service providers for residential broadband expansion. Private companies then committed to funding an additional 71 projects.

AARP's Personal Technology Resource Center has more information at aarp.org/home-family/personal-technology. For an FCC broadband Q&A, go to fcc.gov/connected.

Sarah Hollander is a writer living in Cleveland.

How to Increase Your Internet Speed at Home
For more on Technology