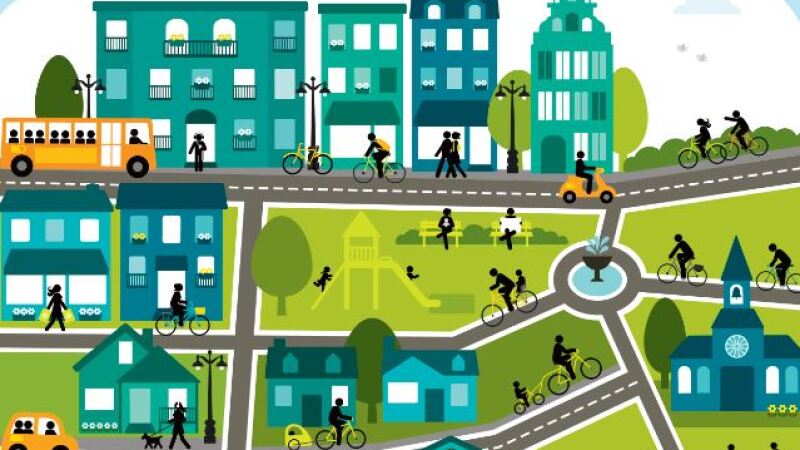 In a few months, a once-underused expanse of grass in Amesville will spring to life with wildflowers, attracting not only people but also bees, butterflies and other pollinators.

An AARP Community Challenge grant helped the southeastern Ohio village build the garden, with benches and a bulletin board educating the public about pollinator-friendly habitats.

Volunteers planted thousands of native perennials in the garden. The project supports Amesville's efforts to mitigate the worldwide decline in pollinators, Mayor Gary Goosman says. The garden, in Gifford Park, is in an area destroyed by a flood in 1998.

"Our basketball court, playground and walking paths get used a lot, but this area was seldom used for anything," says Goosman, 66. "But after it was planted last year, we frequently saw people down there strolling and looking at things in the garden. It now has a wide appeal."

Amesville's Community Challenge grant was one of 10 awarded in Ohio in 2021. Part of AARP's national Livable Communities initiative, the program supports quick-action projects that improve the lives of people of all ages. The application window for this year's grants will open in February.

AARP prioritizes requests that focus on public spaces, civic engagement, diversity and inclusion, volunteerism, housing, transportation and coronavirus pandemic recovery.

Projects improve livability
Since the program began in 2017, AARP has awarded more than $285,000 in grants in Ohio.

A 2021 award to Asian Services in Action (ASIA) will pay for a farmers-market pavilion in Akron's North Hill, a low-income neighborhood known for its immigrant and large Nepali-Bhutanese refugee community.

From July to September, ASIA and Akron Cooperative Farms host weekly markets featuring fresh foods that are popular with older residents.

The market grew from a small community plot behind an apartment building into a 4.5-acre operation. About 100 gardeners of all ages grow crops such as bitter melon, pumpkin shoots, long beans and mustard greens on former baseball fields.

Some also make money selling at the market, says Doug Wurtz, 67, of Akron, the cooperative's founder and executive director.

The 24-by-48-foot wooden pavilion will offer protection from rain for vendors and shoppers. It also will provide an outdoor meeting place for events or just informal gatherings.

Other 2021 Ohio Community Challenge grants included:

A shelter and ramp for the first of four planned mobility hubs in Dublin. The shelter will be located outside the community's recreation and senior centers and include a stop for the Columbus suburb's free shuttle service, along with interactive displays, handrails, senior-friendly seating and bike sharing.
An accessible community garden in Delaware with raised beds and benches at a federally subsidized apartment building for older adults and people with disabilities.
A small park in Bellefontaine dedicated to a Logan County sheriff who was killed on the job.
An outdoor art gallery in a formerly blighted alley in downtown New Philadelphia.
For more on AARP Community Challenge grants, go to aarp.org/communitychallenge.

Sarah Hollander is a writer living in Cleveland.


For More on Community Challenge Grants
Livable Communities Challenge